Today's review is for the Bomber Jock by 4 Hunks. The German brand released this jockstrap design a few months ago and we were very excited to try one on and put it under our tests! This pair of underwear was supplied to us by 4Hunks.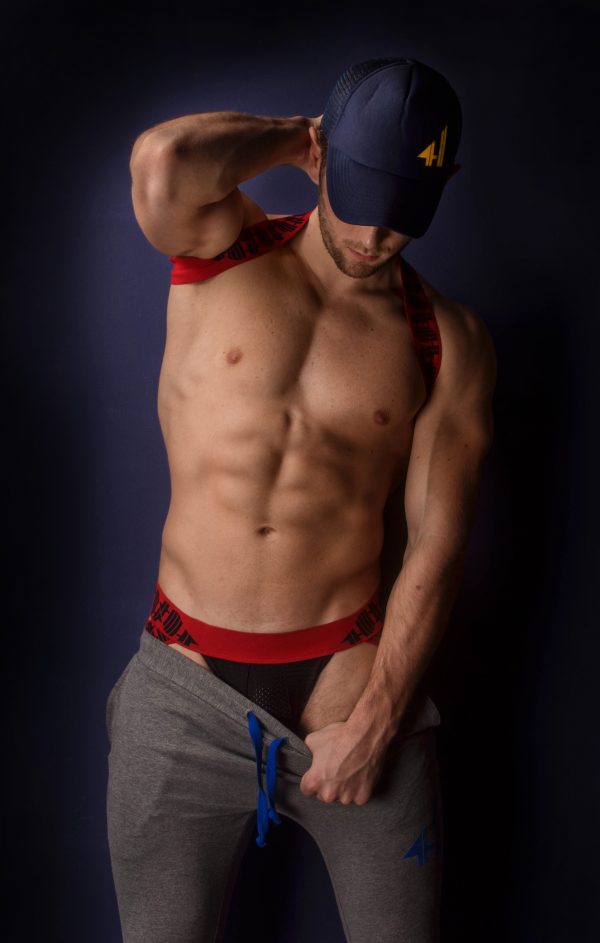 I had a discussion with a guy the other day about jockstraps. We both agreed that it is quite hard to come up with something new in this specific style. At the end of the day it has to have a pouch and two leg straps, so how could anyone produce something different? It is true that this specific underwear style hasn't evolved much since 1874 and C.F. Bennett's "supporters" for bicycle jockeys. Many brands tried to introduce their own take on jocks, to redesign this underwear, mostly playing with fabrics and waistbands though. Even though jockstrap hasn't evolve very much, compared to other underwear styles, we can identify three distinctive categories: athletic jockstraps (or athletic supporters), fashion jockstraps and the lesser known fetish jockstraps. The jock I am having in my hands and I am going to talk about lies between the last two, having elements of fetish wear and fashion. I wouldn't go as far as calling it avant-garde (because it is wearable) but it certainly is innovative.
I was among the lucky few who saw the Bomber Jock in the making. In an exchange of emails with the head designer and owner of 4 Hunks, Marcos Suzuki, he showed me this new concept of an enhancing pouch he had in mind. I instantly loved it and  couldn't wait for it to be produced so I can try it on. The Bomber Jock has a pouch that is different from anything else I've tried. It is made by folding and stitching the fabric in a way to leave a single ply middle, in a grenade-like shape when you are wearing it, and a triple-ply sides that literally pushed out your jewels. There is no inside pocket or c-ring, it's just the way the fabric is draped and stitched. The pouch has a deep U-shape, longer than your average jock pouch. The fabric is a perforated polyamide blend, which is not only cool but also extremely sexy, revealing just enough skin. There is a sturdy piping all around the sides and rounded bottom where the leg straps attach.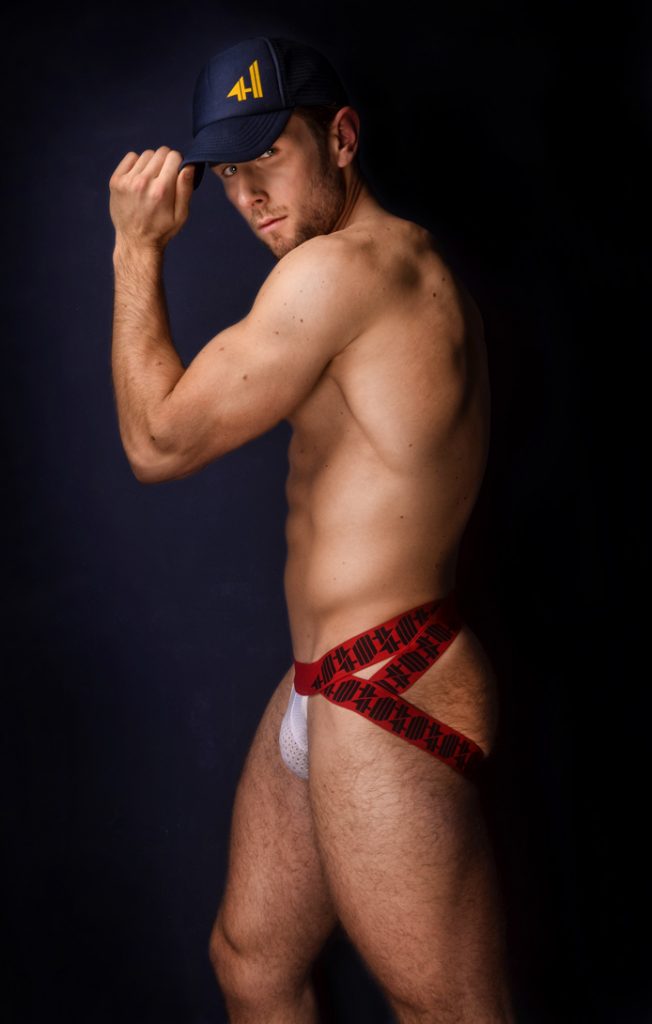 The leg straps are the same width as the waistband and actually look like they are made from the same material. They are longer than your average jockstrap allowing more space for guys with bigger buttocks. What is also interesting in the design is the sides that feature an extra piece of elastic to create a double grip on each side, one more element of innovation by 4 Hunks. You can tell there has been a lot of thought about how this piece will come together. Despite the fact, for example, that the waistband is stitched in two parts on the back, it is still centred with the repeated logos placed on the sides only. Our only concern is he way the straps are attached to the pouch. They seem to be folded and stitched at the bottom end of the pouch which falls right on the crotch, making it a bit uncomfortable.
The overall stitching seems very sturdy, made to withstand heavy treatment. The garment responded well after washing, the fit remained the same and the colours intact. In general I think you should try this jock, it is different from anything else out there. If you are into fetish wear it is perfect for a special party or just to put you in a sexy mood. But even if you aren't into fetish wear, the innovative design is worth having! Who knows, maybe this is a future classic!