We are happy to speak to Marin today, a model you have seen in the latest underwear collections of Barcode Berlin. This talented young man has become the face of the brand for this season and something tells us, that we will see a lot more of him in the near future! In a very brief chat we had with him on social media, we could tell that he is an intelligent person, polite and down to earth. But why don't we let him do the talking so all of you get to know him a bit better.
Name: Marin Barba-Rosie
From: Romania
Lives: Milan, Italy – Hamburg, Germany
Instagram: @marin.barbarosie
---
Hello Marin, it's a pleasure to have you in our magazine! Can you please tell our readers a few things about yourself?
Hello guys! I was born and raised in Romania. I come from a family of six brothers and I live between Milano and Hamburg combining work and pleasure. I love traveling and good food, especially the Asian cuisine.
When and how did you start modelling?
My modelling career started quite unexpectedly. It was a Saturday afternoon in Italy where I was at the beach with some friends. A person, who later I discovered was a photographer, approached me and invited me for a coffee. He was the one to see a potential in me as a future model.
What would you say has been the best moment of your modelling career so far?
Oh, difficult to pick just one! Well if I have to, I'd pick one moment that makes me feel proud about myself and something I always show photos from, to my friends. It was in 2014 at a fashion show in Milan for designer Marcelo Burlon. I was the one to close the show and everyone applauded me on the catwalk.
What are your goals for the next five years? Where do you see yourself in 2027?
I do follow a bartender school and will continue to do modelling and nudes. I can see myself owning a nice place where I make my signature cocktails and entertain my guests. Probably somewhere in Hamburg, Germany.
And now it's time to talk underwear! How often do you shop for new underwear?
I must admit that I don't buy underwear often. The main reason is I kind of always get them for free after working with brands or their marketing people send me some. I did buy once though a transparent underwear in Berlin!
We all know you worked recently for Barcode Berlin. What do you think about their underwear.
Oh Barcode, yes, I remember the shooting day with great joy! Their stuff and the owners were very nice to me and made me feel at comfort. The underwear itself is very well made, very good material and the design is very sexy and provocative. They have all sorts of underwear from basics to jockstraps and for all ages. I just love it!
Do you have any other favourite brands?
I do like the quality of GUY LAB from Australia. They sent me some merchandise to try and pose in. Calvin Klein of course. PUMP! are amazing too.
What is your favourite underwear style? Briefs, boxer briefs, jockstraps, anything else?
For my daily routine I prefer briefs, for sex and dates I go as kinky as possible, and when I go to sleep I prefer to wear boxers for comfort. I also like wearing sometimes jockstraps and other provocative underwear for pleasure.
Do you have a favourite underwear colour?
I like white underwear a lot, in briefs or boxers. I love pink too!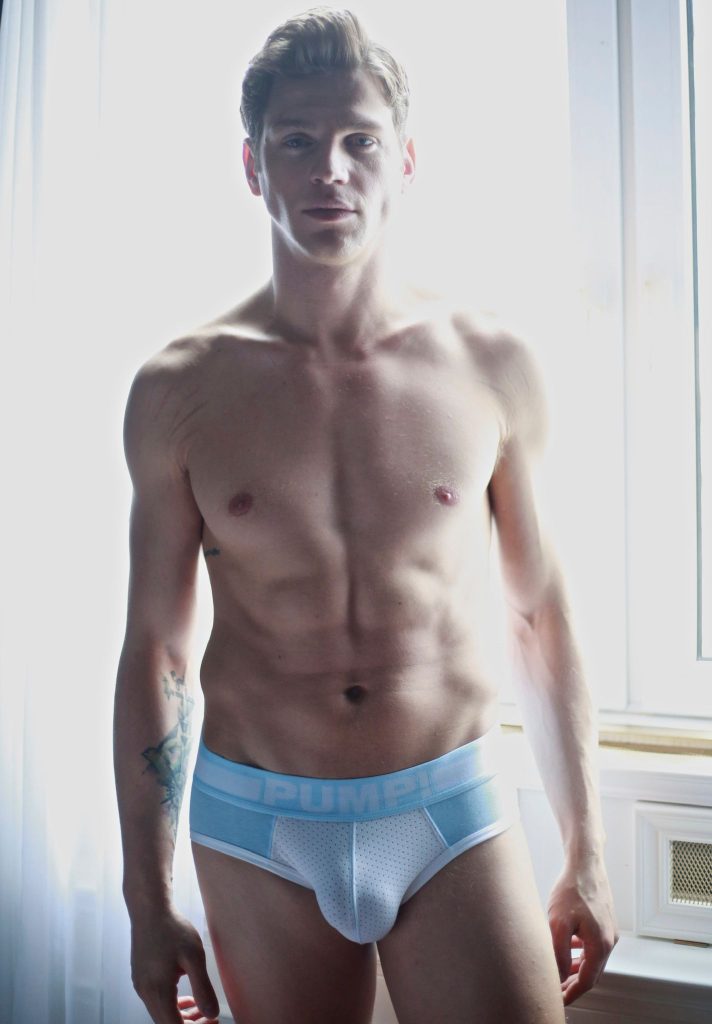 What in your opinion makes the best underwear in the world?
As from my experience I pay attention to the quality of the elastics and the fit. The best underwear should be very comfortable and look sexy. Something you can wear at any time, but also something you would wear for casual sex. I do believe that brands should invest more in this matter.
Well, that was excellent! Many thanks for your time Marin, it was a real pleasure talking to you!
The pleasure was all mine. I was glad to share my views on underwear. I just want to make sure that I had no intention to advertise any brand, but to express my personal opinion. I take this opportunity to say hello to all your readers and wish you all the best for ­2022.