The newest brand to join the men's underwear industry is UDP aka Underwear Dance Party. Amrit and Vishal, stars of Bravo TV's hit series Family Karma, are the two entrepreneurs behind the launch of this brand. The two men, involved in what often is called America's favorite Indian bromance, envisioned UDP as more than just a brand. UDP was created to inspire individuals to embrace authenticity, to be bold, and to live a life free of judgment. Anyone who has immersed themselves in an actual underwear dance party will totally understand the vision behind the brand. And if you haven't participated in an underwear dance party, there's no better time to start!
The first collection of UDP is comprised of four cuts: briefs, trunks, boxer briefs and boxers (we like to call these "long boxer briefs"). Each of the silhouettes comes in six color variations by combining black, white, navy or turquoise base with a range of vibrant waistbands. The fabric is a polyamide and elastane blend, a mix that is becoming more and more popular, especially in athletic underwear. The overall style is quite athletic with contemporary design elements such as a buttock-accentuating cut, contoured pouches, and patterned waistbands.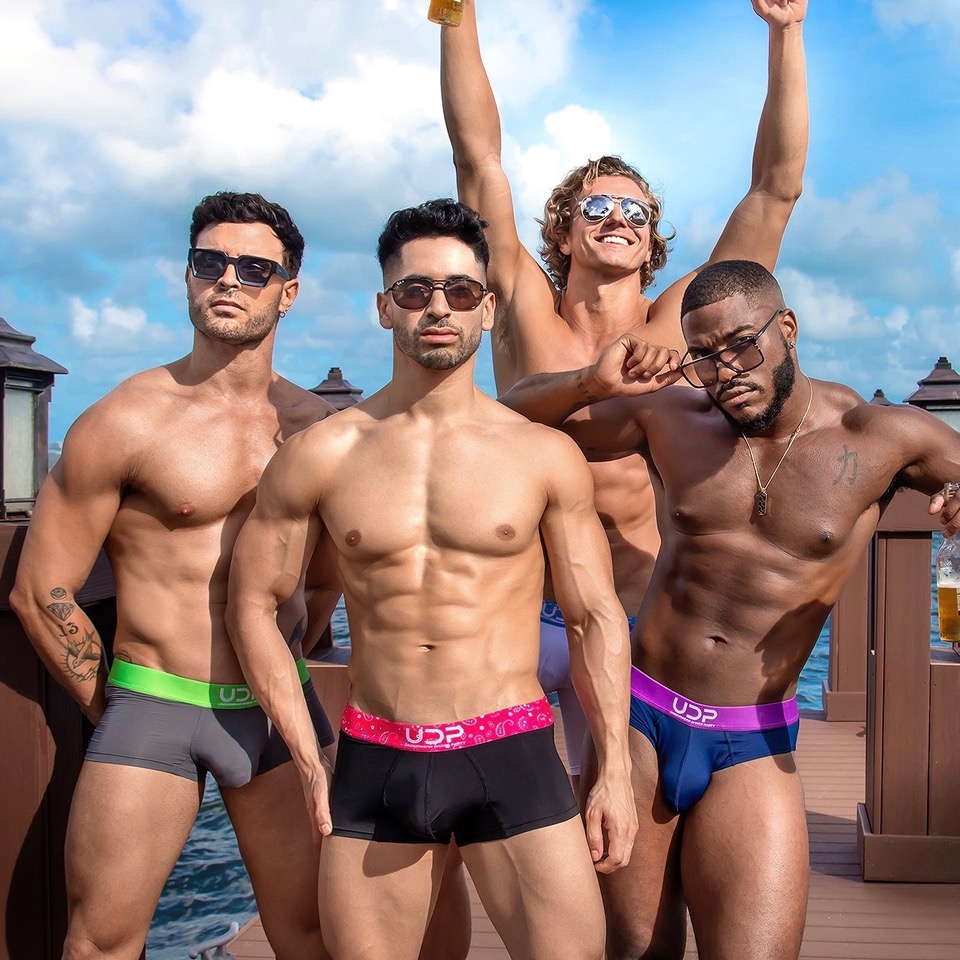 Let's hear what Amrit and Vishal said to Men and Underwear in our exclusive "Brief Talk" with them:
Hello guys! It's great to have you at Men and Underwear! Our readers come from all over the world so many of them are not familiar with Family Karma. Would you like to introduce yourself to them and tell us a few things about the show and yourselves?
Family Karma is a Bravo reality TV series featuring the first ever all Indian cast in US history. Through Family Karma, Bravo ensured that Indians have representation on television. The show highlights not only our individual journeys and struggles with assimilating to American culture while maintaining traditional Indian values, but our parents' journeys and struggles as well. Family is the focal point of the show.
When did you come up with the idea of launching your own underwear brand?
UDP was born years ago in Atlanta after a night at the bars. "Last call?? Now what?!" And it hit us – our only option was an impromptu hotel room dance party with Veuve Clicquot wearing only – you guessed it – our underwear! Fast forward to summer 2020, we decided the one-off underwear dance party needed to become something more; we envisioned a UDP lifestyle with a bigger and much more fulfilling purpose – being the most authentic version of yourself. Vishal, a heterosexual male, and Amrit, a homosexual male, have done just that. Today, UDP is our outlet to encourage others to do the same.

Vishal: My family has always been involved in manufacturing of clothing, but underwear was something they never tackled. And it seemed so obvious, because as a guy I've had lots of issues with underwear — Not soft enough, gets holes, riding up, bunching, constricting.

I also enjoy fun colors and designs, and never found an underwear to address the issues above while remaining stylish.

Amrit: Underwear is the one article of clothing that every person is almost guaranteed to wear on a daily basis. But routine shouldn't necessarily mean boring. It's time to revolutionize routine and UDP does just that. For me, I want guys to have an easy way to express themselves and feel confident in their skin. What better way to achieve both than launching a vibrant men's underwear line?
So who is designing the underwear, Amrit or Vishal, how do you find the process?
We have a team of professionals that help with both the mechanical engineering (i.e., cut) and aesthetics (i.e., colors and prints) of our products with ongoing feedback from us based on input received from our customer base. It is unsurprisingly an arduous process.
I know this may sound a bit premature, I mean you just launched the brand, but what do you have planned for the future? Where do you see yourselves and UPD in five year's time?
We want to build a global brand that includes additional men's underwear lines, a women's underwear line, and swimwear. In addition to selling product, we also plan to host monthly pop-ups and in-person underwear dance parties in major US cities with exclusive invites to our loyal customer base.
Our readers know underwear very well so I am sure many of them would like to know some more in-depth details about your designs. Where do you manufacture?
Our initial line has 4 different cuts with 6 vibrant waistbands:
"The Pre-Game" – Boxer
"Midnight" – Boxer Brief
"Last Call" – Trunk
"After Party" – Brief

We manufacture in Colombia and distribute from our warehouse in South Florida.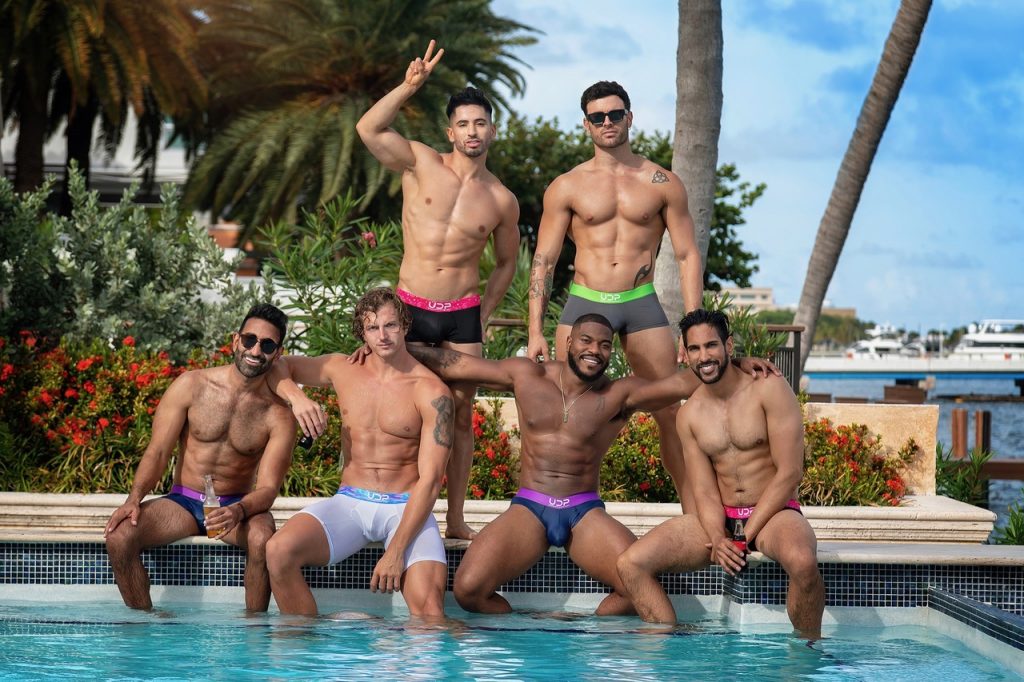 Why did you choose a polyamide blend over other fabrics?
We choose a polyamide blend because of its superior elasticity, durability, and softness. We found that this material wicks away moisture and dries quickly – two paramount objectives for men's underwear. As the business grows and we introduce more lines, we will certainly investigate alternative fabrics and materials.
What makes UDP different from other brands out there and how do you intend to keep being different?
UDP brings color, personality, and spunk, putting an end to monotonous men's underwear. We don't want the consumer to wear underwear for the sake of wearing underwear. Wear your underwear proudly! We want our customers to open their underwear drawer and start each morning with excitement and positive energy to tackle the day ahead!

We will distinguish ourselves by creating a lifestyle that is more than just a brand. The UDP lifestyle will include meet and greats, pop-up shops, and invite-only underwear dance parties for our loyal customer base.
Who is your customer, who do you think would most enjoy wearing UDP?
UDP is a luxury underwear that appeals to all men! Gay, straight, bisexual…doesn't matter to us.

Whether it's to impress your lady friend, or to impress your gay squad, a pair of UDP underwear will do the job. We embrace and welcome diversity with open arms.
Where can our readers buy UDP from? Should we be expecting to see the brand in stores worldwide?
Readers can purchase UDP products at www.underweardanceparty.com or www.udplife.com. While our efforts are focused on e-commerce at the moment, we hope to one day have our products available in stores worldwide!
Thank you so much guys. It was a real pleasure talking to you! Would you like to say anything to our readers?
What started out as a passion project has evolved into so much more. We want our customers to be more than customers – we want them to be our friends and to give us positive and honest feedback on UDP products. Be sure to visit our social pages @udplife and sign up to be the first to know of upcoming in-person events, promotions, and other exciting news!
Thank you!