We are happy to talk to Stathis Kapravelos today, a model, influencer and ambassador of Men and Underwear for many years. Our blog and our shop have been in very close collaboration with Stathis for almost 5 years and even if we talked about making an interview multiple times, we never really got around to it. Well, now it's about time we sat down and talk about things so you guys get to know him better. Most of you have seen him in the pages of our magazine posing in underwear from many brands. Stathis has been a huge part of our shop's success as well, participating in several editorials and campaigns for us which earned him the award of Best Model in Underwear / Swimwear campaign three years in a row! Stathis is a very sweet and down-to-earth guy and has always been a pleasure to work with. But why don't we let him do the talking… shall we?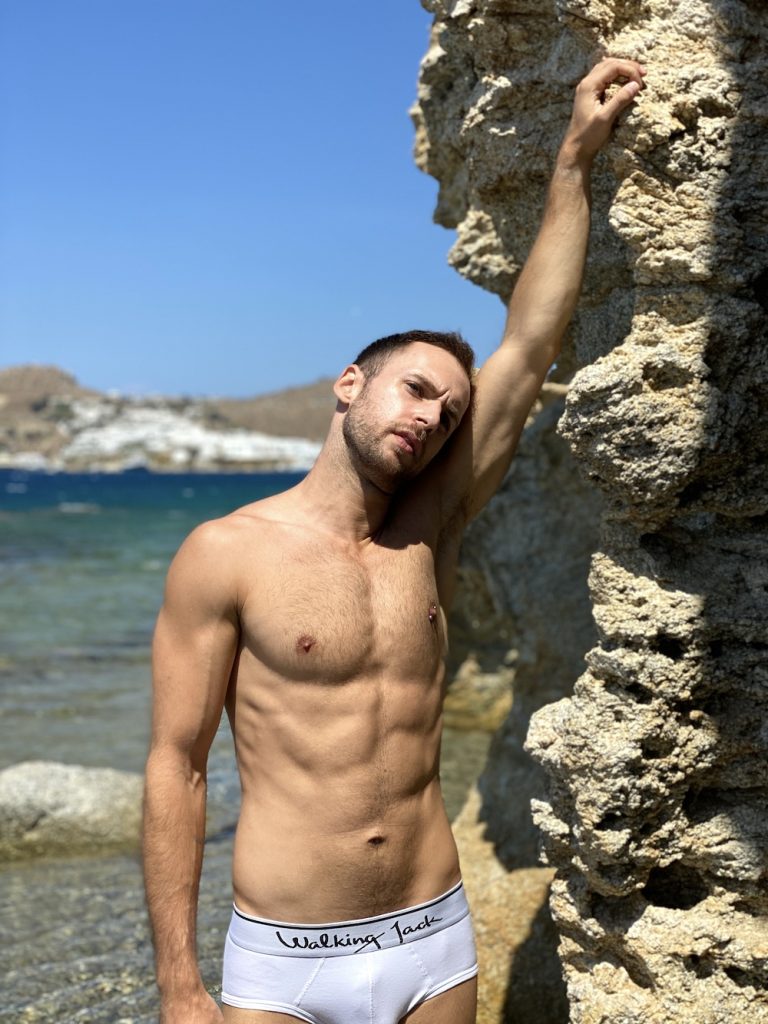 Name: Stathis Kapravelos
From: Greece
Lives: Thessaloniki, Greece
Instagram: @ekapravel
---
Hello Stathis, it's a pleasure to have you in our magazine! Can you please tell our readers a few things about yourself?
Hey everyone! This is Stathis here. So excited about this interview! A few things about myself. I was born in a small village near Volos, a town in central Greece. The village I spent all my childhood is called Lafkos and it is traditional and cute. After graduating from High School, I moved to Thessaloniki to study Informatics at the Aristotle University of Thessaloniki. I continued my studies there and Ι managed to get a Master's degree in Informational Technologies while working full-time.
I am a quite busy person that loves work, music, dance, delicious food (I do, yes – laughing) and of course travelling. Apart from modelling, I am an educator that supports university students complete their theses. My domain of speciality is research methodology and statistical analyses. Apart from that, I work as a waiter at "enola", a gay bar in Thessaloniki a couple of nights per week.
When and how did you start modelling?
Well, I started modelling quite late, since I am not one of those people with great confidence. However, Ethan, the man behind Men and Underwear believed in me and gave me fundamental opportunities to make myself visible out there, become an underwear model, pose for many underwear and swimwear editorials and grow from day to day. Now, I am proud and confident. Thank you for that, Ethan.
What would you say has been the best moment of your modelling career so far?
The first moment that comes to my mind is the most recent one (yes, sometimes I think I have the memory of a goldfish – laughing). I took part in an event, an underwear catwalk, that was organized by Men and Underwear for 2022 Thessaloniki Pride. It was special for me because that was the first catwalk that I had ever walked and I enjoyed it so much. It made me feel like I really deserve to be the model I am now.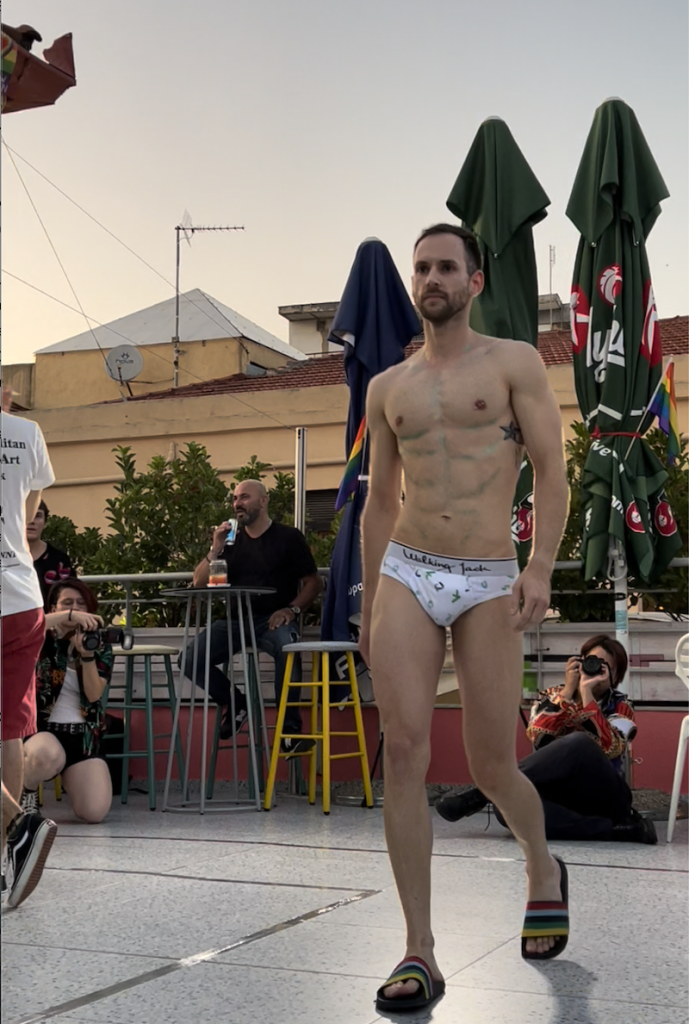 What are your goals for the next five years? Where do you see yourself in 2027?
Future, for me, is a complicated subject. To be honest, I avoid making future plans. My experiences in life have shown me that life is full of unexpected surprises, both good and bad. It may sound pessimistic but it's quite the opposite! I am a down-to-earth person and really care about today. I live my life every day like it is my last one. However, I wish that in 2027, I will be happy, healthy and still optimistic.
And now it's time to talk underwear! How often do you shop for new underwear?
Well, to tell you the truth, as an underwear model I don't need to buy any. Men and Underwear always provide me with many pairs of underwear of different styles and colours. Thank you, Men and Underwear!
We all know you are a person belonging to Walking Jack's family. What do you think about their underwear?
I really have no words. Those guys know how to design underwear and make the perfect fit. Additionally, their quality is out of this world and the attention to detail is on another level. Not to mention their eco-friendly attitude and outstanding customer support. I wish that all underwear brands follow their passion, to make awesome underwear for everyone.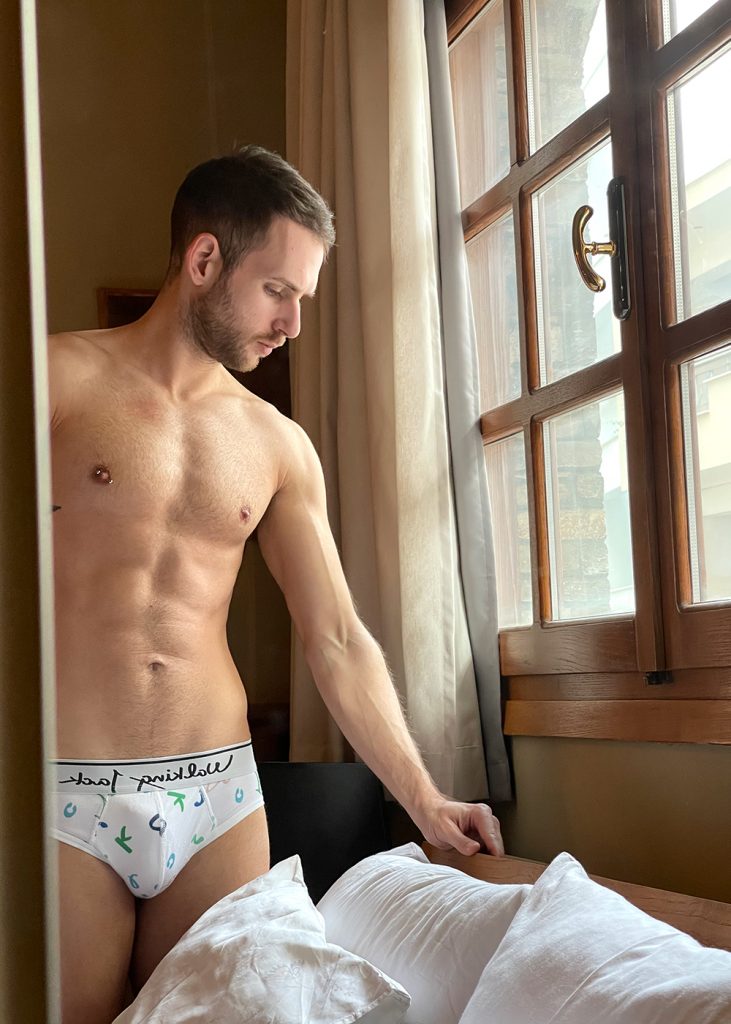 Do you have any other favourite brands?
Apart from Walking Jack that I have in my heart, I love Barcode Berlin, CODE 22, Marcuse, Adam Smith and Bluebuck.
What is your favourite underwear style? Briefs, boxer briefs, jockstraps, anything else?
Taking into account that I always put forward my comfort when it comes to underwear, I am quite a classic type of man when choosing styles. I am a briefs lover and I have been sticking to this style for many years now. However, I can't say no to a pair of trunks which is in between briefs and boxer briefs.
Do you have a favourite underwear colour?
Who doesn't love a pair of new and bright white briefs? But in my daily life, I prefer blue, red and khaki. However, I have so many pairs of underwear of different colours and I love multi-coloured briefs and geometric prints.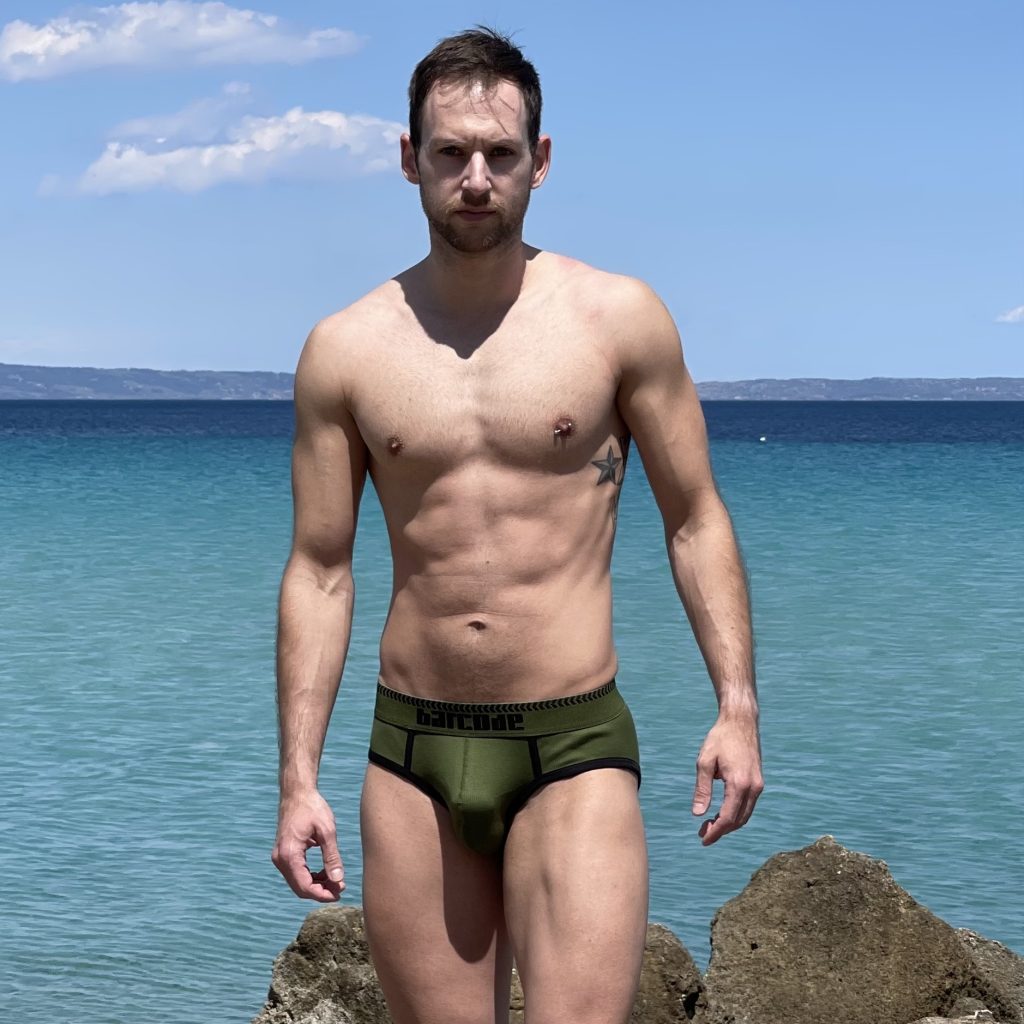 What in your opinion makes the best underwear in the world?
I don't know where to start. I believe that the most important factors for the best underwear are: comfort, materials and detailing. I generally believe that details make anyone and everything stand out from the crowd. For example, I always appreciate flat seams, detachable labels and a pouch with space. On the other hand, the activities of a person should be considered when designing underwear. For example, there are different needs when wearing underwear at the gym or having a date or sex. But in general, my priority is comfort.
Well, that was excellent! Many thanks for your time Stathis, it was a real pleasure talking to you!
Thank you for the opportunity to show my fans a little bit more of me apart from my body, haha. I enjoyed our brief talk and I had a great time, you are such a nice host. I am so happy about our collaboration. Goodbye for now and never forget to smile!