Very exciting news for the fans of Andrew Christian and Men and Underwear! The most popular American men's underwear brand is now available from Men and Underwear – The Shop. We just brought in the new collections of the season in briefs, trunks and jocks along with limited edition prints and styles that we think you'll love! Andrew Christian is the most popular brand among our magazine's readers, winning the Best Brand category for several years in a row in our Annual Awards. So it was a natural expansion of our shop to import this brand in the EU from the USA and offer it to customers and readers worldwide. Lets have a look at the styles that have just arrived:
Andrew Christian – California Stripe
We're California dreaming of you in these undies! The Andrew Christian California Stripe Collection is uber-cool, chic and limited edition. It features print fabric with multi-colour stripes and the Andrew Christian Almost Naked pouch that's anatomically correct for extra comfort without hidden cups, straps or padding. When you pull these on, your package falls naturally into the super soft pouch to create a truly enjoyable and unique wearing experience. It feels like you're not wearing anything at all! This collection features the slimming Andrew Christian waistband in soft, slimming elastic and stylish contrast trim and stitching. This collection is available in three styles: briefs, trunks and jockstraps.
Andrew Christian – CoolFlex Modal Briefs w/ Show-It
This soft and flexible bulge enhancing underwear features the Andrew Christian proprietary Support Technology consisting of a hidden "comfy cup". This horseshoe shaped inner cup is lined by soft elastic that gently aids in the lifting and support. CoolFlex is made from a super soft modal fabric which is perfect for sports and working out as it is up to 50% more absorbent than cotton. Modal also resists shrinking and fading. These briefs also feature the custom Andrew Christian Ultra Slimming elastic to slim the appearance of love handles. The waistband is tri-colour with contrast stitching along bottom and retro styled sides of the leg. These modal briefs are available in heather grey, black and royal blue.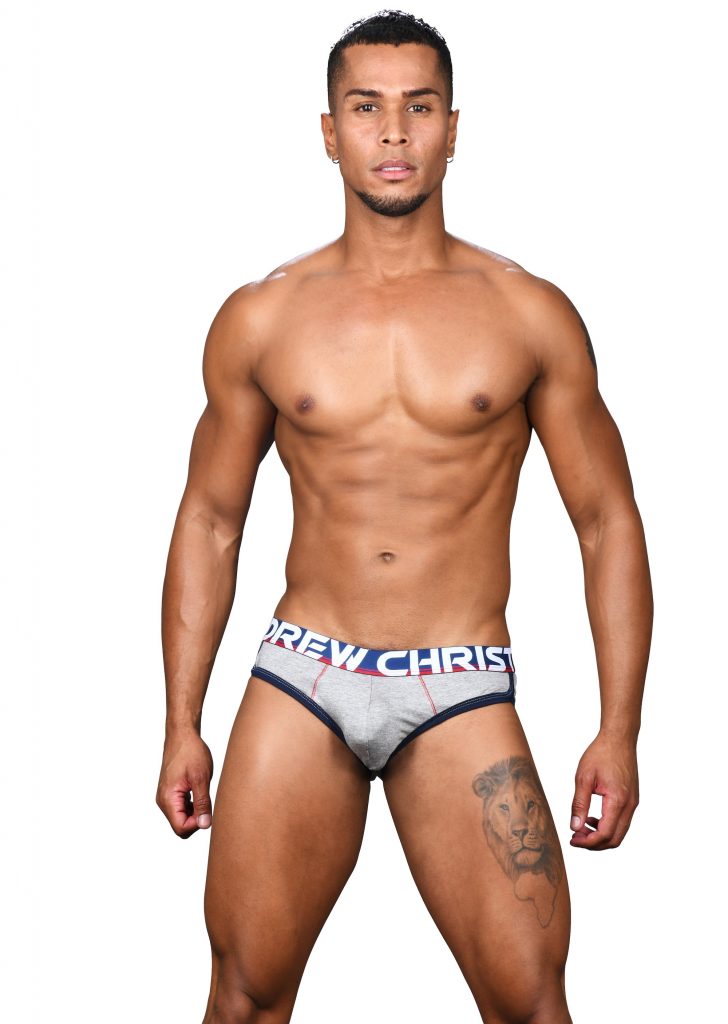 Andrew Christian – Neon Paradise Brief
The Andrew Christian Neon Paradise Brief is a stunning pair of underwear for men who want to dazzle! The sign to paradise is written in neon; but all the pleasures we need are hidden just beneath these sexy undies. Each of these amazing pairs comes in an eye-catching stripe in bright neon. They feature the Andrew Christian signature slimming waistband that comes in soft elastic and features bold Andrew Christian lettering. They also come with the Almost Naked pouch, designed to be totally anatomically correct with no hidden cups, straps or padding. When you pull them on, your package falls naturally into the super soft front to create a truly enjoyable and unique wearing experience! You will feel as good as you look in this limited edition underwear!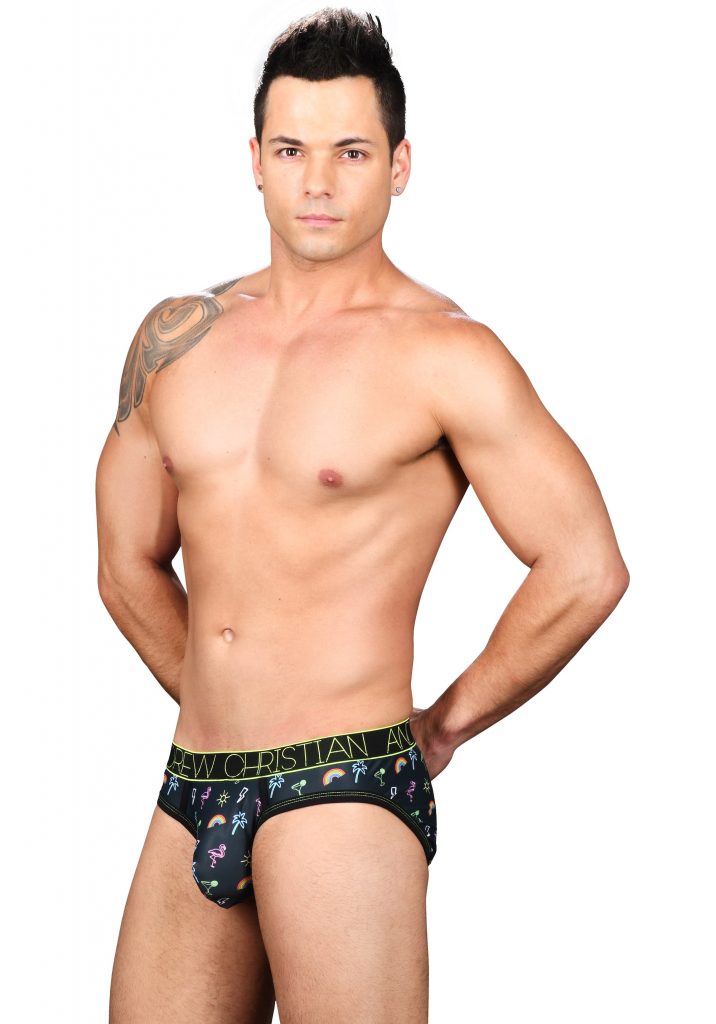 Andrew Christian – Show-It Retro Pop
This is an enhancing underwear collection by Andrew Christian. Totally re-imagined, the new Andrew Christian Show-It Retro Pop Boxers and Briefs take it back to basics. This underwear goes back to a time when things were simpler, a bit hairier, and guys weren't afraid to show it. The horseshoe shaped inner cup is lined by soft elastic and adds up to 1.5 inches (3.8 cm) to a man's frontal measurement and provides the biggest natural enhancement of any underwear in any Andrew Christian collection. And as if that weren't enough, it features the signature slimming Andrew Christian waistband and bold contrast details! When you pull them on, your package will fall naturally into the super soft pouch to create a truly enjoyable, unique wearing experience. So grab this pair of undies, and see what all the fuss is about! Available in trunks and briefs in two colour variations each: Charcoal grey and Navy Blue.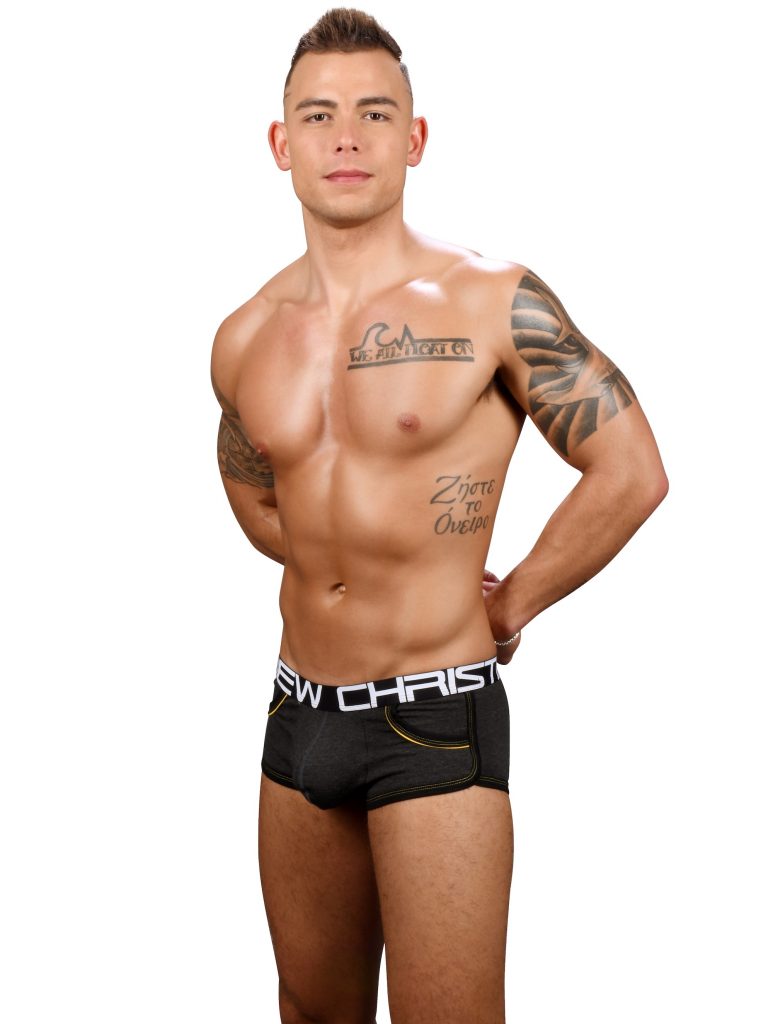 Andrew Christian – Pride Lava Stone Energy Bracelet
Along with the new underwear collections, we brought it a little something from the accessories collection of Andrew Christian which makes the perfect little gift. Made of volcanic lava stones, known for their grounding qualities, the Andrew Christian Pride Energy Bracelet keeps you relaxed and balanced throughout the day. Use your favourite essential oils to enhance this experience by rubbing a small amount on the beads, allow it to absorb in just a couple of minutes, and you are all set to enjoy a form of aromatherapy. And to give it style, Andrew Christian featured a centre bead made of Rainbow Resin which will blend well with your spirit to help boost your overall confidence.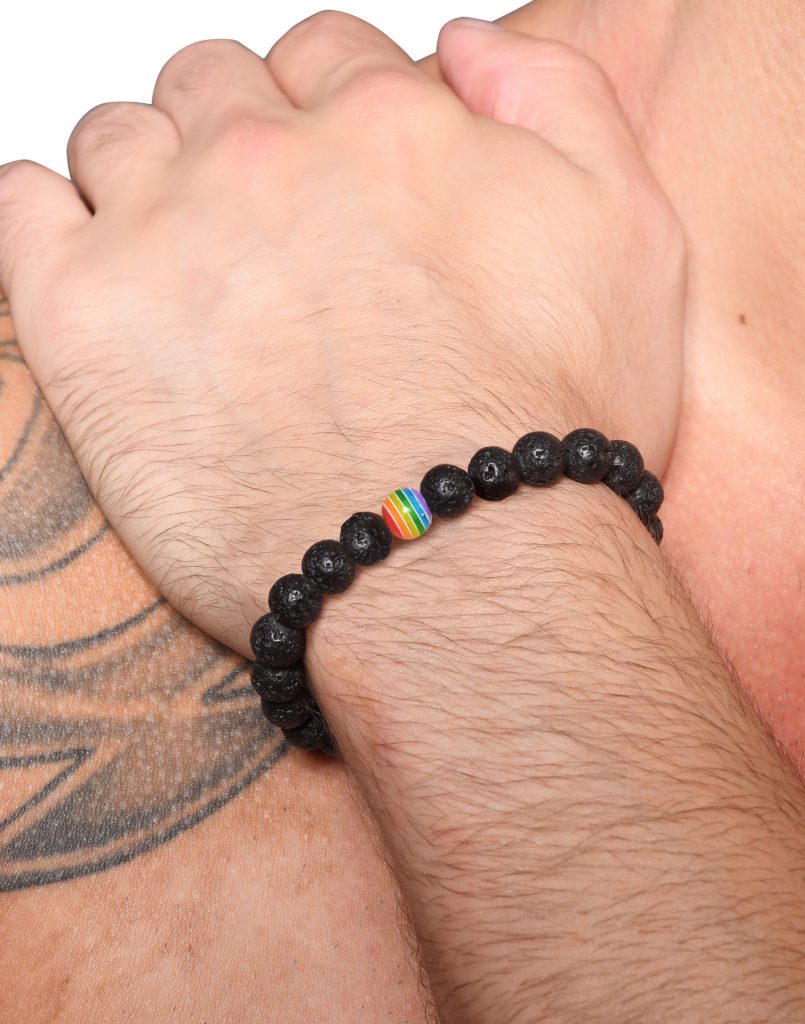 We also have received plenty of promo material, so expect with every order a couple of postcards and stickers from Andrew Christian! Enjoy our selection and happy shopping! Visit the space of Andrew Christian in our shop and if this will be your first ever order from our shop, use coupon code FIRST15 to benefit from an introductory 15% discount on your order!