Some underwear styles take their appeal not only from shape, colour and quality of the garment used, but even more from those fabric areas that are not there. The singlets from the Berlin-based brand 4Hunks certainly belong to this category and thus stand in the brand's tradition of daring, body-shape revealing cuts created for hunks. Specifically, the blue UNDR_SPENDX Assless Singlet and the white LycnatiK singlet, kindly provided by 4Hunks for this review, are playful variations of the classic tight suits used in various sports from triathlon to wrestling, hence the name "sportishwear" for this product family. "Sport-ish" because technically you can very well wear them for your sports activities, but you better think where and with whom. The cut-outs – strategically placed in areas where the trained athlete body holds its aces – add a very erotic flavour to these creations without making them bluntly explicit. There is no frontal exposure, not even partial, but they look and feel even hotter without that last revelation.
Not being a wrestler, I decided to test the samples in the outdoor realm I am more familiar with, paying special attention to staying away from the crowds.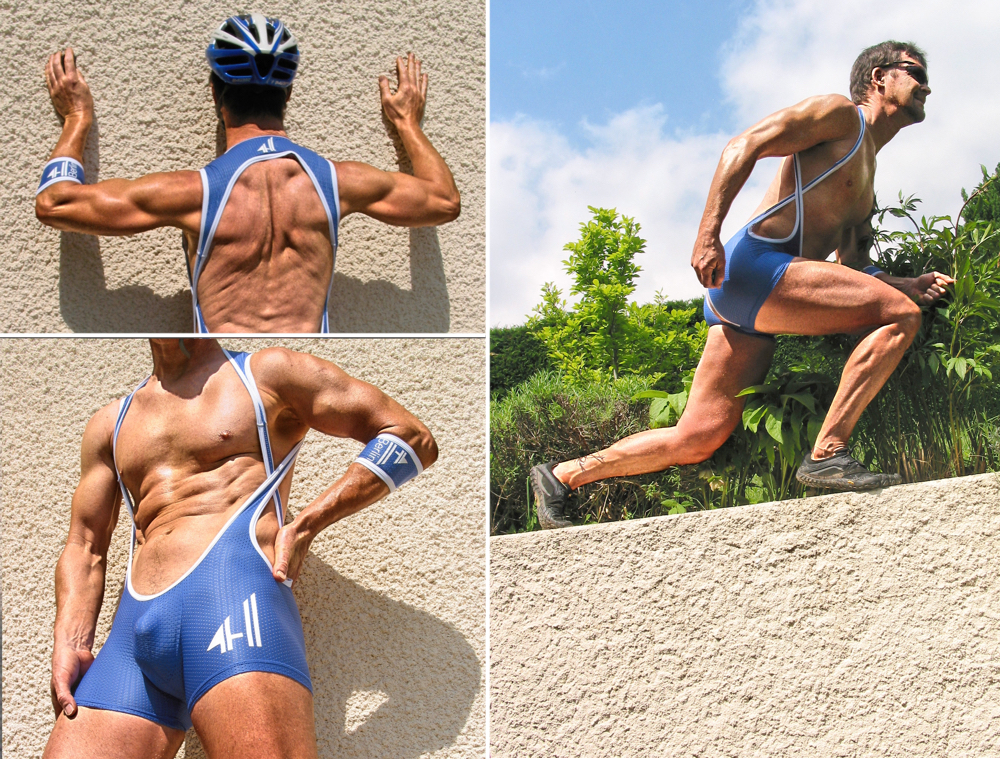 Upon unpacking the blue UNDR_SPENDX Assless Singlet I first had to perform a complex topological study of all the straps to make sure that they cross in the right way, letting the brand logos end up in the correct places and orientations. The next puzzle was a little detached blue sleeve included with the suit: "Now that's what I call a serious cock ring! Am I really supposed to have that size, or did they send me the XXXL version by mistake?" I finally put it on my forearm where it fitted perfectly. To my relief, the product web page confirmed that this was indeed the intended usage.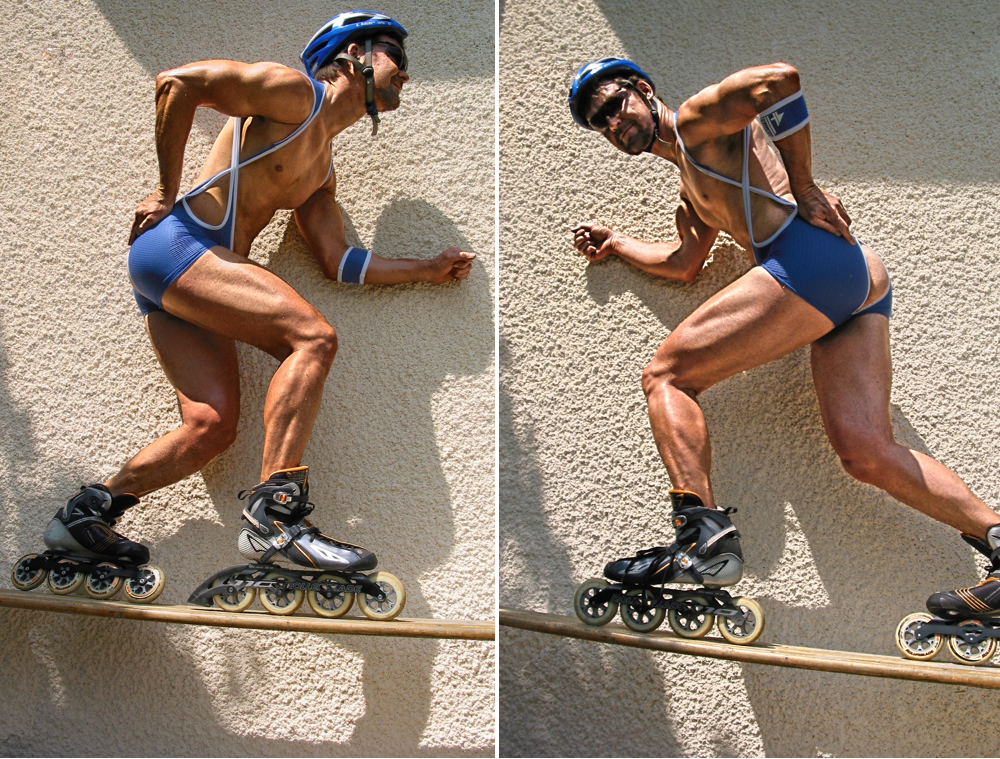 My impressions from wearing this suit are very positive: The ultralight spandex feels soft and pleasant on the skin, with tiny perforations ensuring breathability. While the upper body is largely exposed, this singlet is not truly assless (unlike indicated by the product name); only a slit opening allows a timid preview (… and if you wear it for wrestling, your opponent might exploit it for getting a better grip on you). The production quality is sound with solid seams and labels in positions where they don't disturb.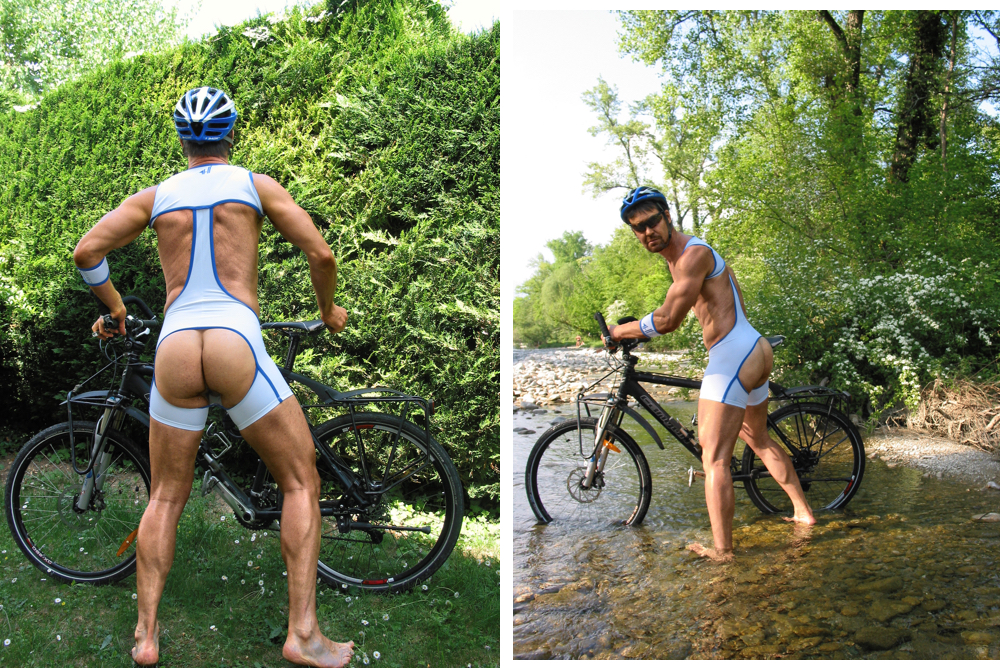 The second singlet tested, the white LycnatiK (see our earlier article), offers even less coverage. Apart from a wide shoulder piece and a narrow middle string along the back, the entire torso is exposed down to a lumbar belt. The butt cheeks are uncovered, framed by a large opening. To wear this garment, you'd better be reasonably confident about your buns and abs. Once you dare, it feels great. On the skin it's like a tight track suit but with a cool breeze of air in unusual areas. Just don't use it for cycling: you'd get unpleasant, unsightly bruises. I finally decided to try it also for wrestling as suggested for this product line. Lacking a human opponent, my only choice was to bravely challenge a wild grizzly bear. Despite his short arms that couldn't even reach my butt, I stood no chance unfortunately.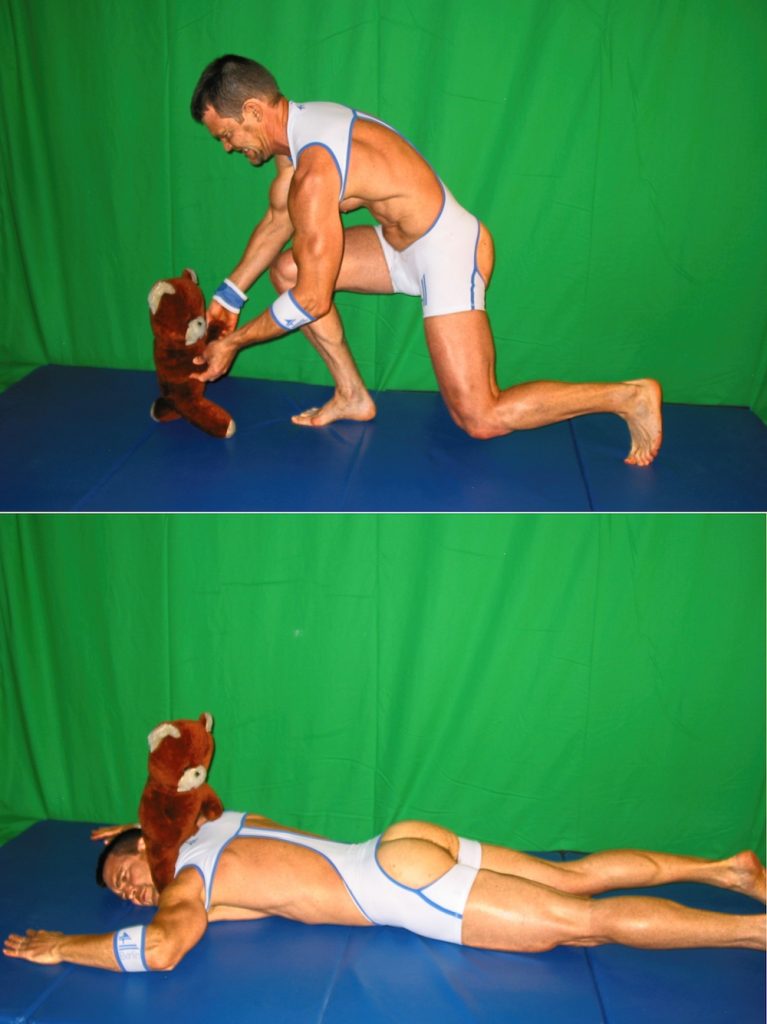 The fabrication quality is as good as for the first item, but I have to give a laundry warning: the blue colour of the border pieces tends to bleed out onto the white fabric. It happened to me when I hand-washed it in lukewarm water, possibly for too long. Treat it with extra care!
In summary, if you want to have fun with a daring creation off the standards that makes you look and feel hot and a bit provocative, the singlet collection from 4Hunks will be interesting for you, even though these products are not cheap. The blue UNDR_SPENDX is presently on sale for 42.50 EUR; the white LycnatiK costs 67.00 EUR (regular price).
To find the right size, the website offers a chart with clear measurement instructions. I found the chart accurate for both singlets, using the waist rather than the chest measurement.
We thank 4Hunks for sending us these great samples.