As we are closing towards the end of summer it's time to look at the hottest styles for this month. Curated by Men and Underwear – The Shop, we take a look at some of the newest arrivals and select items that came back in stock very recently. If you want to look at your best for autumn, here are some perfect recommendations to build new outfits from the inside out. On with the show!
We will start with the newest arrival in store, the Green Briefs by Bluebuck. There have been a lot of talks lately about climate change and what each one of us can do to ease the situation. How about we start with a few pairs of eco-friendly underwear like these from Bluebuck? Made from organic cotton in facilities that get their energy from renewable sources, these briefs feature a green body with a navy blue waistband. The Green Briefs are the UK brand's take on mid-waist fitted briefs. These briefs are made from Global Organic Trading Standards-certified organic cotton, with some elastane added for stretch and a great fit. The beautiful green of this garment is perfectly combined with a navy blue waistband made with at least 60% cotton in a herringbone knit pattern with the Bluebuck logo centred in the middle. Bluebuck only uses the finest cotton yarns to knit the fabric for their timeless briefs. This explains why they are so soft and long-lasting, retaining both shape and colour for wash after wash. Bluebuck underwear is made in an eco-friendly Portugal factory that uses electricity from renewable sources. Price: €26,£21.86,$26.45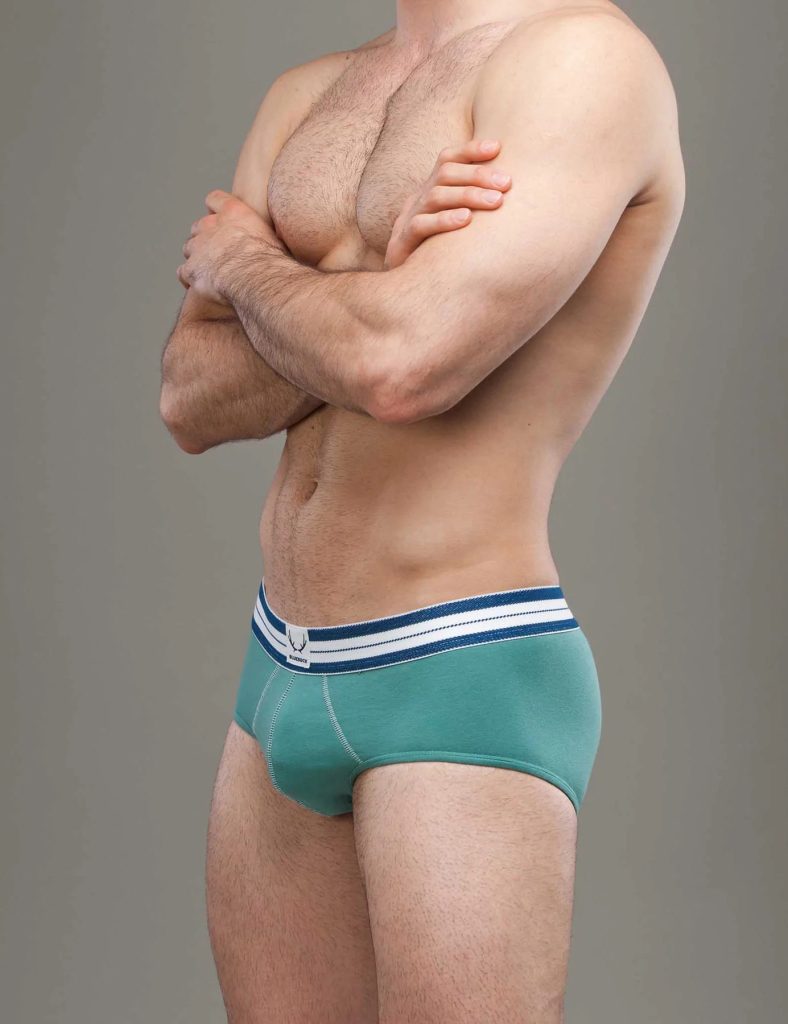 Orange is a colour that brings autumn, sometimes, to mind! So, the next pair we are going to show you is the Tjure Briefs by Barcode. This is an athletic style, neon orange tanga briefs made in Portugal. The Barcode Berlin Brief Tjure is made from a perforated fabric, designed to look and feel cool, keeping you fresh for longer all day long. This style comes with a matching, top-quality waistband that has a sheen to it, featuring the logo of Barcode in the middle and black stripes top and bottom. The pouch is contoured for space where you need it. The sides are exposed for the ultimate freedom of leg movement while the back is fully covered. These tanga briefs are cool, sporty and perfect for everyday wear. Price: €20,£16.82,$20.35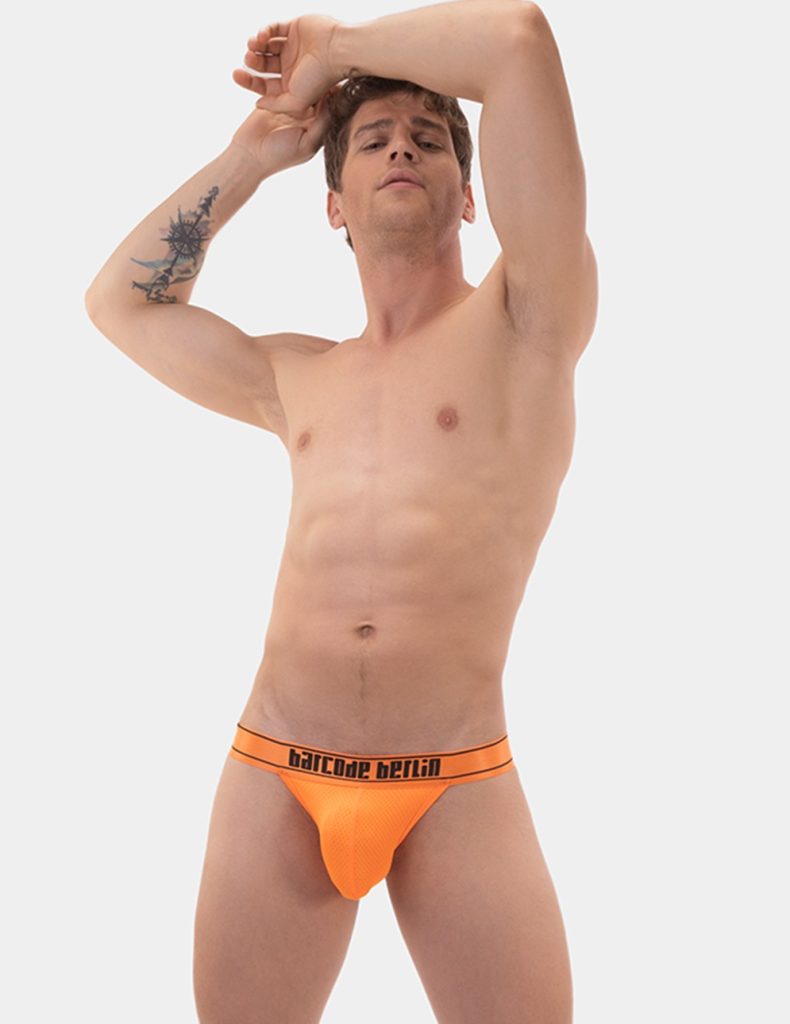 Our next pair is an explosion of colours! Just when the first autumn rain comes in, the Andrew Christian Bandana Pride Thong will lift your mood with its sexy style and uplifting pattern. A rainbow colour thong in a print inspired by the classic bandanas by Andrew Christian. Ever wanted to wear a bandana as underwear? Now you can! The extra-skimpy boho Bandana Pride Thong by Andrew Christian is a fun and iconic style that will be the envy of boring underwear wearers everywhere! This underwear features a 4-way stretch fabric, the trademark slimming waistband and the Almost Naked pouch! This pouch technology helps to eliminate sticking, squashing, re-adjusting, sweating, and chafing, so you will feel like you are not wearing anything at all! This pouch is anatomically correct and will give you a truly enjoyable and unique wearing experience. Price: €25, £21.02, $25.43.
Our next recommendation is one more sexy pair of underwear, the blue briefs Maximo with an adjustable pouch by Marcuse Australia. Tradition meets contemporary style in the Marcuse Maximo Brief. The Maximo is a very special underwear design with references to fundoshi, the traditional Japanese underwear but with contemporary touches. Try a new style of comfort with plenty of sexiness added and boost your confidence to another level. Marcuse has replaced the loincloth style with a contoured pouch that can be adjusted left and right for a custom fit. This is an underwear design that stands out from anything else you have ever tried! It is sexy, surprisingly comfortable and alternative. Price: €15, £12.61, $15.26.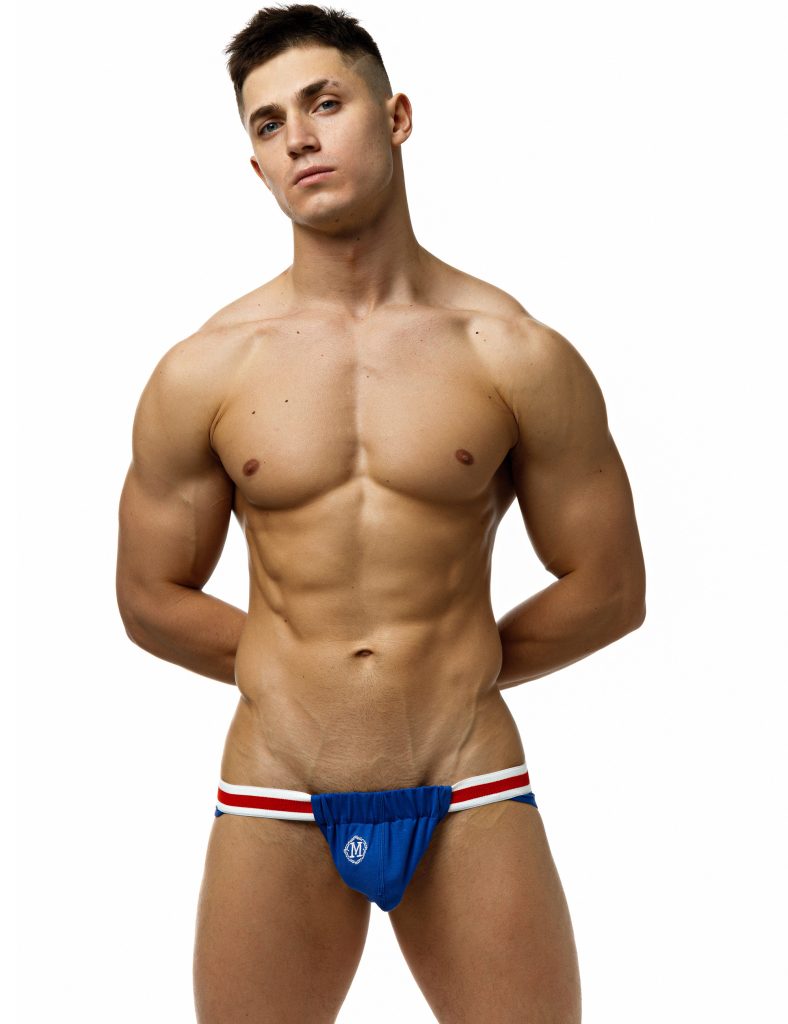 One more rerelease this year and our next recommendation are the Solger Briefs by Barcode Berlin in an amazing blue colour. This is s a low-rise pair of blue briefs with black detailing, designed with a roomy pouch, made from ribbed cotton based fabric. This style is probably one of the most comfortable Barcode Berlin briefs you have ever worn, featuring a soft and very spacious pouch matched with a soft waistband. Inspired by retro styling, these briefs have wide sides and the logo of Barcode Berlin in the centre of the waistband with a stripes pattern running all along. Just like every garment by Barcode Berlin, these briefs are made in Portugal with high-quality materials to withstand heavy use and multiple washes. The Solger Briefs are stylish, and easy to wear, with a contoured and single-ply pouch, perfect for everyday wear, the gym or any other intense activities. Price: €20,£16.82,$20.35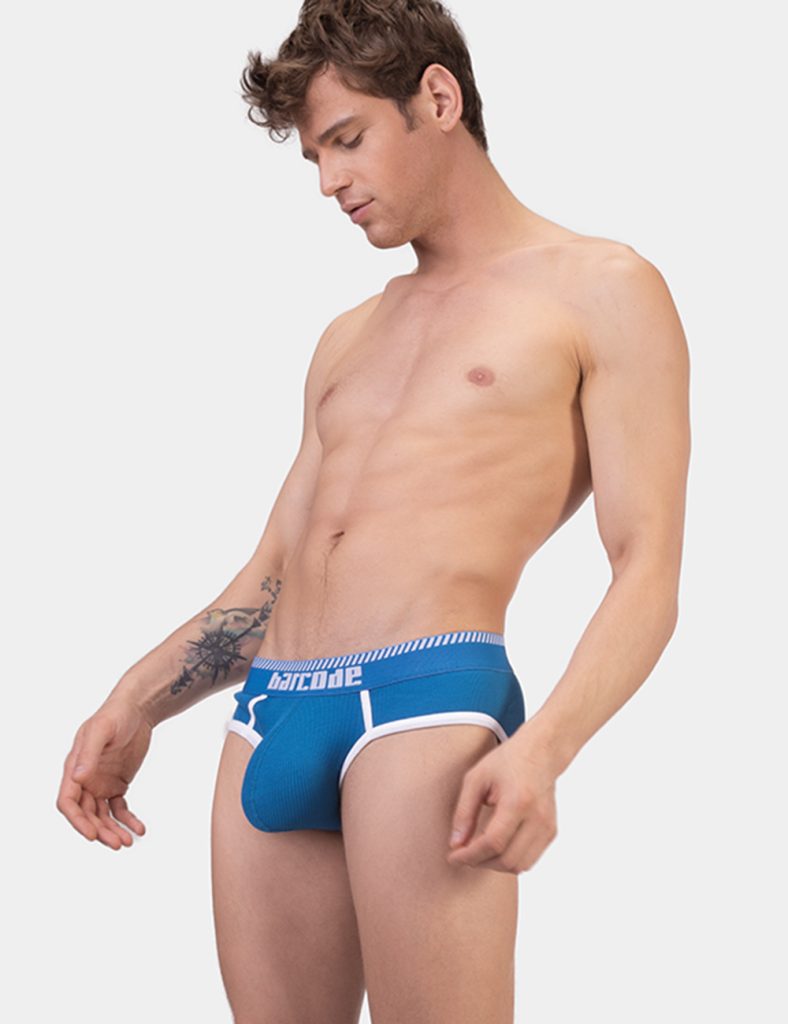 Back in stock this season is one of the most eco-friendly underwear today! The Twilight Blue Briefs of Bluebuck are made from a blue melange fabric, a unique mix of organic cotton, SEAQUAL™ (yarn made from recycled plastic waste collected from the ocean!) and elastane. This special fabric has a super soft feel due to the cotton and is quick dry and durable due to the SEAQUAL™. The blue melange colour is achieved by using a dye which only colours the cotton fibres and leaves the plastic fibres in their natural, white colour! The beautiful melange blue of this garment is perfectly combined with a blue waistband with the Bluebuck logo in white the middle. These briefs are designed with eco-conscious and active men in mind. These briefs are great for those who want the full package of every-day comfort and outdoor adventure. Available in five sizes (S, M, L, XL and XXL). Price: €26, £21.86, $26.45.
And that's not all! There is a lot more for you to discover at Men and Underwear – The Shop. We bring in new stuff and restocks on a weekly basis so keep an eye on the shop or subscribe to its newsletter here.