Today's review is for the Monday Boxer of Portuguese brand Pothos. Pothos is a new brand, launched in January 2018, in the northern part of Portugal, known as one of Europe's biggest fabric and garments manufacturing hubs. For those of you not very familiar with Greek mythology, Pothos is one of seven 'Erotes", deities in service of Aphrodite herself. The name Pothos translates as lust, desire, longing or yearning and has passed as a noun (with the same meanings) in modern Greek language. Pothos is not just the name of this brand but also the inspiration for each underwear design presented. I thought it would be good to include this small introduction to this review because I think it will help understanding this brand's philosophy. Many thanks to the brand for supplying us with the underwear and to Stathis Kapravelos who we photographed wearing this pair.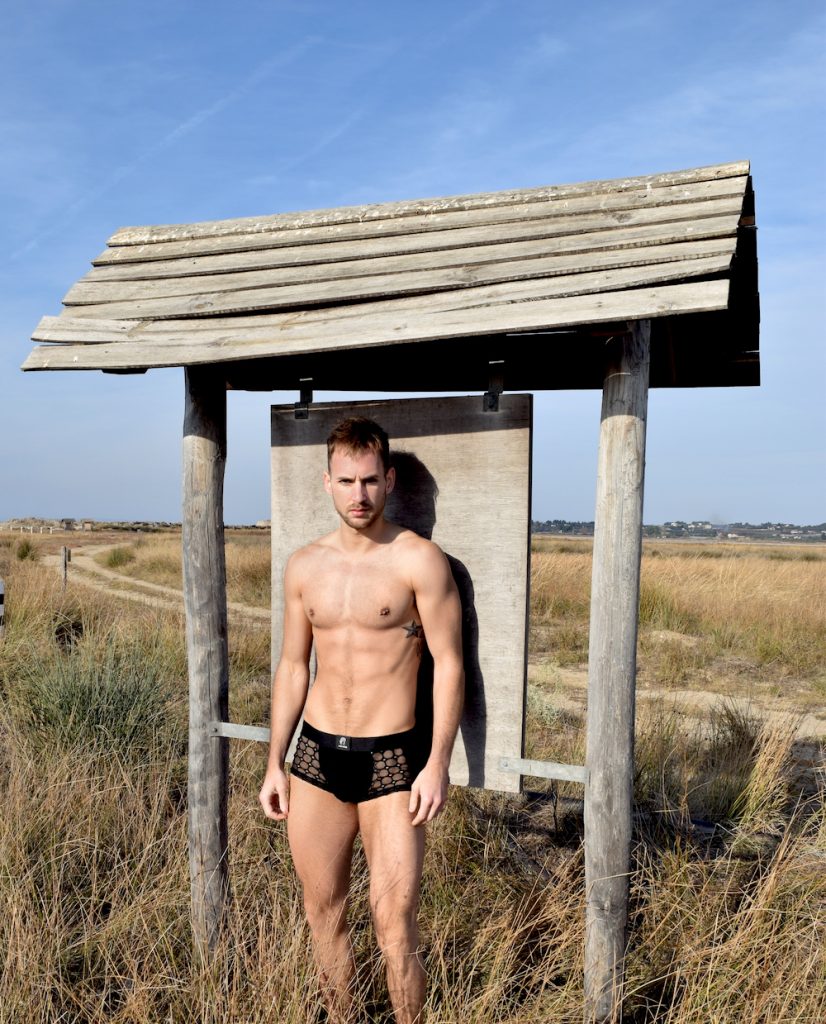 To put it simply, Pothos' underwear is not everyone's cup of tea. If you are not a fan of new materials and mesh then this underwear is definitely not for you. If you do like though to experiment with new designs and you are a fan of transparency then continue reading! The underwear I have in my hands is called Monday Boxer and I can't wait to try it on.
One of the first things you notice when you get a pair of Pothos' underwear is the packaging. It comes in a square box made of thick paper with the logo of he brand on. You slide it open and inside is your little treasure, wrapped in a black thin paper sealed with a white branded sticker. I must admit I got a little excited opening the box, I am a huge fan of fancy packaging you see. The underwear inside is carefully folded, as it should, waiting to be tried on! The shape of Monday Boxer feels very familiar. It is an almost classic trunk with a U-shaped pouch you see in quite a few European brands, contoured to allow more space. There is piping all around the pouch but no elastic around the legs. Even at a first glance you get where the designer was going with it: a comfortable cut in a sensual style. It is all black but the front part is a play on transparency. The fabrics are probably the highlight of this underwear and if I may say, the highlight of the whole collection of Pothos underwear. The fine mesh is made from recycled polyester and is embroidered with soft cotton thread creating holes and a geometric pattern. Even though it is used in all front panels of the garment, the pouch is protected on the inside with a solid panel made from a micromodal blend. This serves two purposes, one is to avoid transparency in an area that you want concealed and the other is to offer comfort as mesh could cause irritations on soft skin parts.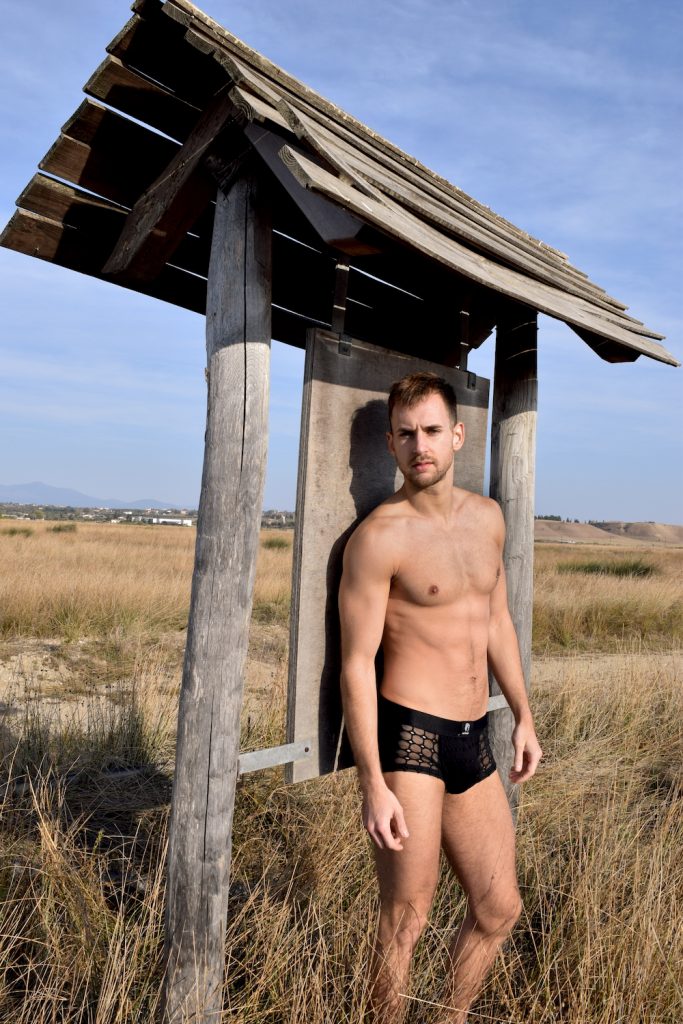 The time you put it on is where the fun starts! You can see your skin showing through the fabric bringing it to life. I do understand that transparency is a feature used in women's lingerie for many years and for some is a synonym of fem garments. The style and placement of the fabric on this pair though is super masculine. The vertical lines create a boxy look and it seems as if the brand has thought about the whole design well. The back is made from a super soft fabric, a mix of micromodal and elastane.
The waistband is quite simple, black, thin and decorated with a square label at the front centre with the logo of the brand on. On the back of the waistband there is one more thin and narrow label that cover the part where the waistband is sewn together. After a close examination, the stitching is good even though I could see a few misalignments and loose threads. The mesh is not an easy fabric to stitch and becomes even harder when you have to stitch it to a different fabric such as a stretchy modal blend. There is a quite big label on the back with the fabric composition and washing instructions that can be very easily removed by pulling the thread that sticks out. The manufacturing is very good in general, even though, I think, there is room for further improvement, especially in the middle of the pouch and the finishing details around the legs.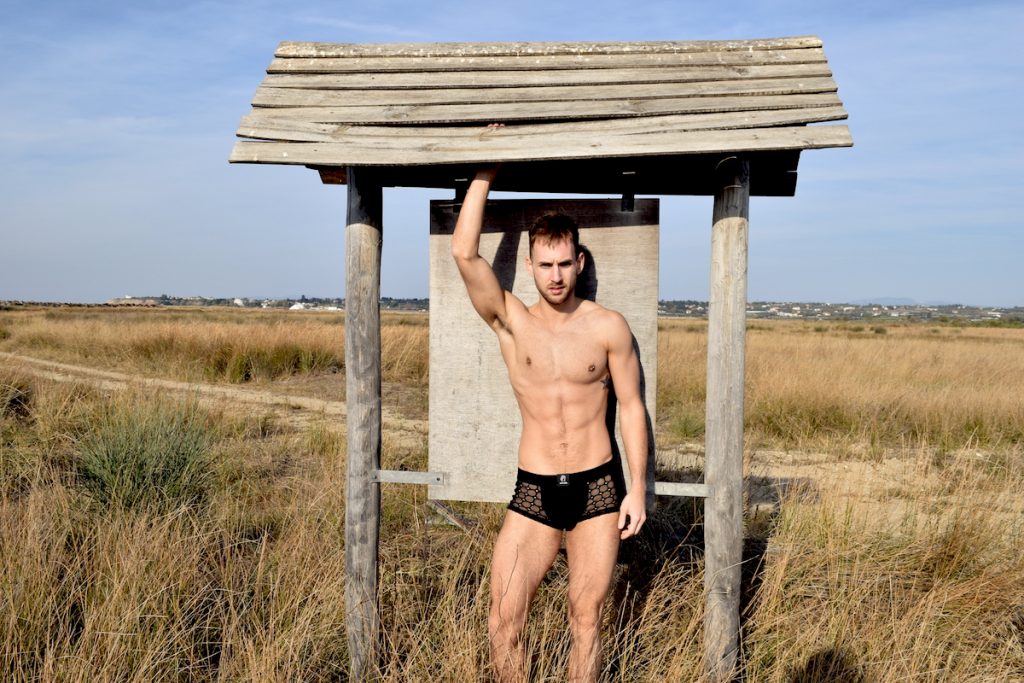 Fabrics like embroidered mesh need attention so I had to hand wash the garment. You really shouldn't put in the washing machine and never in the dryer. This may be a downturn for some but hand wash is the only way to keep such underwear in a good condition for longer. Another thing I should mention is the fabrics used to make this underwear come at a rather high price. No wonder the retail price of Monday Boxer is 60 euros (tax included) putting it at the high end of the price spectrum.
I would definitely recommend the Monday Boxer by Pothos. I love the use of different materials and the way they are mixed together in a comfortable style. It is perfect to wear under a suit or at a special occasion or celebration. You should definitely try it!