Today's underwear review is for the North Sea collection boxers by Smuggling Duds. The North Sea is the latest underwear line of the UK based brand released in November last year comprising four prints inspired by nations and legends of the North Sea. You can read more about the collection in our article about it here. The specific pair we put into the test is the Pirate, in size medium. This pair of boxer briefs was sent to us by Smuggling Duds.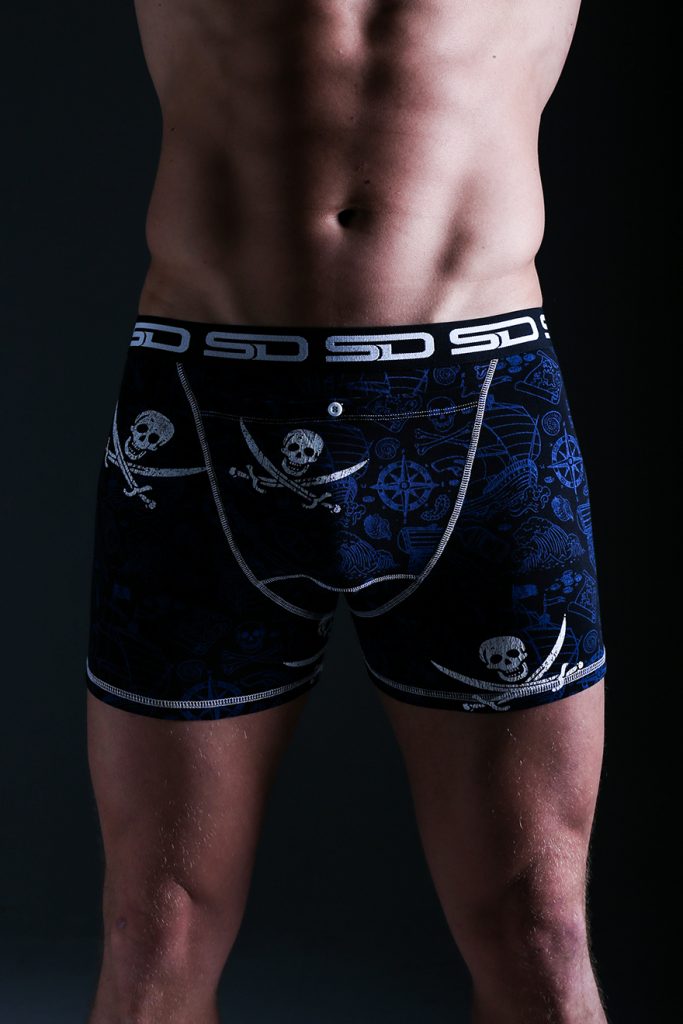 Smuggling Duds is a brand that was featured quite a few times at Men and Underwear. What we appreciate most about it is that their designs stick to a certain idea and a certain customer. It is a brand that is consistent with its underwear cuts and its idea of making underwear with stash pockets at the front. Their boxer briefs have a US Design Patent and an EU Design Registration.
This is not the first time we try one of Smuggling Duds boxer briefs. We were lucky to own a pair from their very first collections and we liked the idea of boxer briefs with a fully functional pocket at the front. This pocket has grown since then and, in this specific collection, it covers the whole pouch offering a lot more space. In there you can put money, cards or as a friend suggested "a piece of cloth for enhancing purposes!". Of course, whatever you put in the front pocket would make the front look bigger but the brand has balanced that with designing a flat pouch. This type of pouch is a love-it-or-hate-it feature. The pouch is made from a single panel, meaning their is no contouring or shaping to it. The advantage of this is that it leaves your front free from any restrictions left and right. The fabric is stretchy enough for your front to push into and make its own, natural curve. The disadvantage is that in some men, it won't prevent your package touching your thighs causing, sometimes, discomfort and a need for readjustment.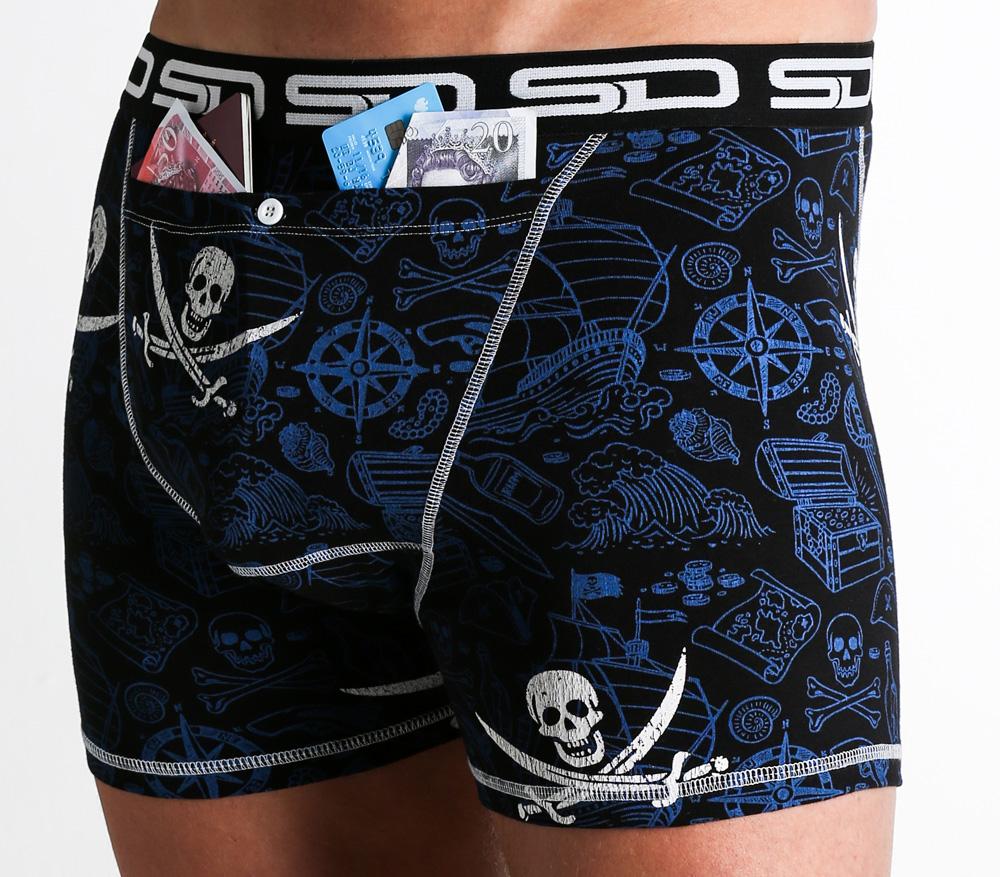 Before we get deeper into the construction of the boxer briefs lets talk a bit about the design. This specific pair is inspired by Pirates featuring a print in blue on black with some extra skulls and swords printed in white on top. It is a fun print that takes the pirate theme quite literally even tough we would prefer it without the white print on it. We like the contrasting stitching combined with the white button on the pocket and the waistband. There is a cute and innocent, almost child like, feel about it.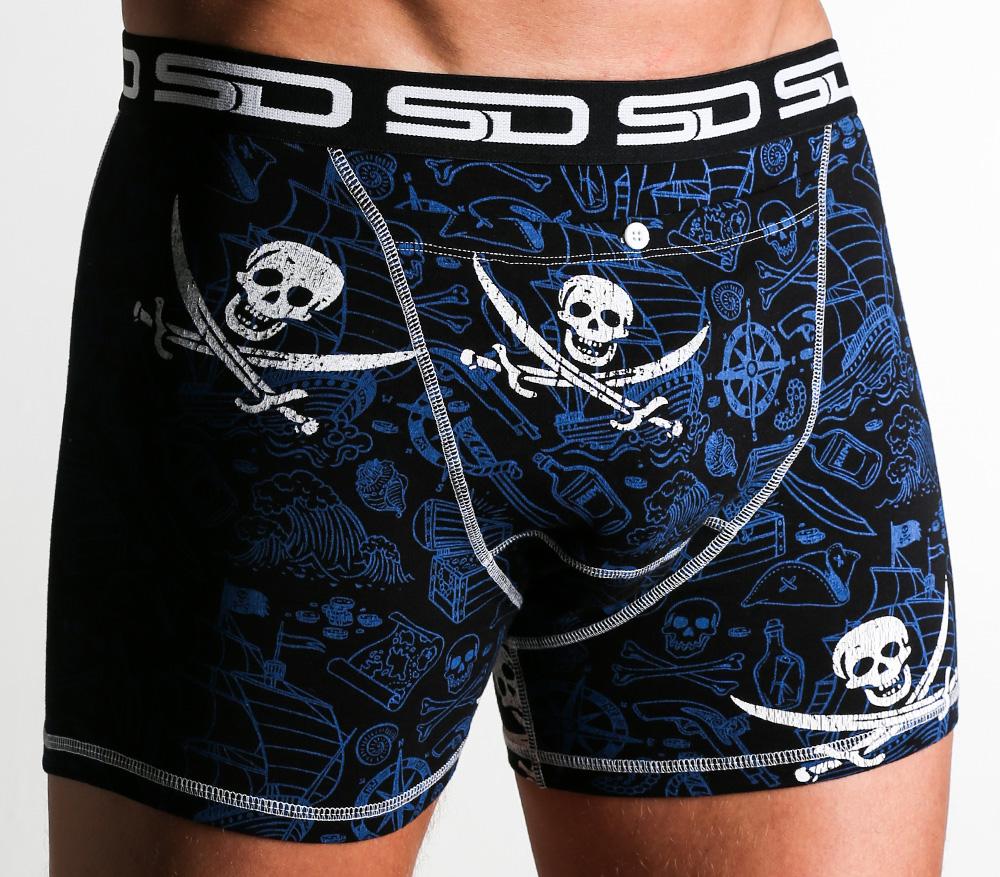 Lets have a closer look into the construction. This garment is made in China and construction-wise it is good and in a competitive price. The panels seem to be cut with precision and all the seams are flat. There were a few loose threads but nothing too serious. The back of the garment has two seams on each side of the buttocks. They help the boxer briefs to retain their shape and prevent the middle panel to fold in.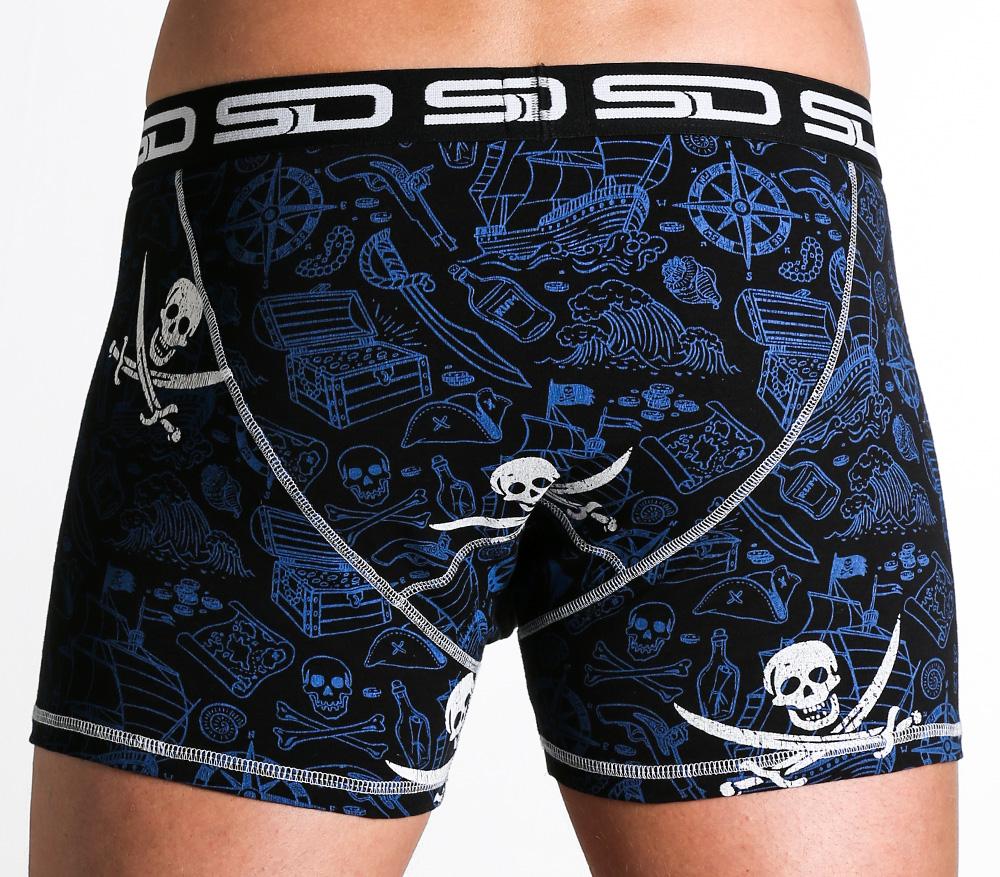 Overall the North Sea Collection boxer briefs by Smuggling Duds, will not disappoint the fans of the brand or those who look for a pair underwear with a big stash pocket. The shape and cotton based fabric allow them to be worn for everyday use, but they are also good for lounging in.
The price at the moment this review is published is 16 GBP.
Direct link for this product: Pirate
Other available prints in the same collection are England, Scotland and Viking.