We are so happy to bring this amazing interview of Rilley Jacob with images by Ross Haley. You will also get to see some photos of Rilley rocking underwear designs by Marco Marco!
---
By Jason Kelpenger @jasonk27
Some basic modelling stats: height, hair colour, eye colour? What is your hometown and who currently represents you?
I am 6'3″ with black hair & blue eyes. Although depending on the time of day, my mood, surroundings or what I am wearing, my eyes can be blue, gray or green. My current hometown is Sandusky, Ohio, but after moving back from Hollywood, California a few years ago, I am ready to move again & heading to Atlanta, Georgia in the fall. I currently have representation locally with Pro-Model & Talent Management in Akron, Ohio & nationally with Model Management Group in New York City, but have an announcement coming up for two fashion agencies that are looking to represent me & I couldn't be more thrilled!
How did you get into modelling?
I have loved performing and entertaining since I was a kid, but the first time I took interest in modelling was at age 12 when my best friend & across-the-street neighbour and I heard about a casting for a magazine and we begged our parents to take us! From there it just developed from an interest in fashion, movies and, of course, television shows like "America's Next Top Model."
Tell us about your first shoot. How did it come about and were you nervous? 
My first shoot was when I was 18 with my friend who was doing some modelling and he asked me to join him for a test shoot. It was a blast & much more exhilarating than family photos growing up, senior pictures or all of the practice shoots I used to do myself and with my friends on the computer, digital camera and ipad. Haha!
What are your modelling goals?
Ultimate goals would be to sign with Ford Models, travel the world and walk for labels like Balmain, Versace, Calvin Klein, Fendi, Alexander McQueen and Giorgio Armani.
Who are some photographers and models with whom you would love to collaborate?
At the moment my hopes and eyes are set to shoot with Brian Jamie, Hayden Su, Blake Ballard and Joem Bayawa. I would love to work with fellow fashion wolf, Raina Ellison (Hein) from "America's Next Top Model" and , of course, six foot two giraffe, Karlie Kloss.
Who are some models/dancers you admire?
I have a ton of role models in the industry, but some of my top picks include Sean O'Pry of VNY Models and Alexander Ferrario of Wilhelmina NY, as well as Roberto Bolle of The American Ballet Theatre and Fabrice Calmels of the Joffrey Ballet who is also signed with IMG Models and happens to be the tallest ballet dancer in the world.
When did you start dancing?
I have been dancing various styles of dance for various years, but overall for 16 years. I began my first jazz class when I was eight years old after one of my sister's recitals when I begged my mom to let me get on stage.
How has your experience been with Dancing Wheels?
This year was my first season with the Dancing Wheels which is America's first professional, physically integrated dance company. I am so thankful for this experience because it has not only given me excellent, further training, but opened my eyes and mind to movement between even more body types and abilities. It has definitely helped me grow creatively, and was also very relatable as a very tall dancer generally working with bodies that are much shorter. Being exposed to dancing with even more bodies and different abilities between stand-ups and sit-downs, whether in manual or electric wheelchairs or even amputees is something that people do not see often. It is a beautiful thing, not only to see that everyone doesn't have to be the same size and of the same ability, but that anyone who has the passion, truly can dance.
I know you teach dancing classes. Tell us about this.
I have been teaching dance since high school when I was dance captain for musicals, then began choreographing for some local show choirs, teaching ballroom lessons, choreographing for weddings and assisting many studio classes over the years. I have officially been teaching my own dance classes in studios for the past 5 years & I teach classes that I am trained in from ballroom to ballet, jazz, tap, hip-hop, jazz funk, lyrical, modern, contemporary & even strength and flexibility classes.
Your dance students call you Prince Rilley. Why?
I have been asked by several young students and even kids outside the studio if I we're a Disney prince before and it is the sweetest thing. Some of the girls in one of my classes this past year decided to start calling me Prince Rilley instead of Mister Rilley and I was tickled pink to keep the title.
What is your favourite type of movies and why?
Definitely scary movies without a question, although I also enjoy sci-fi/fantasy and comedy. They're the kind of movies that bring excitement to life for me. I am all about thrills and chills and if you couldn't guess, Halloween is also my favourite holiday!
Name a few of your favourite scary movies?
90's classics like "Scream", " I Know What You Did Last Summer" and "Urban Legends". They were some of my first experiences with horror and surely started my craving.
When you were a kid who was your favourite super hero?
Hands down…The Flash.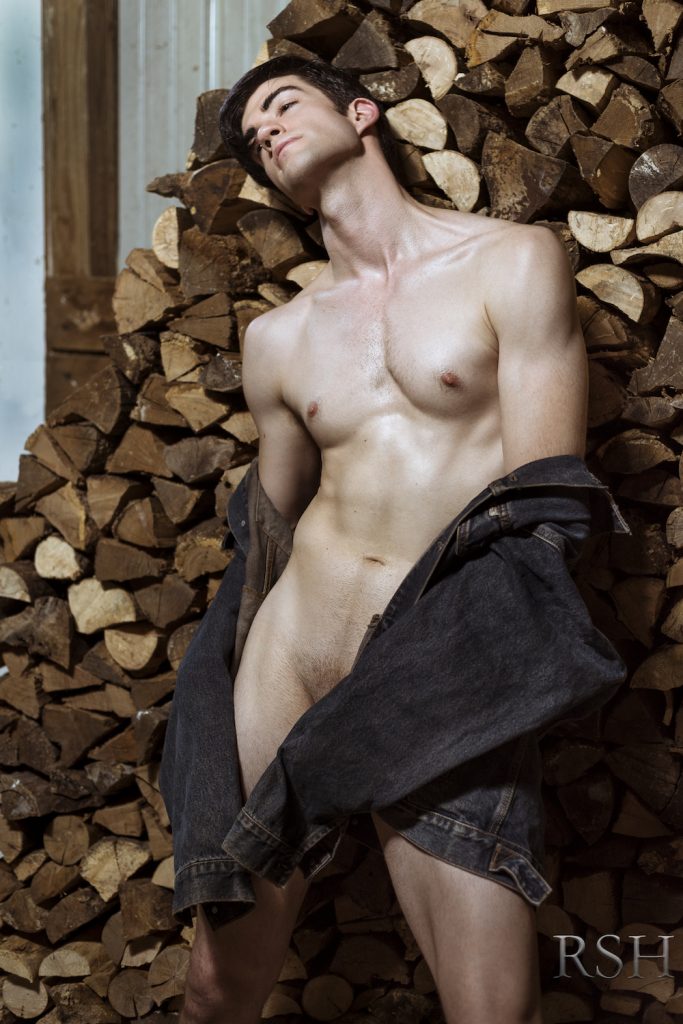 Tell us about your love of wolves. 
I have had a fascination and connection with wolves ever since I was a kid. From movies like "Kavik the Wolf Dog" to books like "The Call of The Wild", I found so much admiration for these beautiful creatures that worked together and could stand alone. They can be incredibly loving, but ferocious if the time ever calls to stand. Plus, werewolves are alluring and pretty bad ass!
Tell me about your upcoming move to Atlanta and what it means for you. 
This fall has me so ready for a change. Looking to new representation for modelling and opportunities in dance as well as acting, I am ready to start a new adventure that will hopefully bring lots of good experiences and further my career. I will definitely return to Hollywood one day and visit many other major cities and countries, but I have heard that Atlanta is becoming the Hollywood of the South and having visited several times already, it definitely feels like home.
You worked with photographer Ross Haley in Columbus. Tell me about that experience. 
Working with Ross is something that I have wanted to do for quite some time. I was so excited when an opportunity was presented to me to shoot with him and it was even more than my expectations held. Ross is so talented and incredibly professional and was so intuitive and respectful to my vision and brand in creating and capturing images that reflected and pushed me. It was without a doubt one of my favourite shoots to date and not only can I not wait to work with him again, but I am so happy to call him a friend. This is definitely a photographer whose work you don't want to ignore and a must to shoot with.
Finally, what is your favourite style and brand of underwear?
My taste in underwear has changed over time, but I'm definitely a brief boy. I will always love Calvin Klein, but one of my new favourites for fit and flare is Marco Marco underwear.
---
Sending much love & light your way. ALWAYS & FOREVER.
---
You can follow Rilley Jacob on social media
Twitter: @RilleyJacob
Facebook: @rilleyjacob
Instagram: @rilleyjacob
---
You can follow RHS on social media
Twitter: @PhotoRSH
Instagram: @photorsh
Model Mayhem: modelmayhem.com/bigrphoto
---