Today's underwear review is for the Galaxy Trunks by Garçon Model. The trunks belong to the new Galaxy Collection of the Canadian brand and they were sent to us for the needs of this review. The collection has been released just a few weeks ago and we honestly couldn't wait to wear one of the new trunks.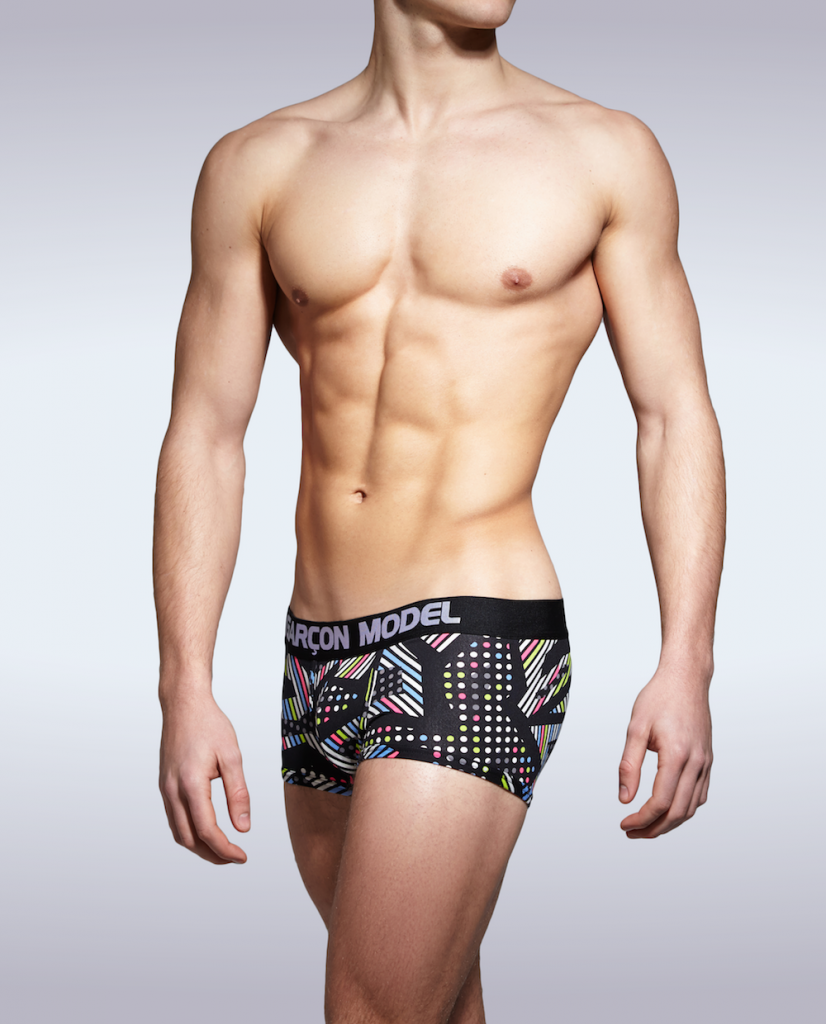 Garçon Model is known for its classy style. Every pair of underwear we have seen from this brand has an elegance and a great style to it and their Galaxy collection is certainly no exception. This is the first time Garçon Model is experimenting with printed fabric for underwear and both prints (Galaxy and Comet), we think, look fantastic. There is a futuristic character that makes it modern and very fresh and a vibrancy without being too loud. They are prints we can imagine everyone wearing and feeling very comfortable in them.
Lets get back to the Galaxy Trunks though and our review. The trunks feature a vibrant print with white, grey, pink, lime green and light blue stripes and circles on a black background. As we said before it sounds a lot busier than it actually is! The fabric is beautifully combined with a black waistband that has the logo name of the brand once and centred at the front. The great styling that the Canadian brand puts into every garment is present in this pair of trunks as well.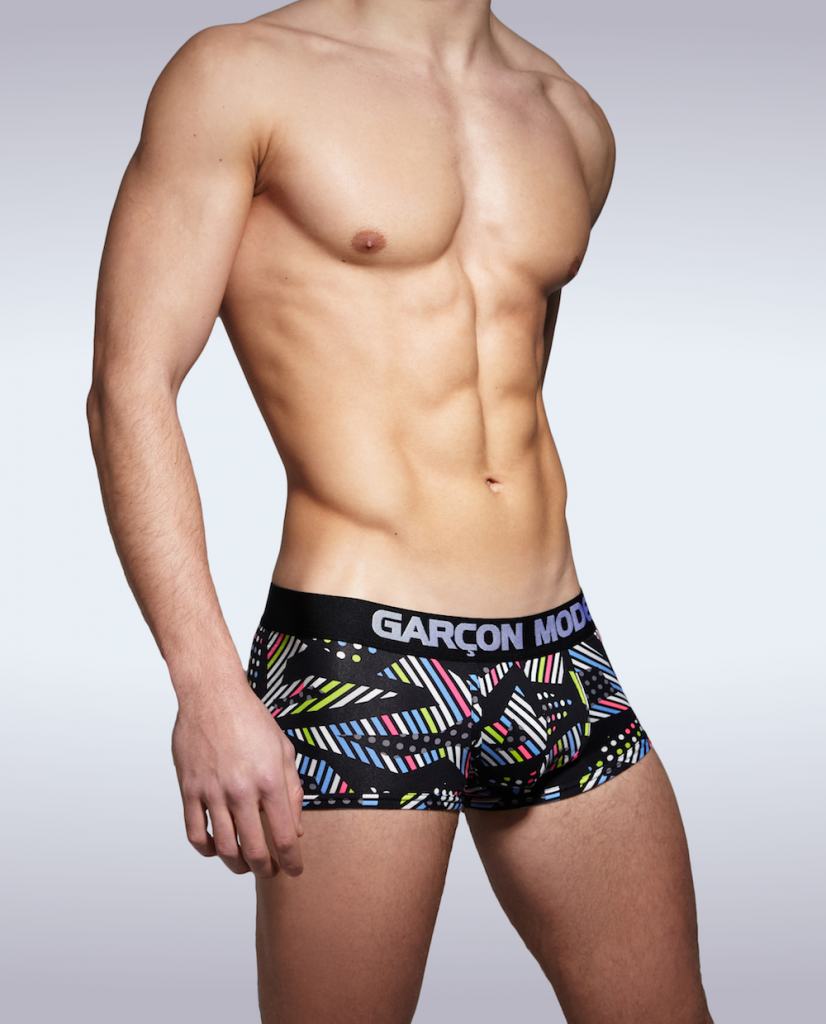 From a technical point of view the garment looks particularly well made. It is made from a nylon based fabric with plenty of elastane to make it stretchy and a very soft finish. Our only concern about the fabric is that it tends to not absorb the same amount of moisture from your skin as a cotton blend would do. It may feel warmer than a cotton blend so we wouldn't recommend wearing it at the gym.
There is strong stitching, the panels are cut with precision, and there aren't any misaligned details. The cut is a low rise trunk and it sits nicely on he hips with a very soft waistband.The fabric is printed on one side so the inside is white. It looks like Garçon Model paid a lot of attention in the construction of the pouch of these trunks. The pouch is contoured to allow extra space and lined. There is a perfectly rounded piping that runs all the way around the pouch area reinforced with extra fabric. This gives a better support and definition. Note that the lining is in the same fabric but the brand thought of putting it facing on the inside. It is these little construction details that make you think that this label knows exactly what it is doing!
Overall the Galaxy Trunk is a very nice looking pair of underwear. It is very good for every day wear and looks very stylish, modern and classy!