Underwear review for the Thong Brief Bay Leaf of Kale Owen by Brian
I have been interested in trying Kale Owen products for quite a while now. Their underwear all has unique, bold designs and patterns (I am especially a fan of their botanical designs) and all come in very minimal and skimpy cuts. I finally got some of their undies, and I'm delighted to share a little about what a learned wearing them, starting with the Thong Brief Bay Leaf.
I own a lot of thongs now, these being one of my favorite styles of underwear, and I can with certainty that this one by Kale Owen is one of the most original. It has a substantial waistband that looks and feels like a brief, but the back is very minimal, perhaps more like a g-string than a typical thong. The pouch has a wonderful snug quality that feels supportive and comfortable, and the fabric is very stretchy, so it conforms specifically to your body. The pouch also provides a nice little lift, that I personally feel gives a boast to your confidence by offering a little push for display. It is, however, also a little on the small side, so depending on your personal body type, the pouch might not provide complete coverage.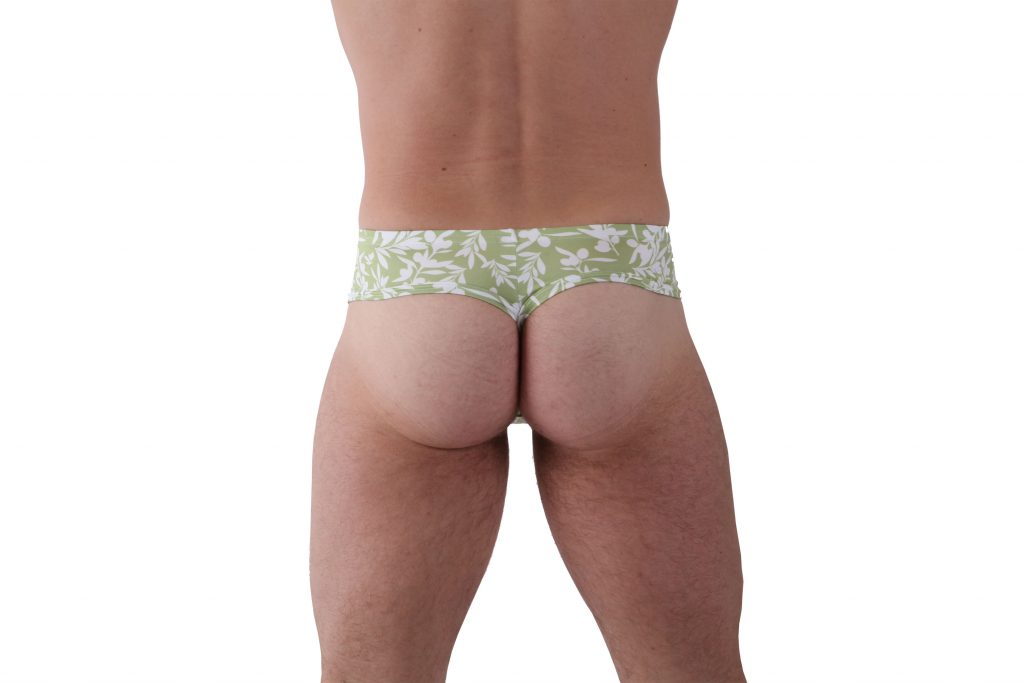 The Thong Brief is made with a high-quality polyamide, complete with a generous amount of elastane, so the snug fit also provides a smooth and tempting surface, feeling both luxurious and comfortable. The pattern is printed in reverse, so the base color of the underwear is green with the foliage printed in white, a nice and unexpected approach. The green is a soft, pastel color, that gives a cool and gentle feeling.
There are several things I like about wearing thongs (and I am delighted to know that more men are wearing them!). A good thong should be both comfortable and flattering. They can provide a great freedom of movement, while still being very supportive. I also find that a good thong can also give gentle reminders all day long, snug and comforting, with the pull of the minimal rear coverage an enticing feeling. The Kale Owen thong is no exception, with a comfortable tight fit and a delightful little tug from the exceptionally minimal back. The skimpy cut of the underwear provides a perfect balance of support and exposure. The great patterns and colors of Kale Owen's underwear help to offer so much more, helping with a sense of pride and self-expression.