As technology in fabric manufacturing advances, it gives more options to designers to use fabrics never seen before in the underwear industry. At the same time, the men's underwear market is advancing as men are becoming increasingly aware of their underwear and looking for something alternative to the classic whitey tighties. One of the rising trends that, we think, has more room to grow is the trend of shiny fabrics. Aluminium coating and digital printing are two main technologies used to create some amazing stretchy materials and threads we have seen in recent collections. Let's look at some perfect examples of this trend below, which you can find now at Men and Underwear – The Shop. Apart from gold and silver, which is the first to come to mind, expect to see pearly whites, shiny blue and more!
The first pair of we are going to show you is the Metal Bikini by TOF Paris in silver. This striking pair of low-rise mini briefs is made with silver aluminium foil coated fabric, which is stretchy and breathable. The coating is on the outside of the garment only, so your skin touches a very soft black material on the inside. You won't believe this fabric's softness and how well it stretches unless you get it in your hands. A perfect example of this trend. TOF created many more items in this fabric and not just in silver but in gold too! This line comprises thongs, briefs, bikinis and more.
From a pair of briefs, we go to a jockstrap in a very innovative style, the Arose Jock by Marcuse. The shiny part of this underwear is on the waistband. Marcuse used a shiny thread that is sewn into the elasticated band, forming a line of shine that goes all across the waist and around the pouch. It is not very often that we see this technique of waistband manipulation and we must say it looks great! The Arise line comprises jocks and briefs and in two more colours, white and black.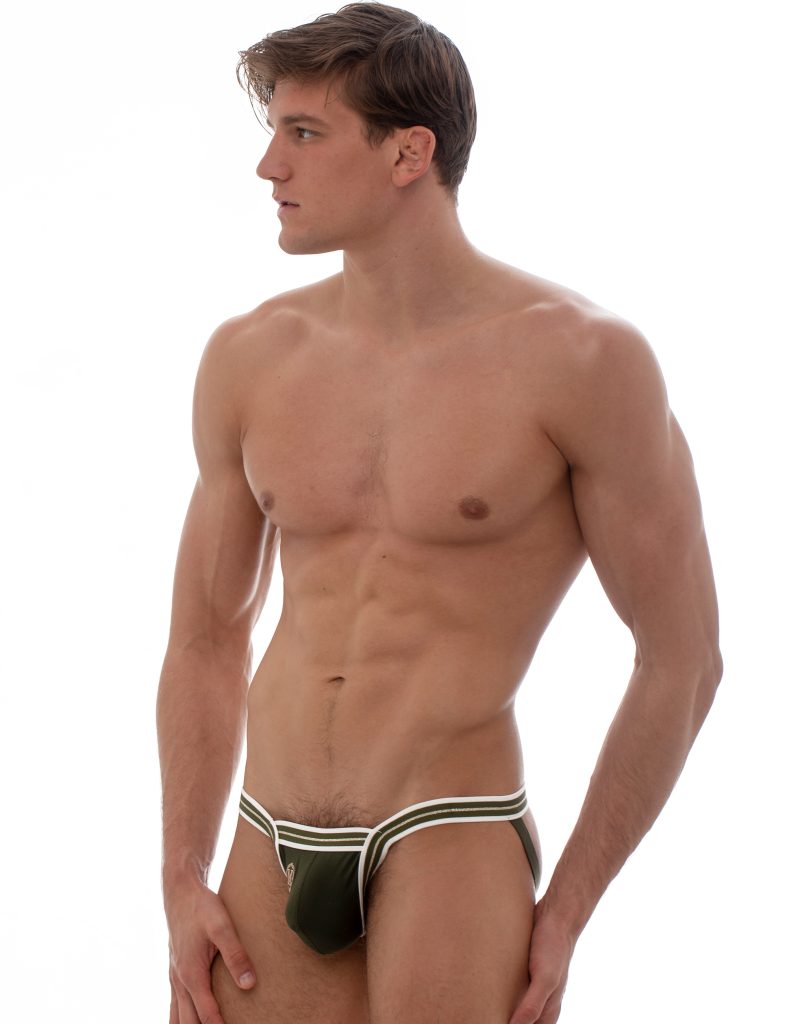 The third pair of underwear we included in this list is from Andrew Christian. The Massive Nude Briefs are made from a polyamide blend in a gold/beige that catches every ray of light. It is an amazing fabric that, when you see it from a closer view, looks like it is made with glitter! This is a perfect example of this trend and one of the most contemporary fabrics in this list of items. Andrew Christian gave it a shiny waistband decorated with the Greek key pattern. Andrew Christian created a unique jock as well in this fabric which also looks amazing. The Massive Collection of Andrew Christian comprises some of the most avant-garde underwear of any Andrew Christian line. Many of them are made with unique materials, and you should be able to see more in shiny fabrics!
Same brand but a different pair of underwear in shape, silhouette and colour! The Superhero Locker Room Jock features a perfect example of digital printing. Silver stars on a shiny blue sky in a fabric that is also a polyamide blend. This fabric allows a very bright-coloured printing and stretches without breaking the print. The print is so vibrant that it makes the fabric look textured even though it isn't. Apart from the jock, Andrew Christian created briefs in the same fabric.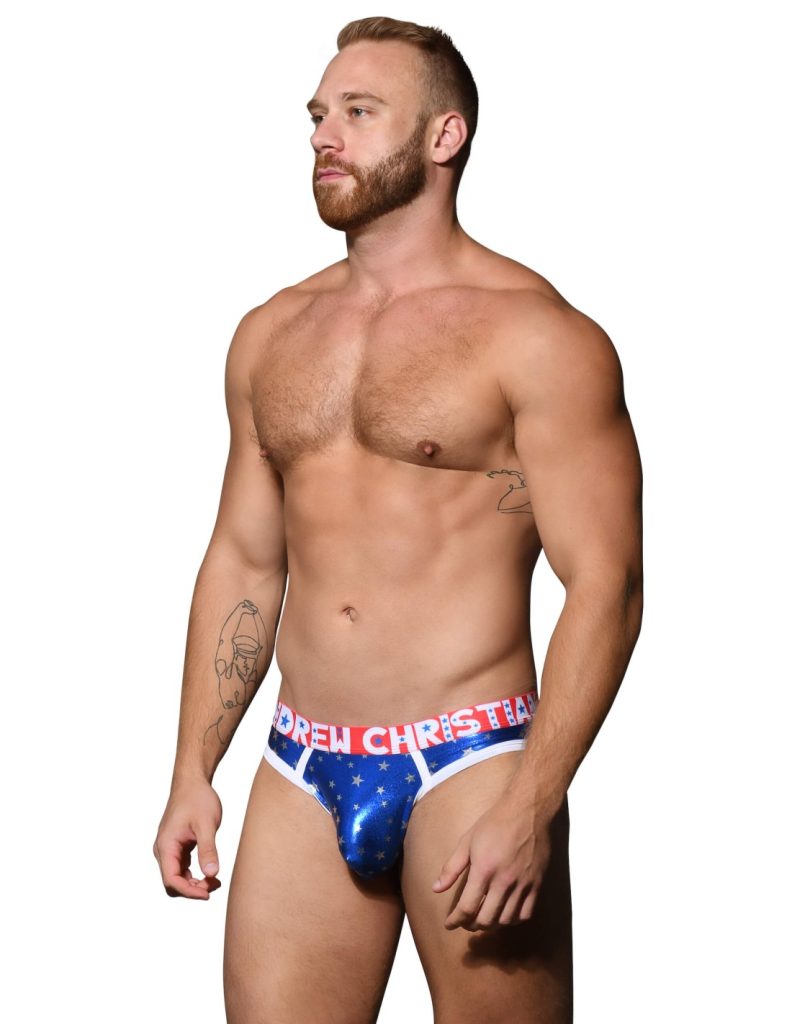 Last but not least, we show you one more pair of briefs from Marcuse Australia that we think represents this trend at its best. The Superstar Briefs in white are made from a pearly off-white colour fabric and a waistband that also has some shine to it. Here we have two shiny elements incorporated into a single design that looks classy, elegant and luxurious!