Feeling festive this year? Well, we do, already and that is the reason why we have prepared this article for you, with a list consisted of not one, not two, but 11 Christmas themed underwear. Christmas mood, as you are about to see, is expressed via classic colours like red and green, cute prints but gold and silver also. Styles varying from boxer shorts and boxer briefs to jockstraps can make wonderful gifts for the ones you love or yourself. So, let's dig into the deep waters of this year's best Christmas themed underwear!
Diesel – Briefs with holiday print
The list starts with a classic brief by Diesel. These holiday-themed briefs feature foil-printed Christmas decorations and a shiny waistband with metallic-thread logo. The base colour can be either red or black but we suggest buying the red one for the Christmas jolly mood. In addition, apart from the brief, in some countries, there is a trunk available with the same style, colours and print. You can check Diesel's online store and retailers stocking the brand for the trunks.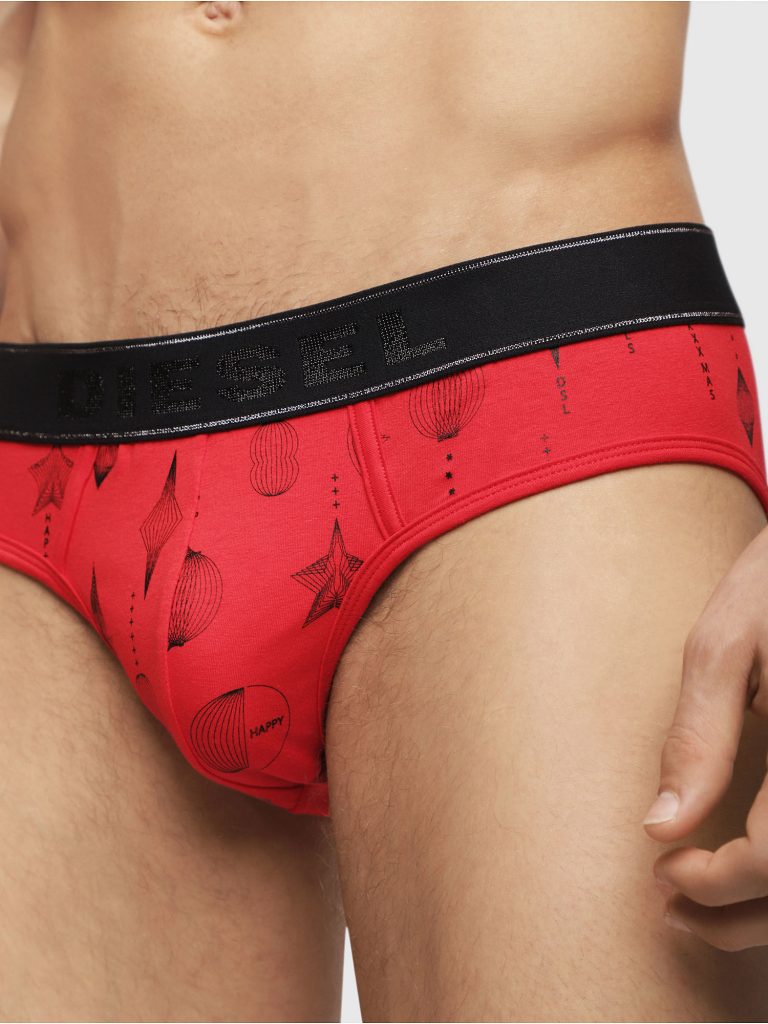 AussieBum – Christmas 18 boxer
AussieBum decided to go with a more traditional approach this year by producing limited edition boxer shorts for Christmas. This exclusive custom loose print boxer features printed reindeers and snowflakes, as well as two buttons at the pouch. There are two available colours for you to choose from, red and green.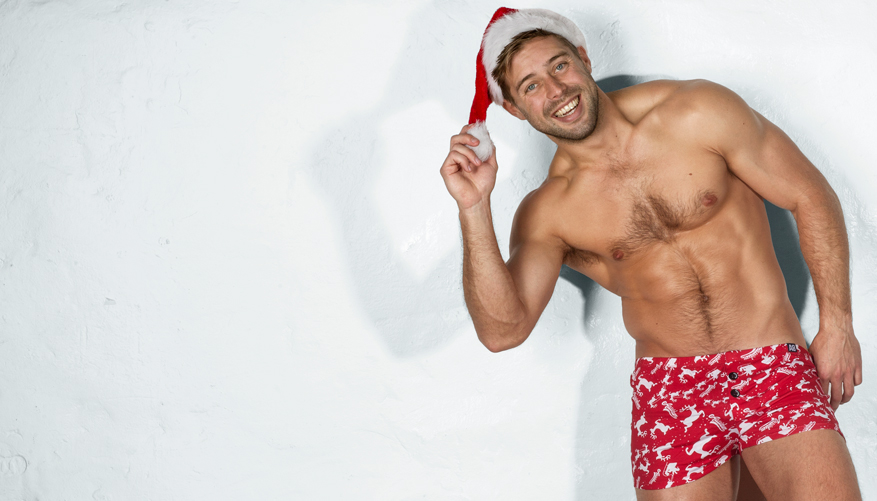 Björn Borg – Xmas Tree & Xmas Shorts
Next on the list, a nice gift idea by Björn Borg. The suggestion by the brand for this year's Christmas season is expressed by a 2-pack offer. A classic boxer with Christmas tree prints and another one with various Christmas related prints like snowmen, wrapped gifts etc. Both boxers are mid-rise featuring a longer leg and a extra wide Björn Borg waistband. All these, come to you in a special gift box.
Bum-Chums – Santa's Little Helper brief
Bum-Chums could not be absent from the Christmas list since the brand has already released its Christmas collection of underwear. One of the underwear presented for this year's Christmas is the Santa's Little Helper brief. A low-rise with a lush, stretch sculpted pouch featuring a special Christmas print with Santa, red nose reindeers and white snowflakes. All these, on a blue base creating colour blocking. This brief will meet the needs of every Christmas-holic person.
River Island – Red 'jingle bells' tiger print trunks
The brand moves to a more fashion – trend approach this year. The jingle bells tiger print trunk in red colour, expresses a general trend of the year, inspired by the catwalks of high fashion brands. The trunk features a Christmas-ish tiger print at the pouch and a garland-like waistband. The main colour of the underwear is red.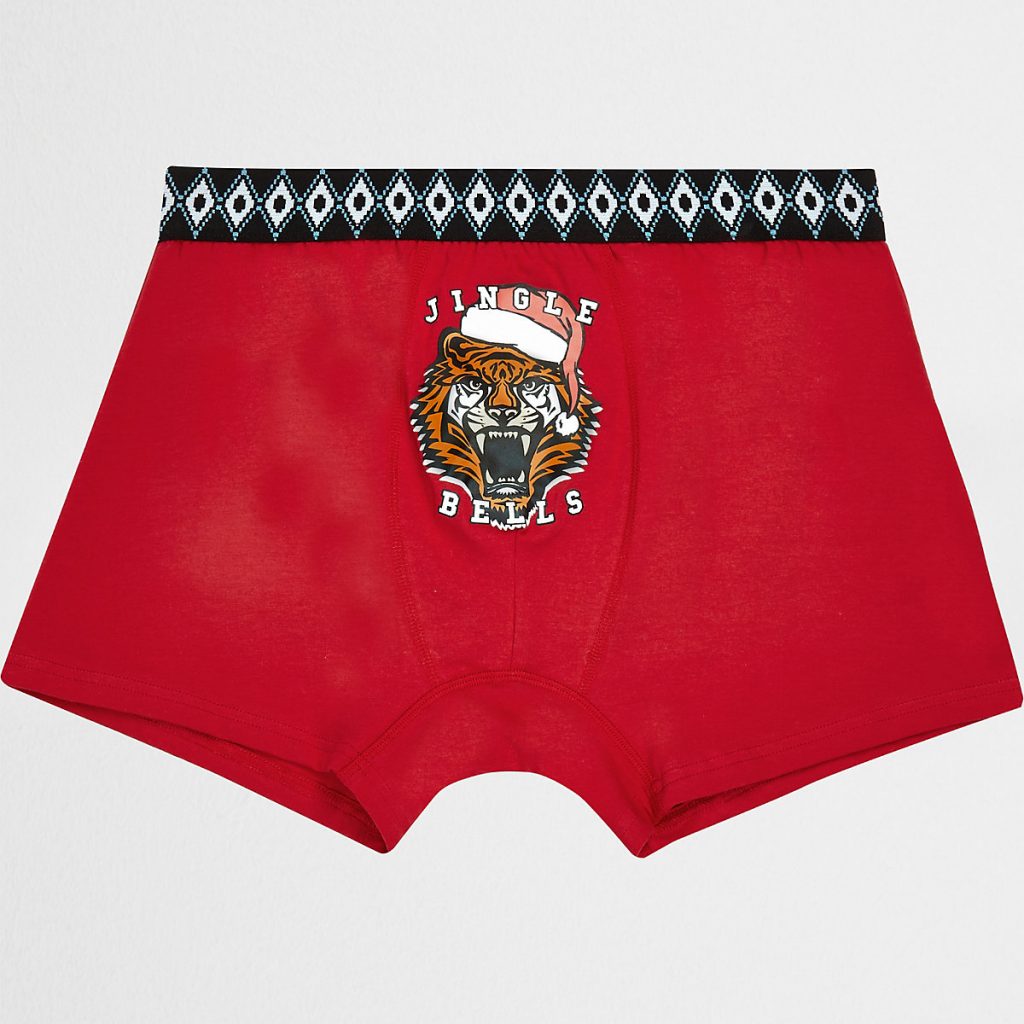 Jack&Jones – Christmas 3-pack boxer shorts
Next suggestion on the list, is a great value 3-pack by Jack&Jones. The 3-pack comprises three boxer shorts, but only two of them feature Christmas prints. The prints show on the one boxer short, Santa holding a beer while skating and on the other, a snowman. Both prints feature snowflakes and keep the blue navy colour as their base. In addition, both Christmas printed boxers come with a contrasting waistband. As for the third boxer, it shares the same base colour as the other two while they do not feature a print or a contrasting waistband. There are, as well, another two 3-packs available.
2(X)IST – Cotton Stretch No Show Brief 4-Pack
This suggestion, is a more versatile choice since it consists of four different briefs – one with Christmas prints, one checked and two solids. The printed brief is black with Christmas candies. The checked one is based on a Christmas checked fabric featuring classic red, green and blue colours. The plain ones are red and grey so as to accompany the style of the other two. All briefs share the same black and grey waistband.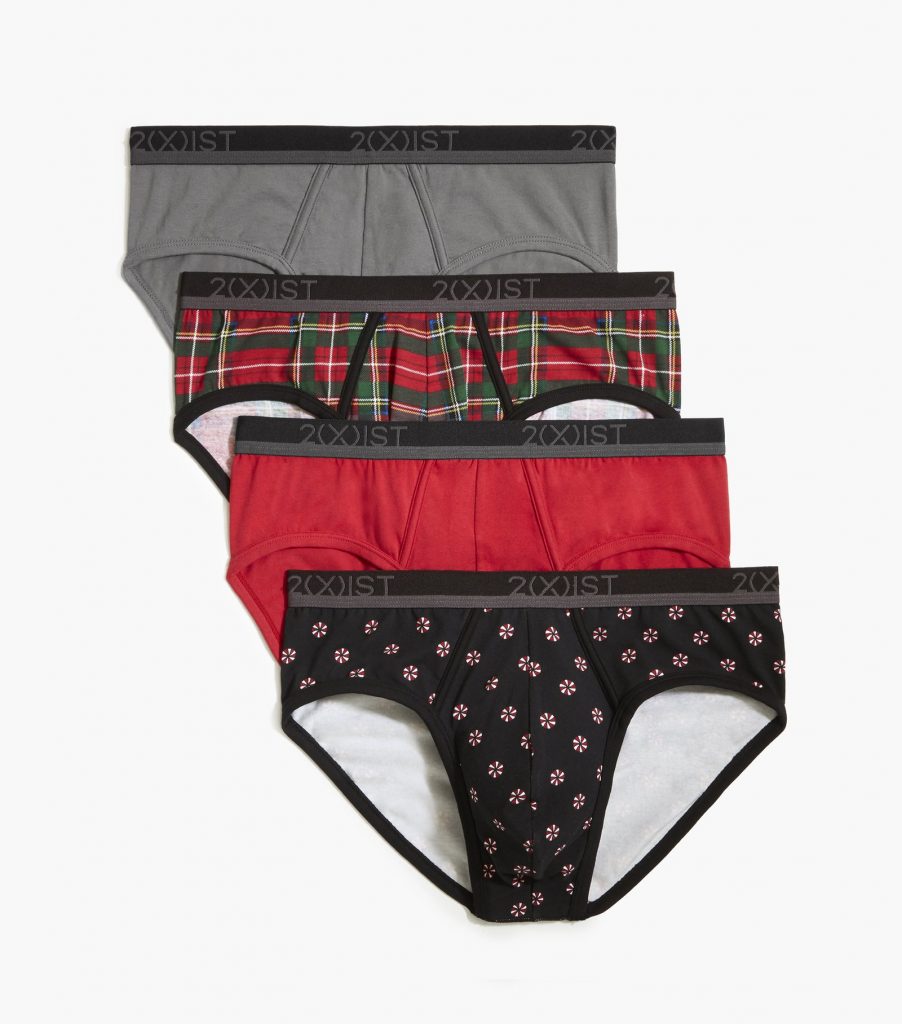 Andrew Christian – Almost Naked Disco Brief
Towards the end of the list we decided to suggest a different approach on Christmas starting from Andrew Christian and their Disco Brief. The underwear is based on a bright, limited edition disco metallic fabric expressing the jingle side of Christmas. This underwear is definitely not for the "traditional" guy but it surely makes an impression.
Code 22 – Rome briefs
The next pair of underwear in this year's list is a deep red brief. To many of us red and gold brings Christmas in mind. You throw in a bit of white and a soft Greek key waistband and you get a fantastic pair of briefs that you can very well wear, not only this Christmas, but in any other day of the year. We are talking about the Rome Briefs by Code 22 which could make the perfect gift this year.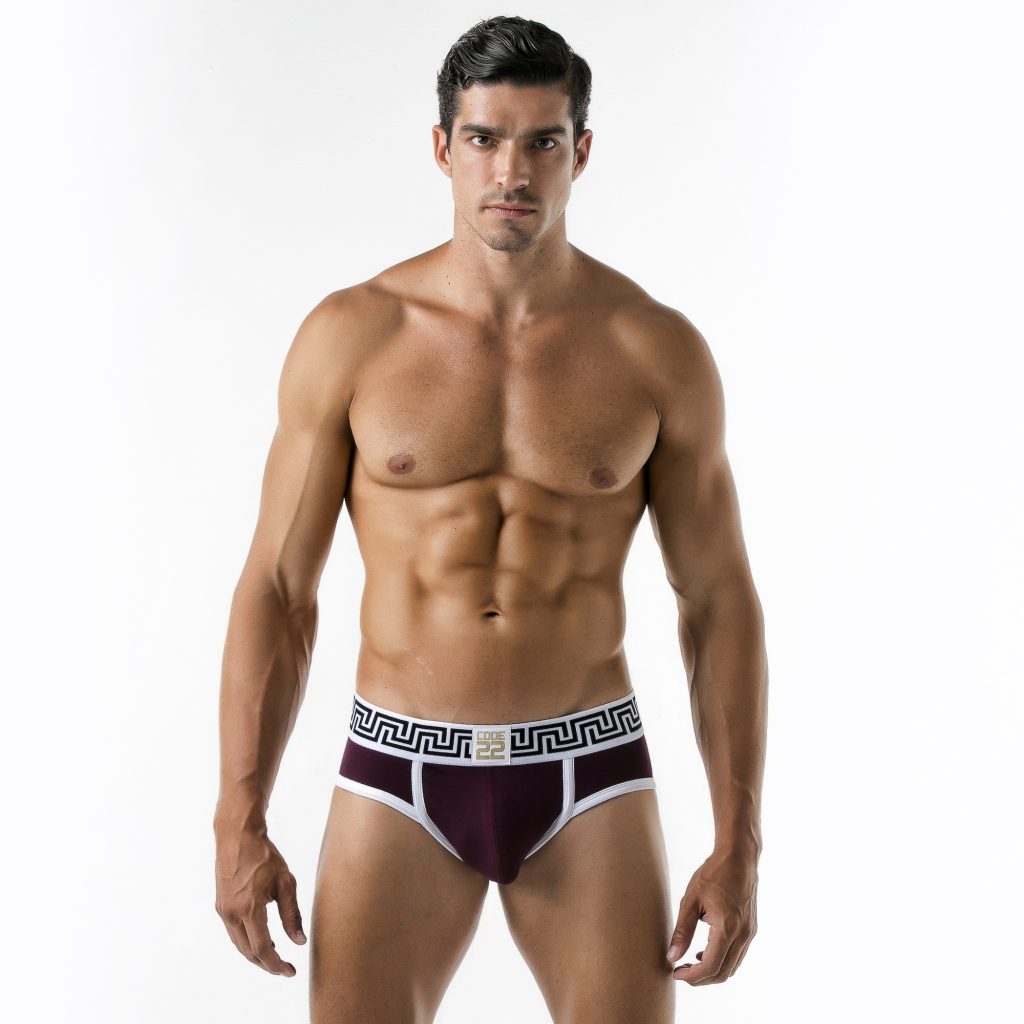 Marco Marco – Gold Sequin Jock-Thong
Who doesn't link Christmas to sparkles? Marco Marco says that a little sparkle and flash never hurt anybody and we agree. A kinkier suggestion just before the end of the list so as to cover everybody's taste and especially those who do not see themselves as traditional. This jock-thong is – as the title says a combination of a jockstrap and a thong – based on a gold sequin fabric which is sure to make eyes drop and make a statement.

L'Homme Invisible – Tosca Red Push Up Trunks
Last but not least a suggestion for those seeking something festive, elegant, sexy and luxurious at the same time. A perfect combination for everyone demanding quality, uniqueness and modern style. Made with luxury red velvet fabric from Italy, it combines sensuality and comfort with its soft red velvet fabric. It also features a covered narrow waistband and baroque influenced texture. The red colour is so bold that is going to make your Christmas brighter!