This article could very well be put under the series Underwear Trends of this season. But it is not the first season and definitely not the last we see underwear brands creating designs especially for Christmas. It happens every year! In our last year's guide we went for designs with mostly "traditional" colours, reds and greens, metallics and plaid. This year we will show you something a little different: Underwear with Christmas as a theme. They are jolly and can put a smile on everyone's face! They could very well make a nice little present for someone special or a present for yourself if you are planning to wear something jolly for the holidays. Some of you may find them cheesy, others fun and uplifting. Whatever your taste, we think you will enjoy our selection of the 10 best designs below. Time to show your Christmas spirit and leave a nice comment below! Enjoy and have a great Christmas month!
Addicted – Xmas Briefs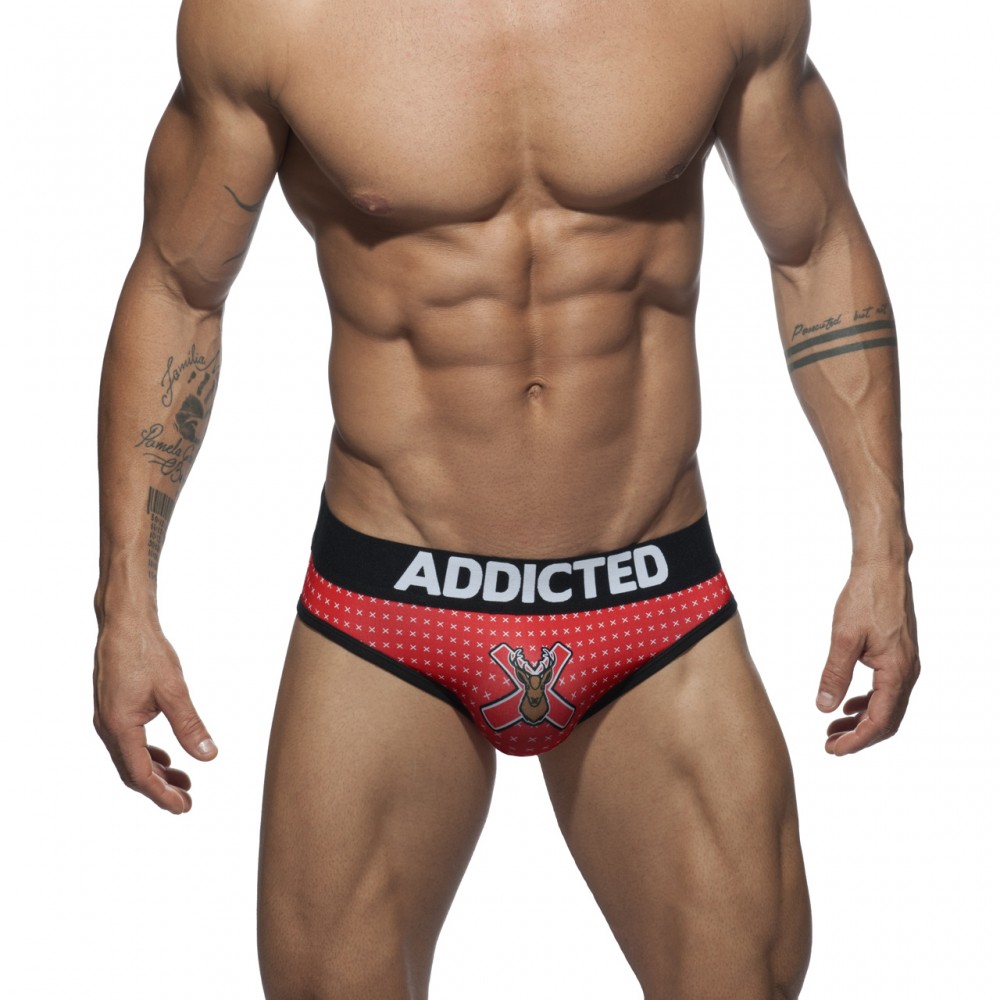 We will start with a pair of briefs by Addicted. Then Spanish label released a small collection just for Christmas and we think this one looks really nice! Decorated with a reindeer and lots of X's as in Xmas, this brief is perfect for a wild Christmas day!
Male Power – St. Dick Costume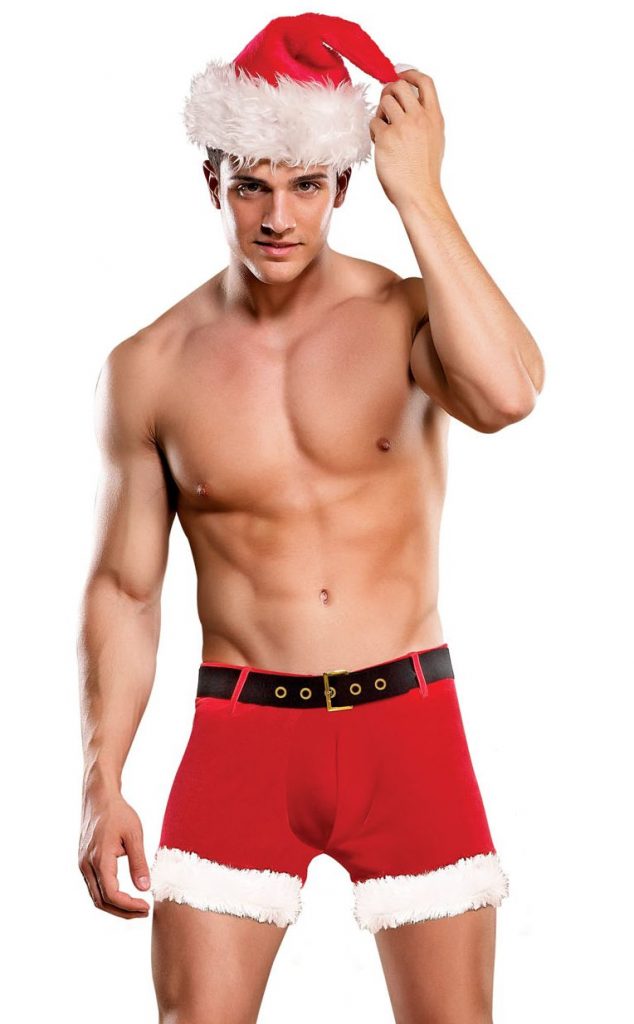 For something a lot more tame, we would recommend the Christmas costume, St. Dick by Male Power. All in red and white, the pair of boxer briefs features a black belt and white fake fur on the legs. Yes, the hat you see in the photo is also included! You can get it here.
MyPakage – Home For The Holidays Boxer Brief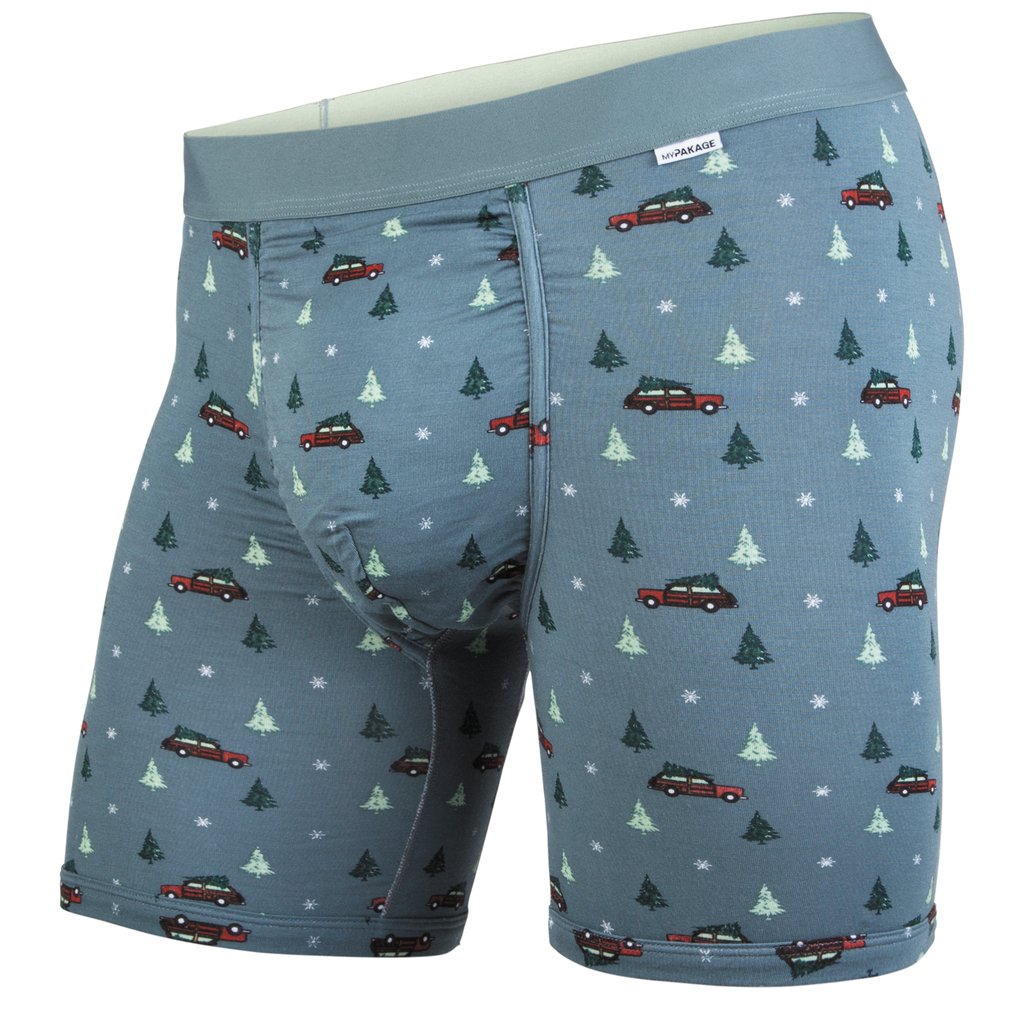 If you are travelling back home for Christmas then this might be the ideal pair of underwear for you: Home For The Holidays Boxer Brief by MyPakage. The Canadian brand went for a very nice print this year featuring a car carrying a Christmas tree, trees and snowflakes. You can get it here.
HOM – Xmas Geek Boxer Briefs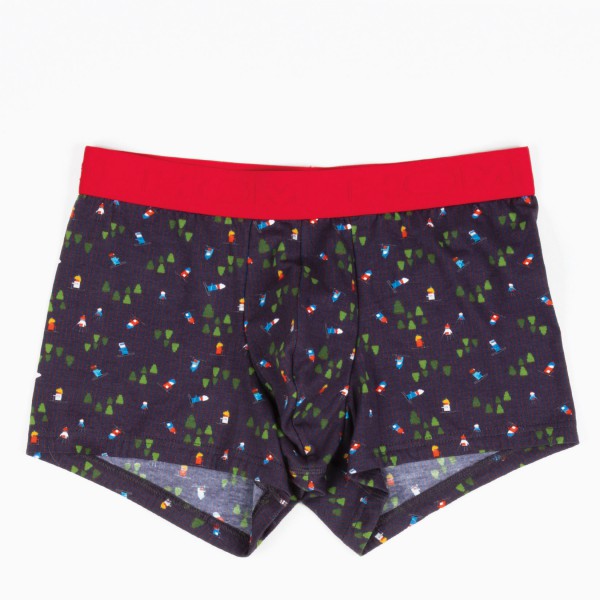 Christmas is not really a theme you see French brands going for but this year HOM made an exception. The stylish brand went as closer to Christmas as it could with a beautiful print featuring trees, little skiers, navy background and red waistband. The pattern has a dual reference. One to the festive period and one to the video games of the 90's. You can get it here.
Bonds – Christmas S17X Print Guyfront Trunk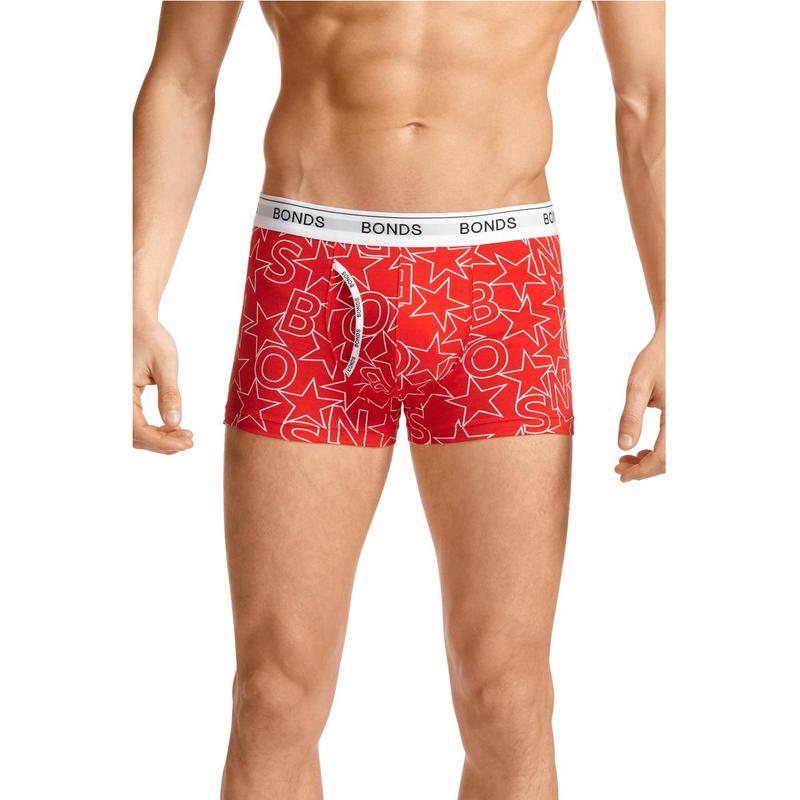 If your favourite Christmas decoration is the star at the top of the tree, then this pair of underwear is just for you! Australian brand Bonds released a new print, red with white starts and the letters of its name, just for the festive season. Its red and very stylish! You can get it here.
Oddballs – Christmas Balls boxer briefs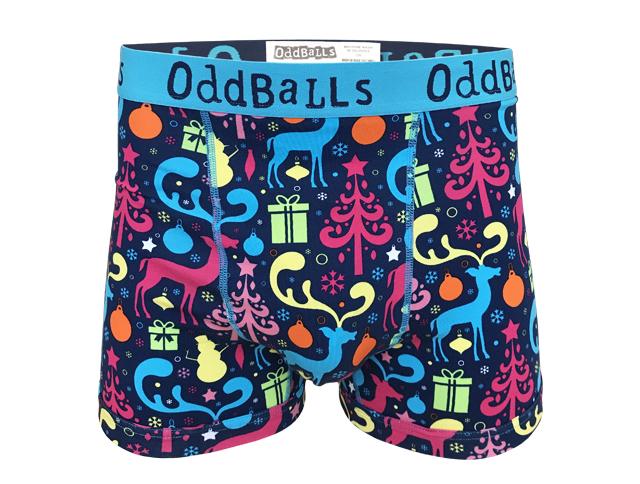 Christmas awakens the child in you! And this pair by Oddballs (also available for children!) does exactly that! Featuring nice drawings of trees, presents, reindeers and snowflakes in, uplifting, vibrant colours, this boxer brief will put you in the Christmas mood in a flash! You can get it here.
M8mate – Christmas Lilo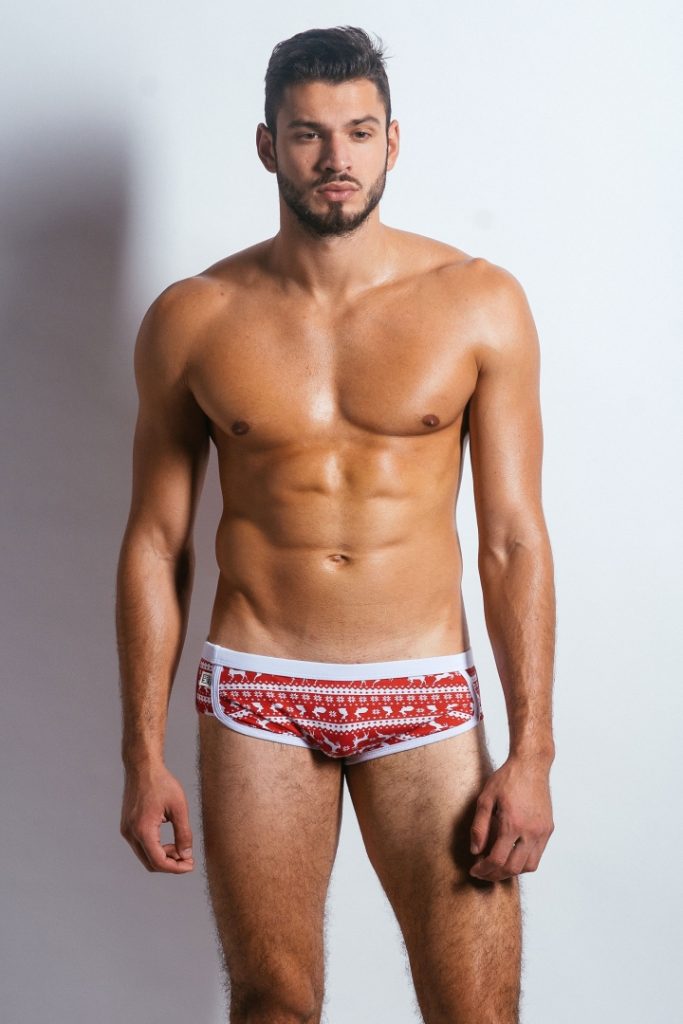 If Christmas for you means tradition, then Ukranian brand M8mate has the right pair for you! Featuring a very simple pattern in a classic red and white, this retro styled trunk speaks volumes. Possibly one of the most interesting designs of this season. You can get it here.
Stance – Blitzen underwear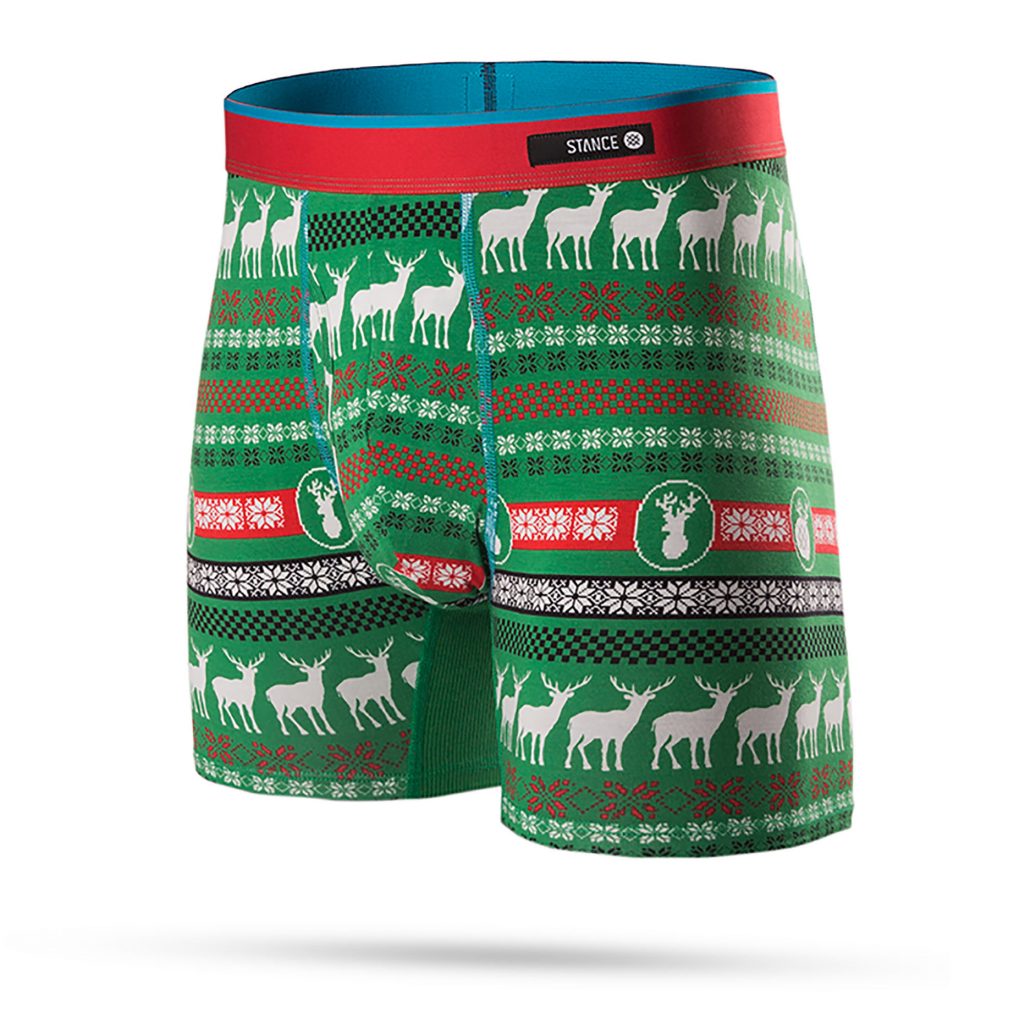 For something also a bit traditional you can go for the Blitzen underwear by Stance. Green body featuring a very Christmas-y pattern in white and red combined with a red waistband. You can get it here.
Paul Richmond – Candy Cane Cheesecake Boys Christmas underwear
For something a bit more artistic, you can go for this print created by artist John Richmond. A hand made and made on demand pair of underwear featuring a sky blue body decorated with candy canes. It is sweet and super fun! You can get it here.
Jack & Jones – Christmas Socks and Boxers Gift Box
For those of you who like not only Christmas themed underwear but socks as well, this Gift Box by Jack & Jones is what you need. The boxer briefs feature a very cute reindeer print with his red nose and white snowflakes. To see what the socks look like and to get it go here.