Today we show you one more of a series of articles with Christmas Shopping guides! Underwear makes the perfect present; it is intimate, essential and very very personal! There are so many options this year that we thought it would be a nightmare to pick just a few and make one Christmas Shopping guide. So, instead, we will have a series of them, from well known brands and lesser known ones, some even with exclusive sales and coupons just for you! So stay tuned and start buying your presents before everyone else does!
Today's shopping guide is from one of the youngest underwear brands in the world, Walking Jack. One of the reasons we chose to feature it first is because they stand out through their simplicity offering comfort and a contemporary look on classic men's underwear. Would these styles make a great Christmas present? Hell yeah! We think there is something for everyone plus you get to try something new in the market, underwear that you won't find (yet) in big department stores. The guys at Walking Jack have a promo code for 30% off (!) until the 3rd of December. The code is BLACKJACK and you can use it at their checkout page (right at the bottom of the page).
1. Solid Briefs – 23.40 USD / 21 EUR / 18.10 GBP
This is the latest release of this brand, a classic pair of briefs in black with a black waistband. Possibly one of the most elegant underwear styles of the season with a great fit and comfort. Apart from black, these briefs come also in all white!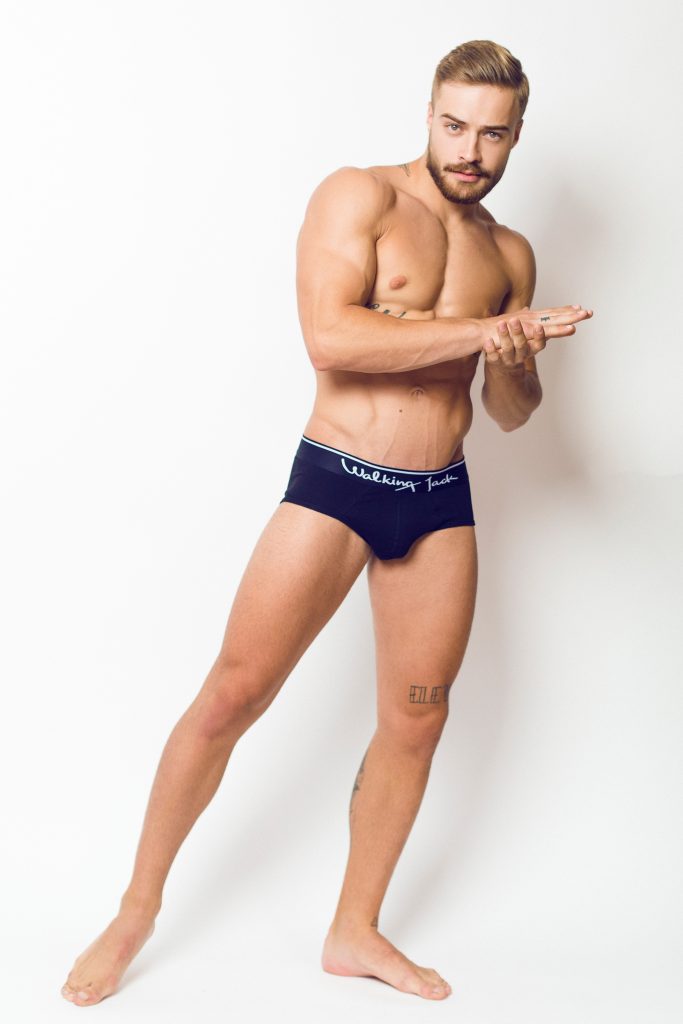 2. Core Trunks – 25 USD / 22.50 EUR / 19.40 GBP
In a royal blue combined with a luxurious white waistband, these trunks are perfect for every day wear. Stylish, masculine and comfortable with a tight leg and a tight fitting waistband, the Core Trunks of Walking Jack are made to stay in place all day long!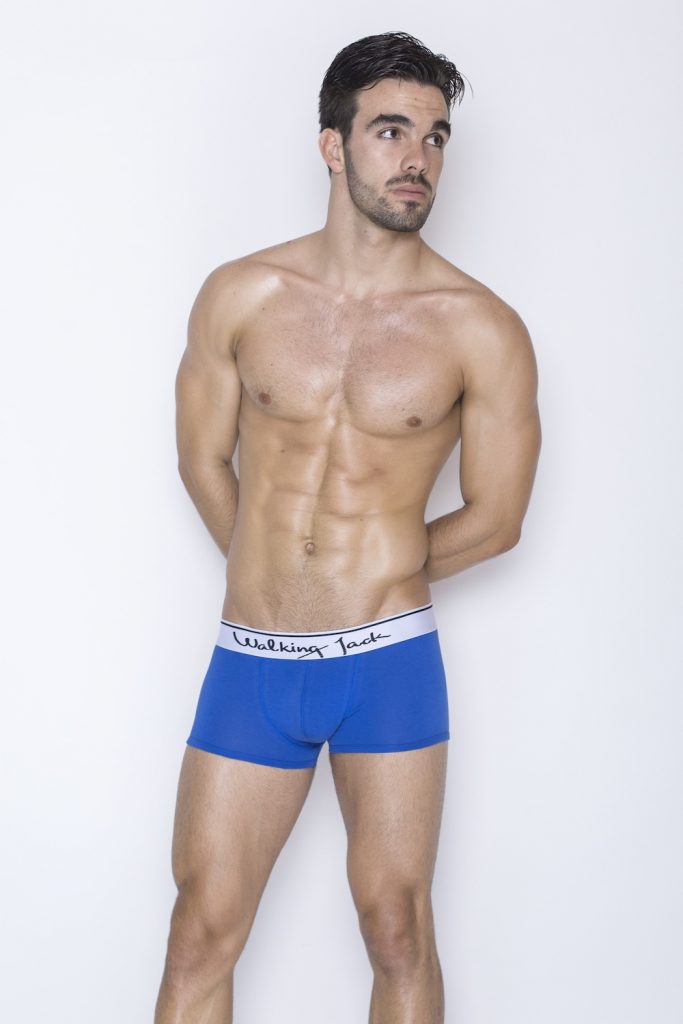 3. Graphic Briefs – 22.10 USD / 19.90 EUR / 17.15 GBP
These briefs feature a sublimation print, made exclusively for Walking Jack. Inspired by the Mediterranean sea, laid back lifestyle and travelling, they are guarantee to put a smile on your face every time you wear them! These briefs have a contemporary style, cotton made lining and a tight grip around your waist.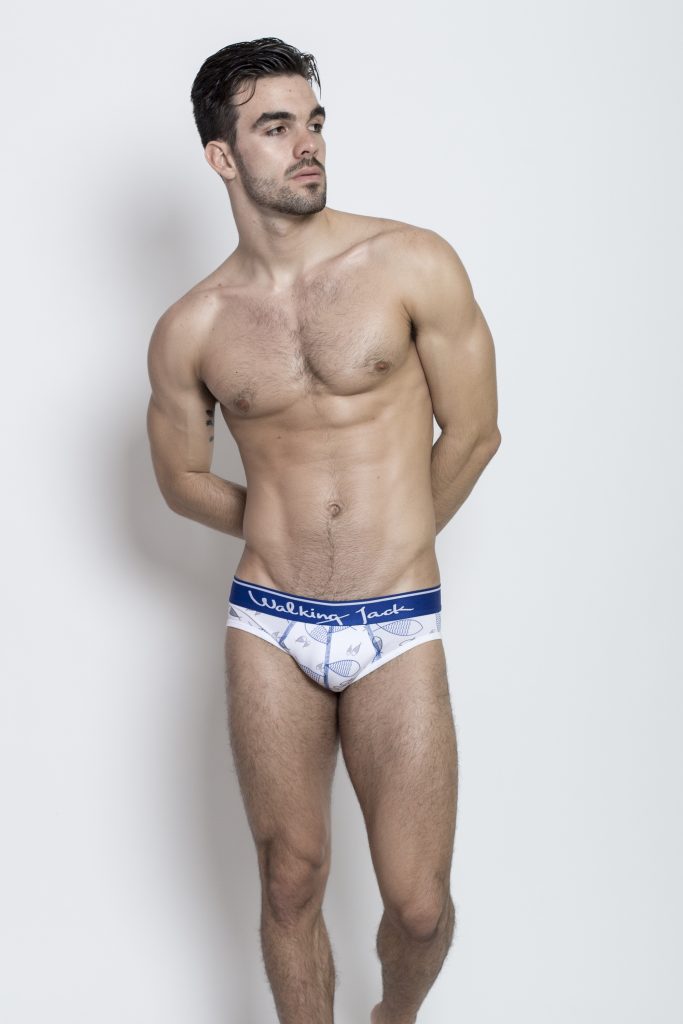 4. Graphic Trunks – 25 USD / 22.50 EUR / 19.40 GBP
These trunks were voted 'Best Trunks" in the annual event of UnderwearNewsBriefs! They feature a sublimation print, made for Walking Jack inspired by the colours of the Greek Islands. These trunks have a longer leg than the Core Trunks of this brand. They have a cotton lining and a very nice fit with a contour pouch and tight fitting waistband.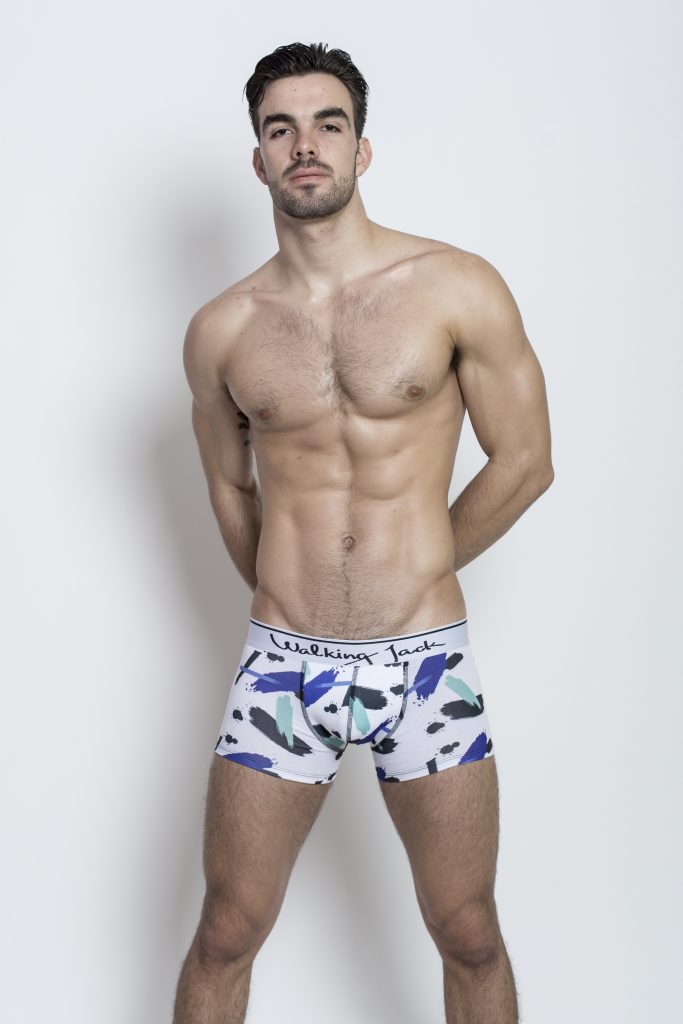 5. Core Briefs – 22.10 USD / 19.90 EUR / 17.15 GBP
A new take on classic briefs with narrow sides and skimpy back. These briefs may look innocent but they have a sexy side! They are unlined and the back is cut slightly higher to give a sexy look and feel! We chose the white with a blue waistband which brings in mind holidays by the sea but there are more colour options available!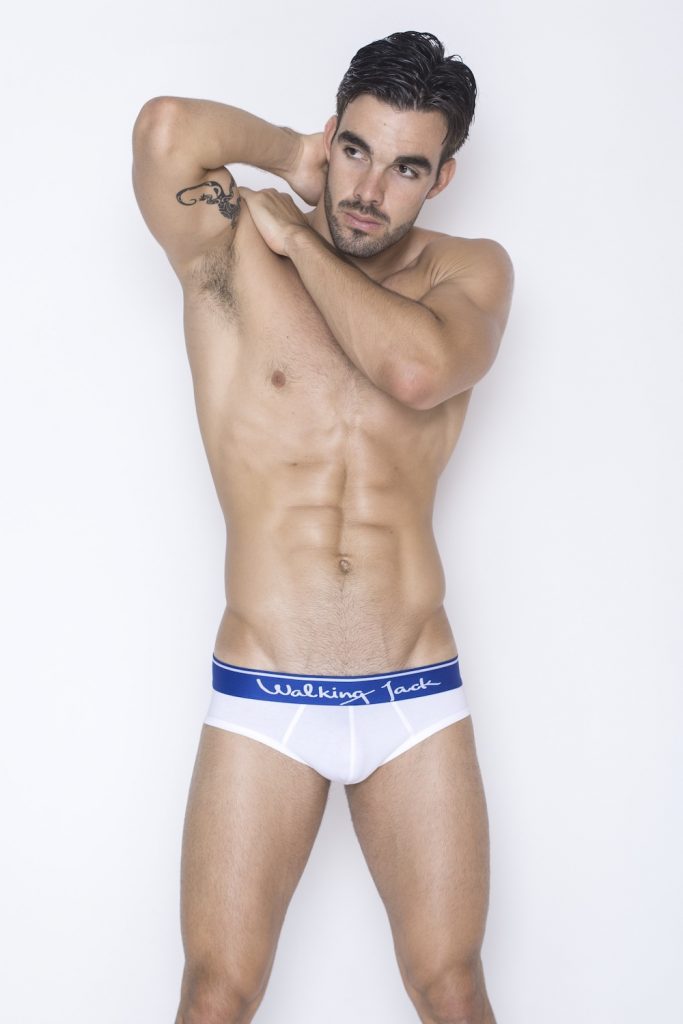 We hope you enjoyed the selection! All the items of Walking Jack come is recyclable and compostable packaging. It would look great all wrapped up as a small present to your loved ones this Christmas! Want a bit of extra? Why not add one of the lanyards of the brand (8 euros) which come in a burlap sachet in gold/beige and are perfect little present for your or your loved ones' keys! Find all these at the official e-shop of the brand.