Today's review is for the Monster Brief by Debriefed. Debriefed is a British men's underwear retailer which also has its own brand manufactured in the UK. This specific brief is part of the Cartoon Collection by Debriefed we presented a few weeks ago in Men and Underwear. It is a beautiful and very vibrant collection promoted by a body positive campaign which we've found very refreshing. This brief was supplied to us by Debriefed Underwear.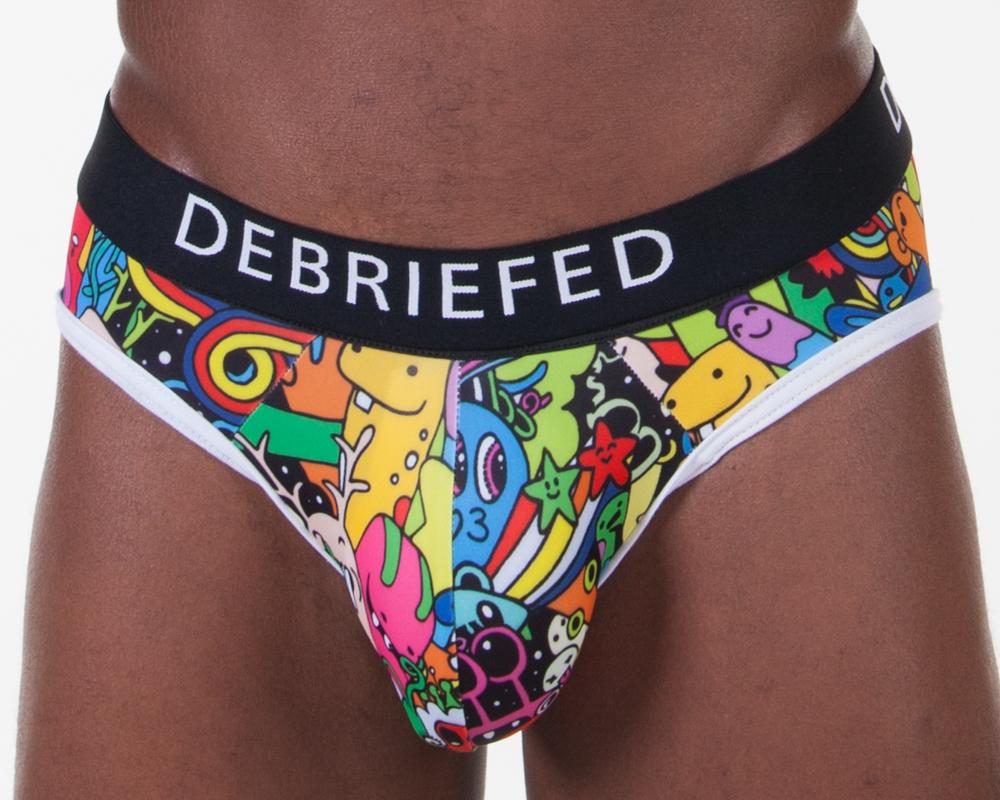 Underwear Review by Ethan for Men and Underwear
Some of you may have read already the review I wrote about the Blam Brief by Debriefed. Both briefs have a lot of similarities as they are part of the same collection. The Cartoon Collection is a very cohesive series of prints featuring colourful patterns with a nod to cartoons of the 80's magazines. The older among you, may remember. To me, they bring a sense of fun, they remind me of my childhood and the fun times I had reading all about my favourite fictional characters and their adventures. It is a collection that strives to put a smile on your face with colours and onomatopoeia. But there is a bit more than that. To me these prints symbolise our innocence and are paying tribute to our childhood heroes who would come to our rescue if anything would go wrong. But even if you can't relate to that you will certainly appreciate the colourful and vibrant prints which are among the most striking I have seen this year.
The packaging of Debriefed is a standard plastic sleeve with an A5 size paper card with a bit of information about the brand, its manifesto and a thank you note. What is good about this type of packaging is that is easier to post (it is quite flat) and it keeps the underwear well protected. There is a sticker with the name of the underwear style and the size.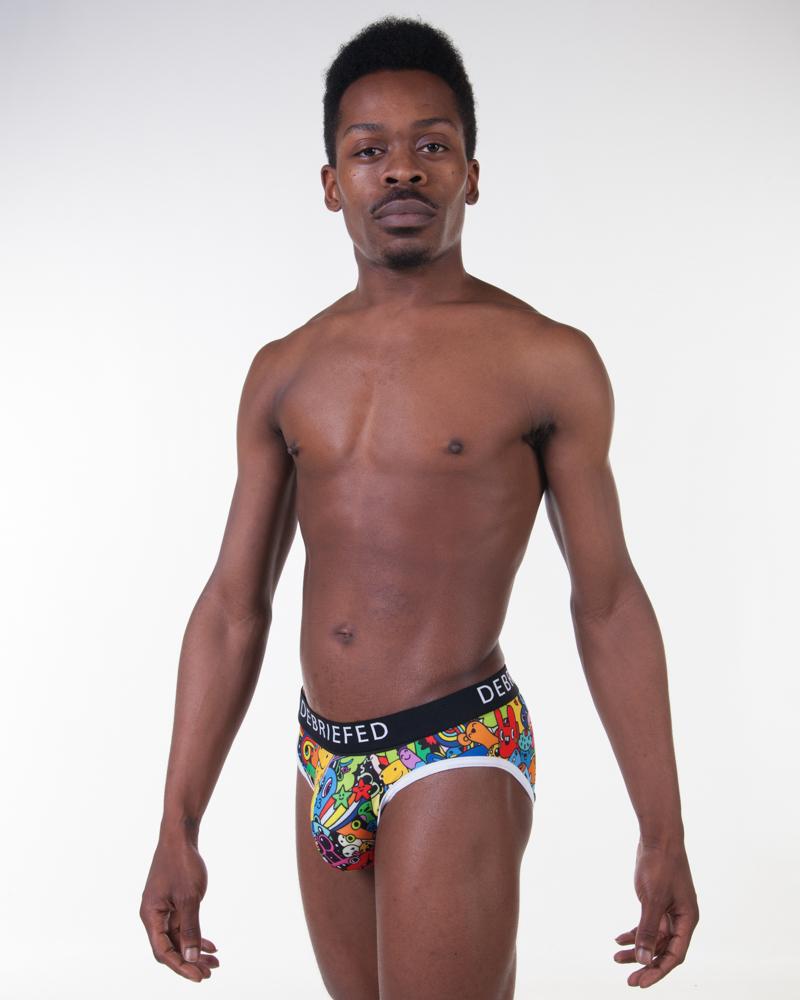 If you like colours, you will definitely love these briefs. The colours are just amazing! The fabric is a polyester blend that responds extremely well to printing. It is so vibrant that will instantly make you smile. Moreover, all those googly eyes of the, very funny indeed, monster drawings really made me laugh. It is hard to pick just one colour of it to describe the colour tones. There is green, red, yellow, blue, pink, almost every colour you can imagine. And the more you look at it, the more details, drawing, faces and colours you see! The waistband is black with the Debriefed logo repeated. The print is a large scale one so I assume that every pair of briefs may be slightly different depending on which part of the fabric the panels are cut from. This adds an element of individuality to each pair.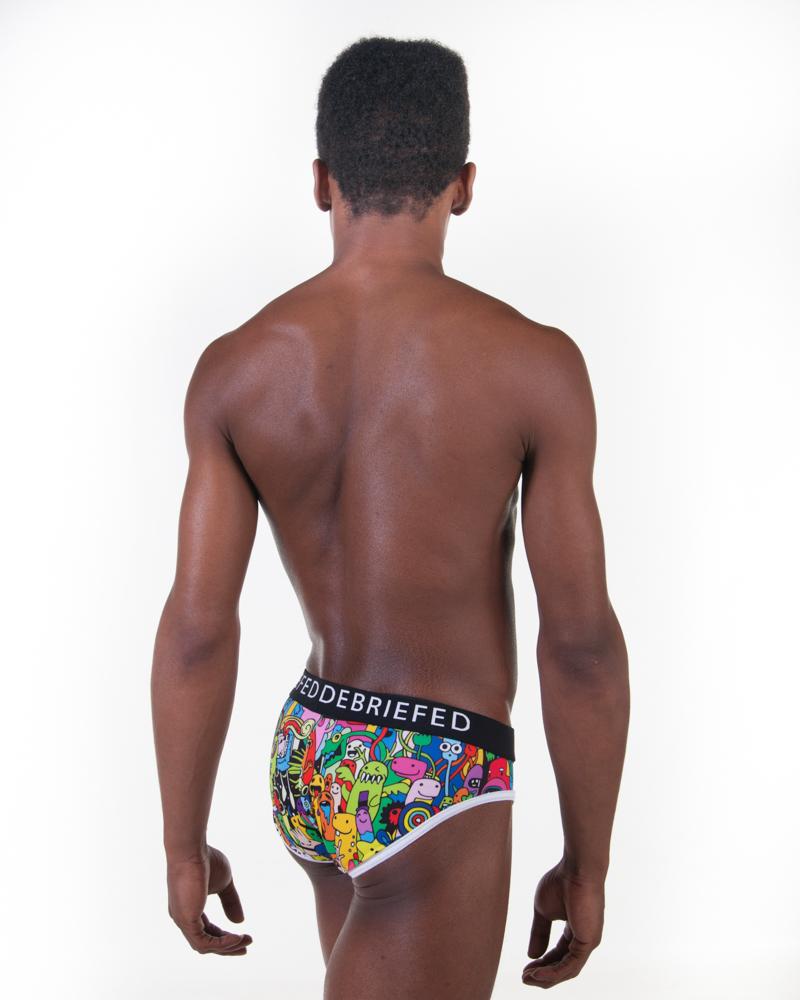 As far as construction goes, this brief is made to withstand an active lifestyle. It is sturdy, the seams seem very strong and the fabric is medium weight, quite thick which means it will probably last for a long time. A downturn with such fabric is that you may get a bit sweaty if you wear it in warmer climates in the summer. It feels a bit heavy and it doesn't let your skin breathe as well as cotton or modal. After washing it, I didn't see any difference in colours or shrinkage. Remember to always follow the washing instructions you see on your underwear, if you want it to last longer and stay in good shape. The label with the washing instructions is placed at the back of the garment. You may need to cut it off, carefully, with a pair os scissors if you find it irritating. There were some misaligned details but nothing too serious.
Overall, the Monster Brief by Debriefed is a fun and uplifting design, I recommend wearing at a party or when you feel a little blue. It would be a shame to wear it at the gym, the polyester fabric will make it feel heavy and you may end up more sweaty down there. I really enjoyed the print and the story behind it. The price is quite competitive as well for such a garment.