Today's review is for the Blam Pink Brief by Debriefed. Debriefed is a men's underwear retailer which also has its own brand. In the last few years we saw a lot of retailers launching their own brands some sold exclusively via their own outlets and some being sold in other retailers as well. This specific brief is part of the Cartoon Collection by Debriefed we presented a couple of weeks ago in Men and Underwear. It is a full on colour collection promoted with a body positive campaign which we've found very refreshing. This brief was supplied to us by Debriefed Underwear.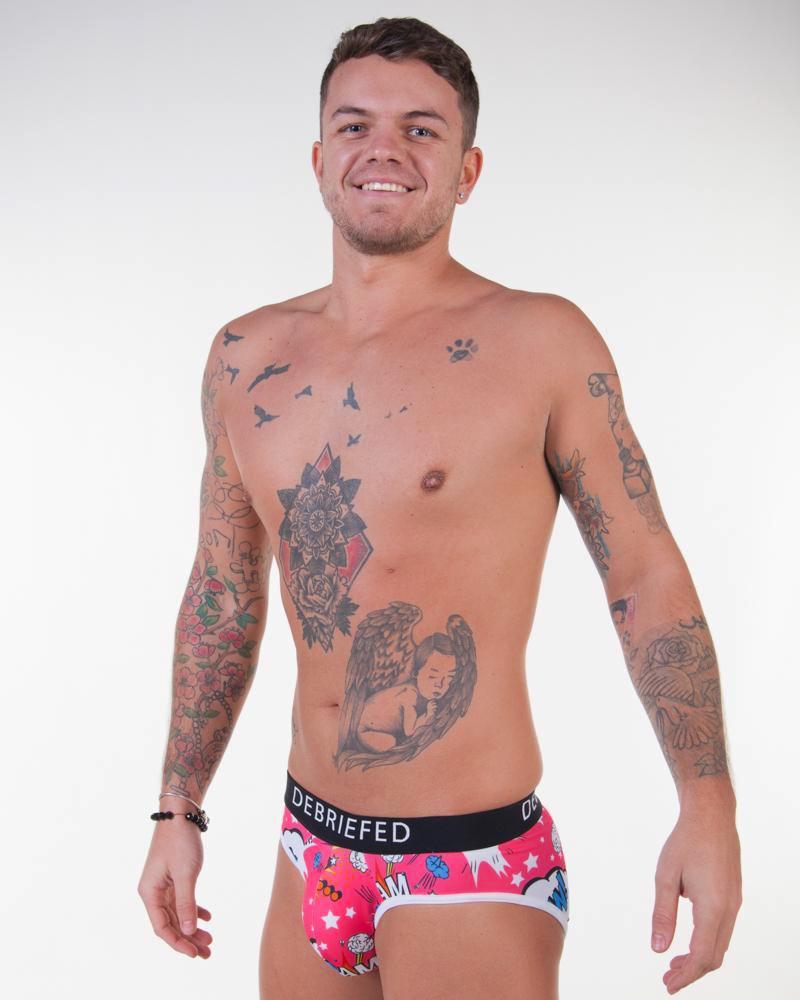 Underwear Review by Ethan for Men and Underwear
I will start this review as usual with the packaging. It is not the first time I get something from Debriefed so I am quite familiar with it. The underwear comes flat in a plastic sleeve with a card in A5 size with a bit of information about the brand inside. The benefit of such packaging is that is easy to send by post but also keeps the underwear very well protected. The packaging comes with a sticker with the name of the underwear and size on.
The first thing you see when you get this brief is the amazingly bright colours! This will definitely put a smile on your face in a grey morning and, we think, this is what the whole Cartoon Collection of Debriefed is about! The print brings in mind magazines with super heroes and character of my childhood. The fabric is polyester based, which allows vibrant colours to stay as new longer than on cotton fabrics. It is a lovely pink with tones of blue, red and yellow perfectly combined with white trims and a black waistband. It is super fun and nostalgic at the same time. The waistband is quite basic with the name of the brand in white letters on repeated.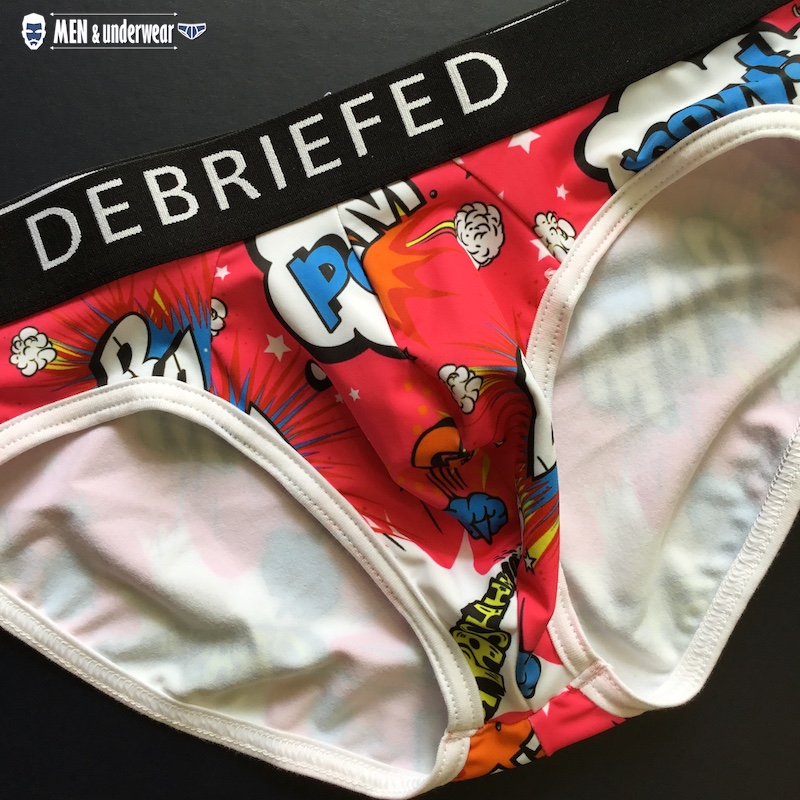 The fabric of this briefs is medium weight and made from polyester (81%) with a generous amount of elastane (19%). It is not as stretchy as this sounds, it provides good support and feels quite sturdy as a fabric made to withstand intense activities. This makes it feel quite warm though so it would be wise to wear it at the gym or any place you may expect to get sweaty. These briefs should be treated more as a fashion underwear rather than as one for sports. Debriefed produced this collection in Britain. The production quality is ok but I can see quite a few misalignments and more importantly the absence of any flat lock seams. The thread they use for stitching is quite soft but the one that keeps the waistband on the main body is quite rough. There is also a seam running along the back of the garment which gives a nice shape to the bum but because it is not flat I could feel it during testing the product. Otherwise the shape is good and the pouch is well contoured. It feels quite comfortable and gives a nice amount of space at the front. The cut is low rise so it looks quite sexy and highlights all the right places. The absence of flatlock seams means that there are no visible threads on the outside of the garment which adds to the overall look of the print. It looks neat and tidy.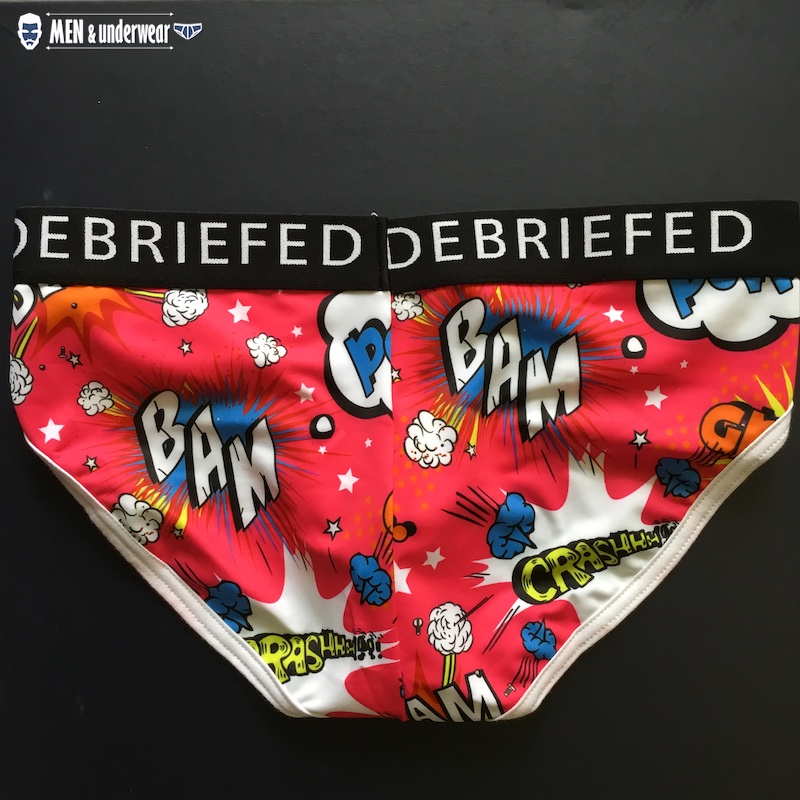 The retail price of the Blam Pink Brief by Debriefed is 15 pounds, which is about 17.20 euros or 19.30 USD at the time this review was written. This is a very competitive price considering it is manufactured in Europe. Recommended for people who love colours or those who would like to awaken their inner childhood memories. It is not recommended for the gym or any other intense activities. It is a daring print which I found refreshing and quite different from the classic black or navy blue that everyone has in his drawer. It is a bright alternative, quite fashionable and above all… fun to wear!