The Black Friday event this year seemed to have started earlier than ever before. Some underwear stores and brands have started sales and special discounts even two weeks before the, huge for shopping, day. We are more than certain that your inbox is littered with offers and your social media newsfeed cluttered with discounts. Well, we are here to save you! We put together a comprehensive guide to help you choose among some of the best underwear deals you can find today. Some of them expand until Cyber Monday (27th November 2017) so, there is really no need to panic. There are plenty of great underwear designs you can buy at great prices in the next few days. On with the show!
USA
Popular retailer International Jock offers 25% off site wide with code BLACK25
More than 2000 designs on offer at the clearance section of MensUnderwearStore
35% off at everything with code 35BFS at Andrew Christian
20% off sitewide (items already on sale are excluded) with code FRIDAY at jockstaps.com

Canada
30% off PUMP!, 10% off all other underwear and 20% off all swimwear for two days only (24th-25th) at Top Drawers
15% up to 75% off sitewide for three days only (ends on Sunday) at Jockstrap Central
25% – 60% off  (applies at checkout and depends on the item, as well as the order amount) at Pacific Jock

UK
35% off everything (excluding Addicted, Masculo, Mr S Leather and items already on sale) at Clone Zone
Black Friday special sales with all items up to 50% off at Dead Good Undies
10% off extra on all items on sale with code WOW at VOCLA. Plus 20%-30% off at underwear by PUMP!, Addicted and ES Collection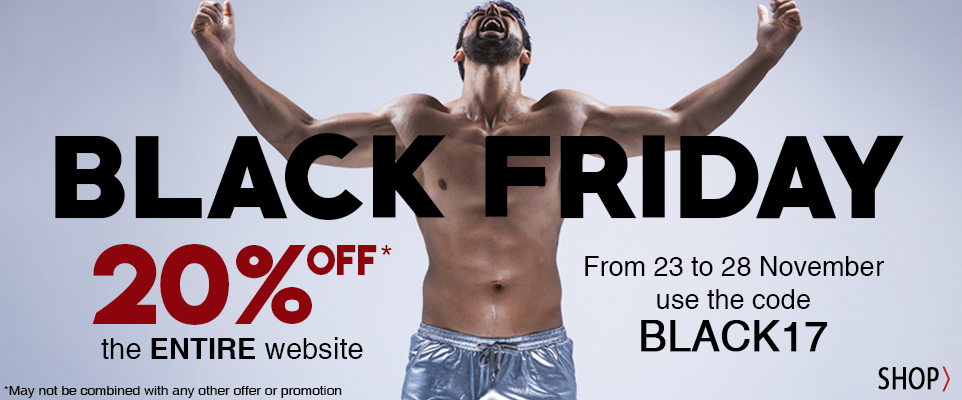 Europe
More than 500 designs at prices up to 80% off at Histoires D'Hommes
20% off sitewide with code BLACK17 until the 28th November at Inderwear
Also 20% off sitewide with code BLACK17 until November 28th at Planet-Undies
More than 250 items at 25% off until Monday at L'Homme Invisible
Black Friday sale with items by GBGB, Colt, Olaf Benz, Manstore and more at Cool4Guys
35% everything with coupon code PINK-WEEK at Barcode Berlin
More than 800 designs at 25% off with code BLACKXXX at XXX Madrid

Australia
50% off everything for 48 hours only (ends Friday night) at aussieBum.
More than 200 products on sale at Daily Jocks
Today only, 40% off sitewide with code BLACKFRIDAYCF at Mosmann Australia*
---
* links with an asterisk are affiliate links. This means we may get paid a commission if you purchase via them.