Halloween is almost here and it's time you started planning what should be the first thing you put on and the last thing you take off that day! There are plenty of options for underwear that could make your holiday even more special. From themed costumes to something classic but orange and everything in between, your Halloween outfit should be built from inside out. To treat yourself with something fun (or scary) this season, here is our selection with the 10 best underwear designs for Halloween this year!
CheapUndies – Halloween Brief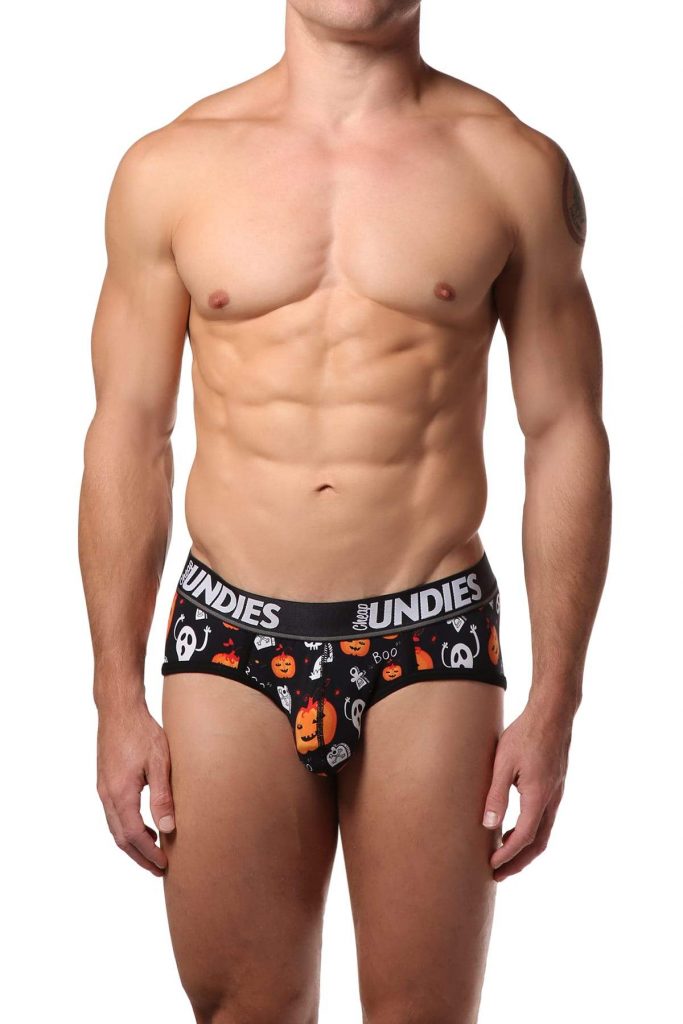 We will start the list with the 10 best underwear for Halloween with the brief you see above from CheapUndies. Featuring a print with pumpkins, ghosts and tombstones, this pair is one of the most appropriate and most affordable options this season.
Andrew Christian – Ghost Brief
Another great option for Halloween is the Ghost Brief by Andrew Christian. Released in a limited run, this brief, features a blue with white little ghosts print which is really cute! The design has the "hang free" pouch which is super comfortable.
Toot – Hallow's Metallic Lamé Super Nano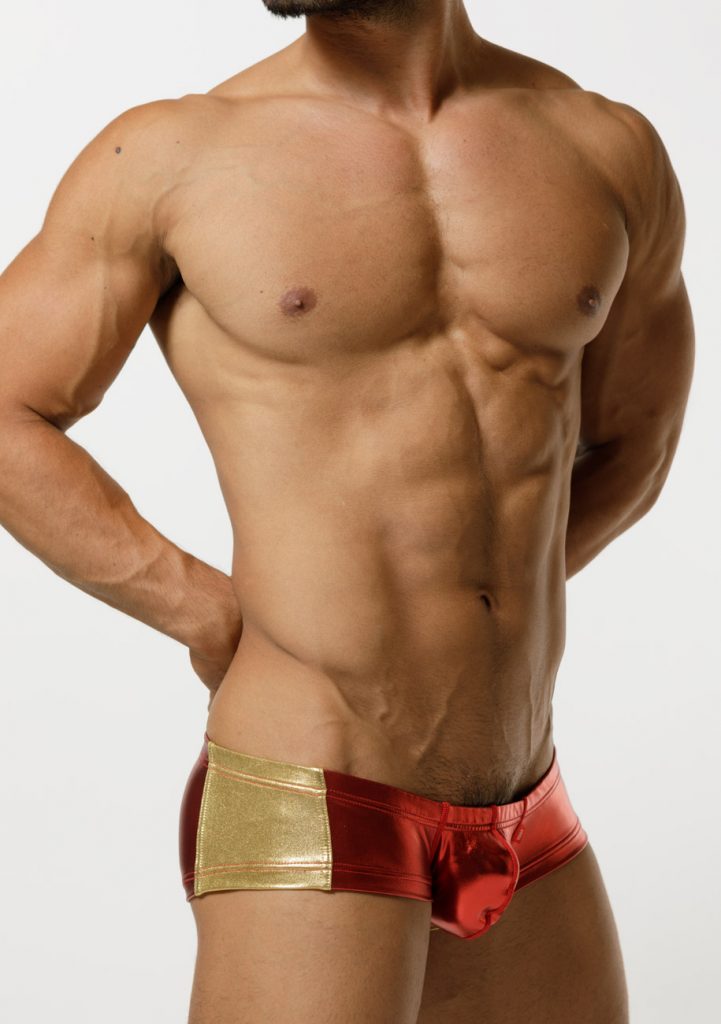 If you want to feel a bit more glamorous for the day and feel that you should base your outfit on something more shiny, then Toot's metallic mini brief is the best option. Made from a delicate material this mini brief is made in Japan and features gold and shiny red panels.
Tommy John – Second Skin Chrome Trunk
For a more classic looking outfit for the day, the Chrome Trunk by Tommy John is the best option. No pumpkins, no ghosts or any prints of any kind. An orange body with a black waistband will still give the Halloween tone, plus, you get to wear it on any other day of the year you like.
AussieBum – Boo Brief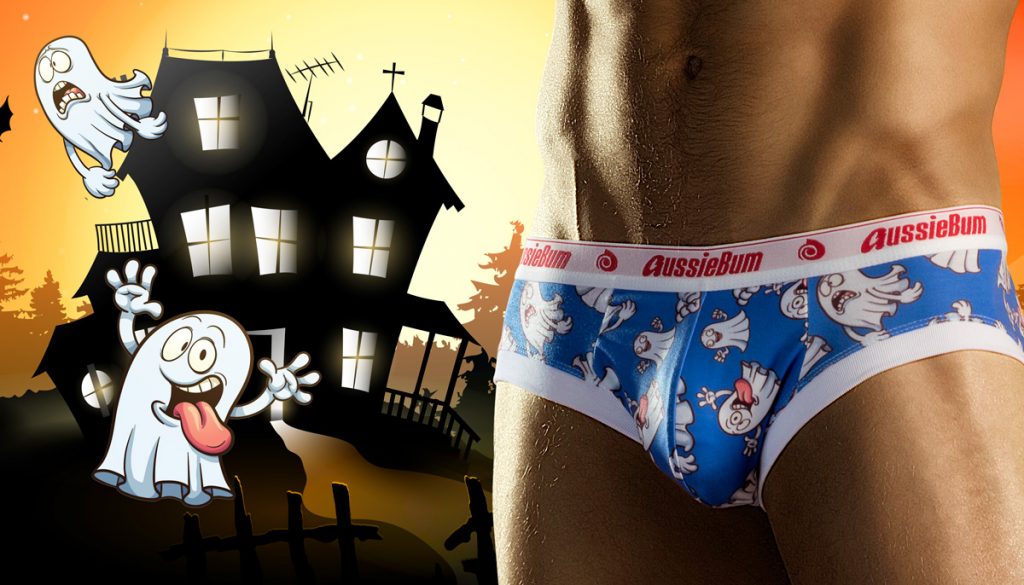 Back to funky prints and another great option is the Boo Brief by aussieBum. Released in a limited run, in two styles and three colour options, this is a pair of underwear that will put a smile on everyone's face.
Pikante – Vampire Costume
We couldn't leave outside this list a special Halloween underwear costume! The best one to get this year is definitely the Vampire Costume by Pikante! The Colombian brand is well known for its handcrafted costumes with an option for almost every special day of the year. Their Halloween themed one features a wide lace waist, transparency, and a beautiful lace made neck piece.
Addicted – Skull Brief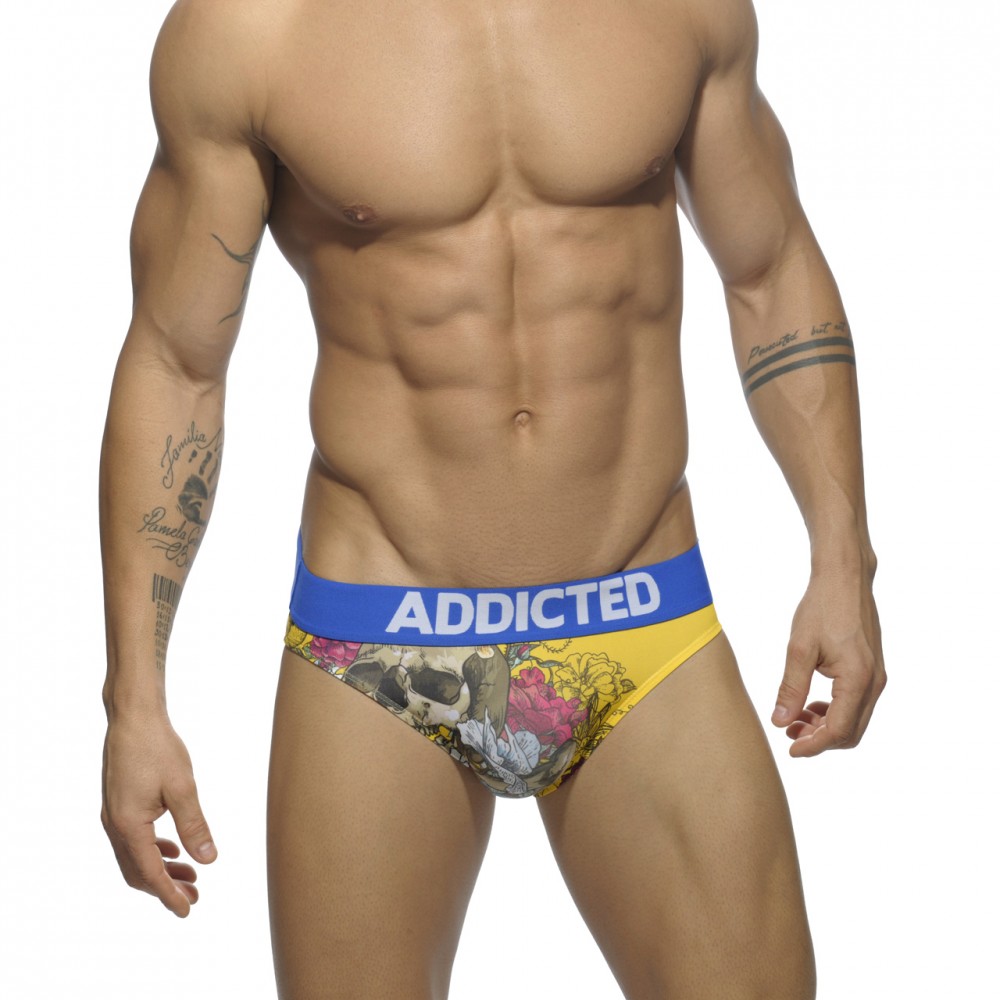 Possibly the brightest option of our list comes from the Catalan brand Addicted. The Skull Brief features a yellow background with a very nice skull print on the left part of the seamless front. Great for Halloween but also good for any other day of the year!
Marek+Richard – Bat Wing Brief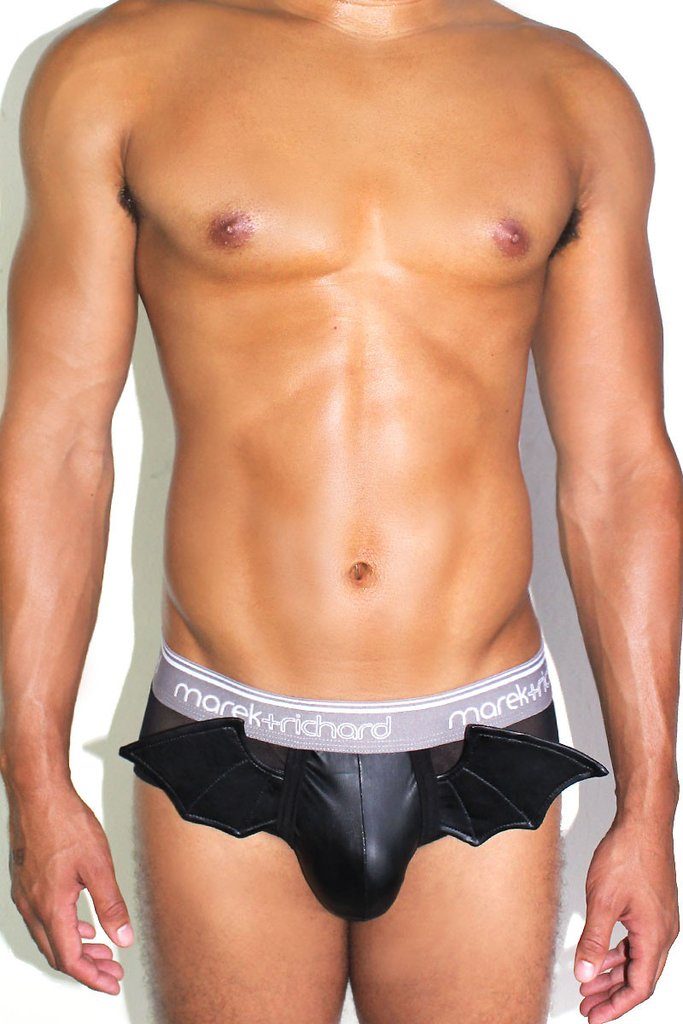 One more name in the underwear and creative street wear industry that we couldn't leave out. In case you are not yet familiar with Marek+Richard yet, they are a super fun brand whose collections are always great fun! Equipped with endless out of the box ideas, the designer duo came up with the fabulous Bat Wing Brief for Halloween which made it to our top ten list with flying colours! It is made to be fun and it certainly delivers!
Go Softwear – Hard Core Spider Web Square Cut Brief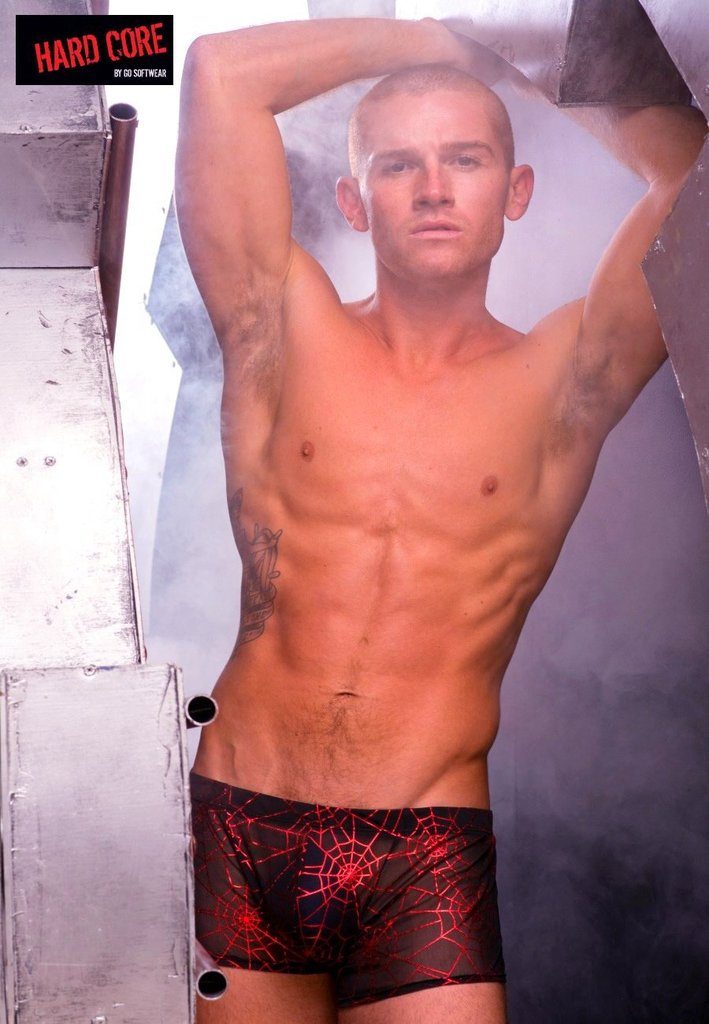 One more print in our top ten designs this season and it comes from Go Softwear. The label revamped one of their classic trunks with a metallic print featuring a cobweb pattern on a semi transparent black fabric. It is striking, slightly shiny, sexy and perfect for Halloween!
Smuggling Duds – Skull Check Boxer Shorts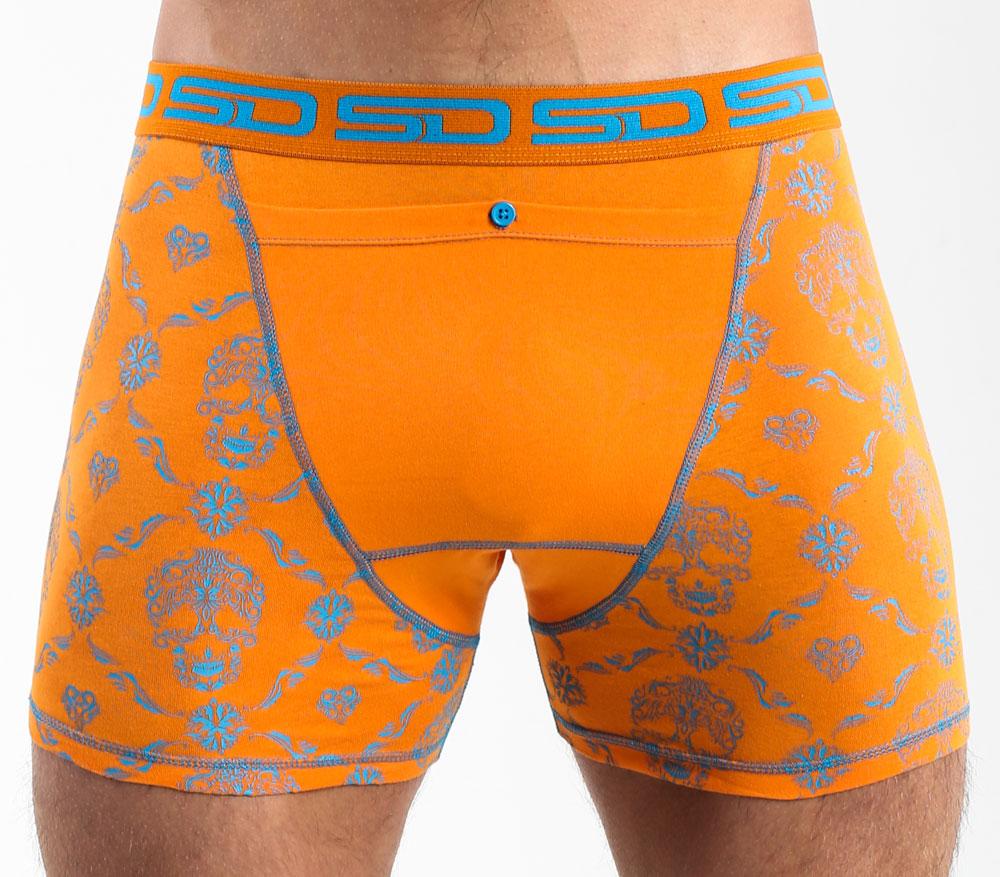 Last but not least the Skull Check Boxer Shorts by Smuggling Duds! This design features the trademark stash pocket of the UK based brand in a boxer shorts design in orange with a skull print. Ideal for Halloween for men who prefer longer underwear rather than briefs. It looks great and you can wear it safely on any other day of the year.