The pair of underwear I put to the test is the Hunk Bulge Brief by 4 Hunks. Lets start with a few words about this brand. They are based in Germany with headquarters in Berlin. The label was born five years ago, in June 2012 and since then, every collection released was inspired by a world of fantasy and magic calling men to feel comfortable in their own skin, sexy and proud of who they are.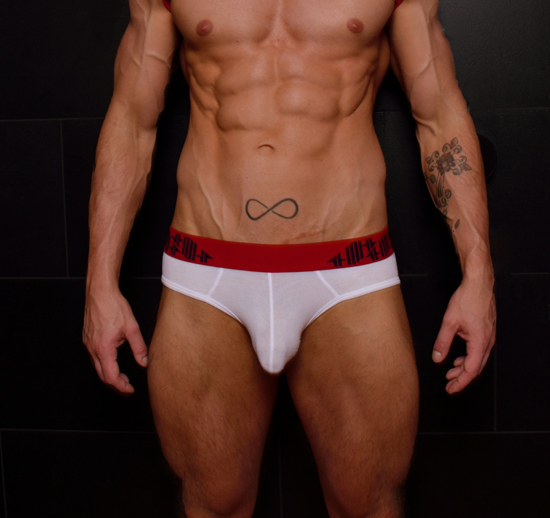 After this short introduction I think it's time to look at this design, the brand was very kind to send me to try. The part I always like to look first when I get a new pair of underwear in my hands is the material and where it is manufactured. This underwear is made in Berlin, Germany and the material used is a cotton and elastane blend. To be more specific it is 95% cotton and 5% elastane, extremely lightweight with a silky finish to it. Because the fabric is lightweight there is a lot more stretch compared to fabrics with the same composition. What I mean by this, is that it stretches quite a lot, hugging every part it touches in a nice and very gentle way.
When I see the word "bulge" in the code name of underwear, my mind, strangely, goes to "enhancing". To make things clear, this is not a style that promises to make your package look bigger. Instead, 4 Hunks, chose a fabric that stretches just enough to push upwards, gently, your front with a minimal restriction. It is very hard to find a balance between a hang free comfort and a pouch that offers a rounder look… and it looks like 4 Hunks have made it! Obviously, apart from the choice of fabric one more, very important factor is the perfect contouring of the pouch which distributes the space to the right places. The pouch is single ply so apart from making the garment lighter, it shows a hint of what's inside.
In terms of construction this pair of briefs looks very well made. All the stitching is flat adding more to the overall comfortable feel it offers. And even though there is no label to cover the area where the waistband is put together, there is enough thread to make the connection flat and soft avoiding any irritations to the skin. Talking about labels, you will find two stitched at the back: one with the size and one with the washing instructions. For those of you that like to remove them, you'll be glad to hear that the brand thought of putting a different colour to the stitching that keeps the label attached to the garment, so it is a lot easier to see that you need that black thread removed to get them off!
Looking at the waistband, it is quite thin but super soft. It is 4 cm wide and centred to the garment with all the branding in black, mirrored to the sides and back, leaving a pure red space right in the centre front. The legs have a soft piping all around.
Overall, this is a very nice and well made, lightweight, pair of briefs. It is super comfortable offering a good balance between a hang free feel pouch and support which I found very sexy. The high quality fabric is thin with a silky finish and the pouch is unlined in order to follow the lines of the male anatomy adding a sexy feel and look to the briefs. Highly recommended for everyday use.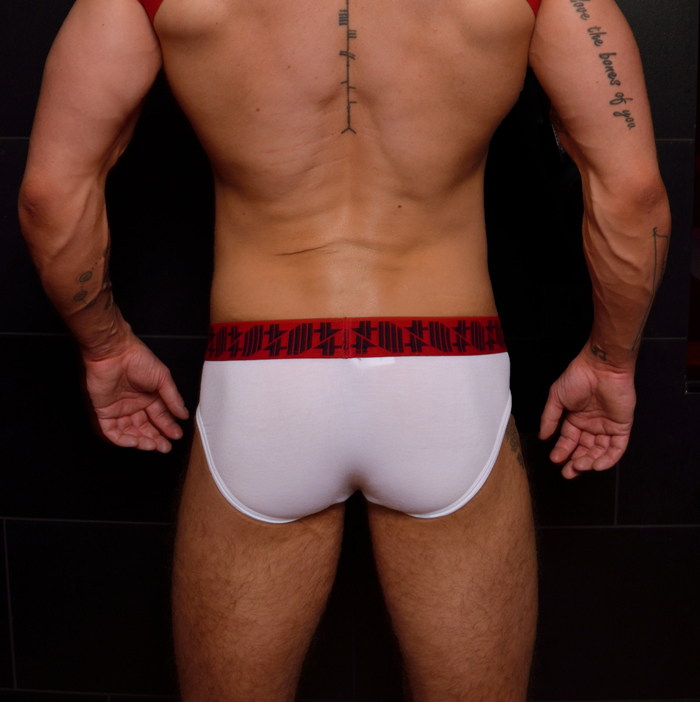 You can find more information and purchase this brief from the official s-store of 4 Hunks.
Direct link to the product: 4 Hunks – Hunk Bulge Brief